Description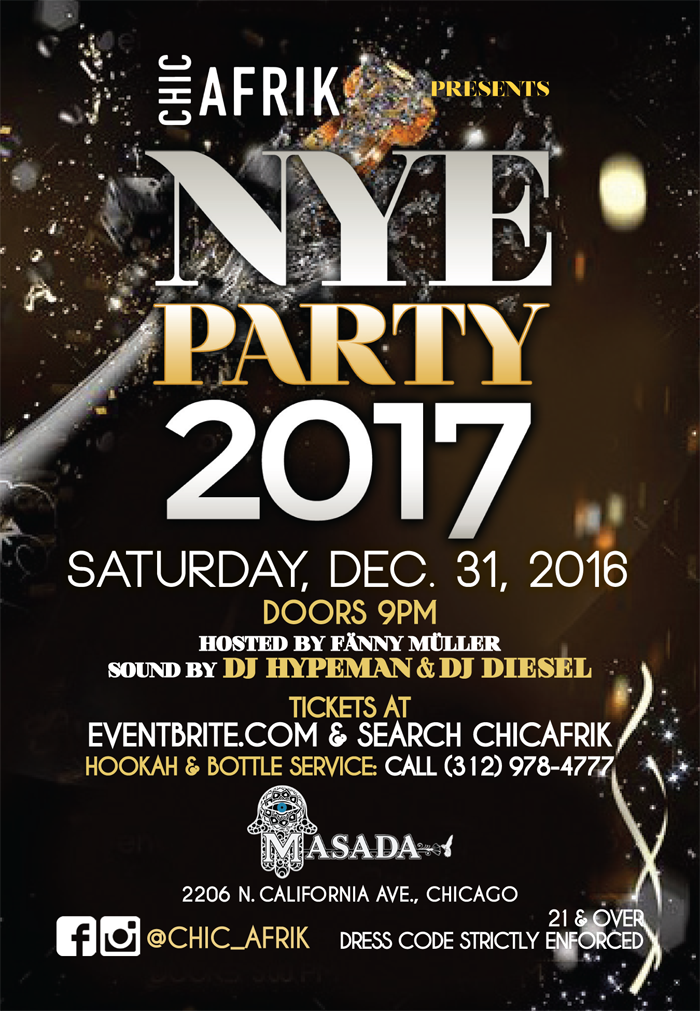 It's been an amazing year, and December 31st is undoubtedly one of the most anticipated days of the year! Encapsulated into one day, the memories of the past 12 months spark revolutions and resolutions, setting the tone for the next 12 months to come. Plus, this year NYE falls on a Saturday, so don't even think twice and not only come make your resolution to unwind, savor mouth-watering cuisine but to also have a blast with the ONE and ONLY ChicAfrik Entertainment as you toast the arrival of 2017 at Masada. In addition, this will be the VERY FIRST INTERNATIONAL NYE PARTY ever thrown in Chicago, so you definitely don't want to miss it. It will be one of a kind!
---
FEATURING:

Champagne Toast at Midnight | Party Favours | Hors D'oeuvres I Balloon Drop
Plus Hookah-Service available!
Please email chicafrik@gmail.com for group rates, bottle service or any questions you may have. Or call 312-978-4777!
DJs: DJ Hypeman - DJ Diesel - Guest DJ (TBA)
Host: Fanny Muller
---
What to know
Yes, tickets will sell out!

Yes, tickets price will increase as more as sold. BUY NOW to lock in the lowest price!

DO NOT BUY ANY TICKETS OFF OF ANY OTHER WEBSITE THAN EVENTBRITE.COM!

Tickets will be sent via email, and will an unique scannable barcode! Names will be checked at the door!
Redeem on: Saturday, December 31st!

May not be combined with other offers or promotion!

Must be 21 w/State Issued ID to purchase!

Voucher is redeemable only at the event; after the event date, the voucher expires and has no redeemable value

This offer is final sale and non-transferable! NO REFUNDS

VIP TABLE: We offer diferent packages for Bottle Services.
#1. $800 for 5 people total; choice of 2 bottles of liqueur, but NO LIMO RIDE.
#2. $850 for 5 people total; choice of 3 bottles of CHAMPAGNE, but NO LIMO RIDE.
#3. $1,000 table reservation that allows up to 6 people. Plus we will offer a LIMO RIDE to the party from one pick-up location, where all guests of the party have to be, to Masada between 9pm-11:30pm.
Package 1: 2 bottles of dark/white liqueur of your choice.
Package: 2: 1 bottle of dark/white liqueur + 2 bottles of MOET Champagne.
For any inquiries, just call 312-978-4777