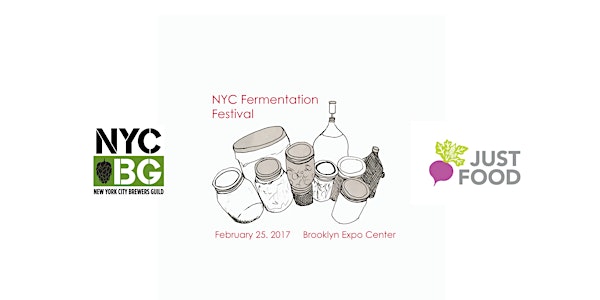 2017 NYC Fermentation Festival
When and where
Location
Brooklyn EXPO Center 72 Noble Street Brooklyn, NY 11222
Refund Policy
Contact the organizer to request a refund.
Description
The First Annual NYC Fermentation Festival will be a family friendly celebration of all things fermented! This single afternoon of awesome is set to include:
Fermentation Expo – 30+ vendors from which to sample and purchase fermented goods for onsite consumption or takeaway
DIY Fermentation Guidance Help Desks – fermentation authorities to answer all questions
Educational Programming – 9+ fermentation seminars and demonstrations
NYC DIY Community – NYC fermentation meetup groups/organizations
Brewnity expo – NYC's local homebrew clubs & supply stores
Adult fermented beverages - NYC made beer, cider and spirits sold by the glass (21+ only)
Kids Korner Ferment Funtime! – fermented vegetable popup workshops and crafts
Live acoustic music by the Homebrewsicians (and more TBD)
Podcast recording – Episode #200 of Fuhmentaboudit! on Heritage Radio Network
All Festival proceeds benefit The NYC Brewers Guild & Just Food.
Just Food is a non-profit organization that works with community leaders to advocate for and increase access to healthy, locally-grown food, especially in underserved NYC neighborhoods. www.justfood.org
The New York City Brewers Guild is the non-profit organization dedicated to promoting & protecting NYC brewers & the NYC craft beer industry. www.newyorkcitybrewersguild.com
Participating Fermentation Exhibitors (More To Be Confirmed):
Barry's Tempeh/Grown in Brooklyn, BAO Cultured, Wisco Fresh, Contraband Ferments, Mama O's Premium Kimchi, NY Fermentation Meetup, Ferment Ferment, Fuhmentaboudit! on Heritage Radio Network, Marcelli Formaggi, The Brooklyn Kitchen, BierBox, Crooked Carrot, Hawthorne Valley Farm, Brooklyn BrewShop, FarmSteady, Small World Food, Kombrewcha, Adamah, Enlightenment Wines, Anomaly Season, Brooklyn Jun Brewery/House of Juice, Cleveland Kraut, Crown Finish Caves, Bitter & Esters, Heather Ridge Farm, + more!
Participating NYC Brewers Guild Breweries:
Brooklyn Brewery, Coney Island Brewery, Chelsea Craft Brewing Co., Gun Hill Brewing, Kelso Beer Company, Big aLICe Brewing, Lineup Brewing, Wartega Brewing, Flagship Brewing, Strongrope Brewing, Kings County Brewers Collective, Interboro Spirits & Ales, Paulaner Brewhouse & Restaurant
Participating BREWNITY homebrew clubs/stores:
The New York City Homebrewers Guild, The Brooklyn Brewsers, The Brewminaries, The Brewdies, Brewstoria, Handgrenades Homebrew and Craft Beer Club, Bitter & Esters, LIBME & more TBD.
Toast Ale Homebrew Competition - YOU BE THE JUDGE! - featuring beers made with surplus bread in collaboration with Toast Ale USA
Fermentation Seminar Schedule TBD
Live Music: The Homebrewsicians
Outdoot Food Trucks: Stuf'd and Empanda Sonata