Description
NWD17 | Fall Conference | October 16-18, 2017
New Life Church - Everett, WA
Each year we come together representing five different states and over 200 churches with one common goal – reaching our communities with the hope of the world – Jesus.
All Are Welcome!
Whether you're a licensed minister, volunteer leader, student or church member, you are welcome and invited to register.
Come away inspired, refreshed, empowered and excited to return to the place has God called you.
PLEASE SCROLL ALL THE WAY DOWN FOR HOTEL INFO!

---
"LEAD"
Schedule
MON Oct 16
1-4:00 pm ACCESS Seminar - "The Roadmap to Reconciliation: Leading Communities into Unity, Wholeness and Justice" with Dr. Brenda Salter McNeil
4:00 Doors Open / Check-In
6:30 Session 1 (Dr. Brenda Salter McNeil /Dave Veach )
8:30 NextGen Afterparty
TUE Oct 17
9:00 Session 2 - Various Speakers
10:30 Break/Transition to Workshops
10:45-12:00 Workshops
12:00 Lunch Break
1:00 - 6:15 Free Time / Tours / Golf Tournament
6:30 Session 3 (Nicole Reyes)
Ordination
WED Oct 18
7:00-8:30 Missions Breakfast Gathering
7:30-8:30 Chaplains Breakfast
9:00-10:15 Workshops
10:30 Session 4 - Various Speakers
12:00 Conclusion/Dismissal

---
PRE-CONFERENCE ACCESS SEMINAR - Monday, October 16 | 1 - 4 pm | $50
"The Roadmap to Reconciliation: Leading Communities into Unity, Wholeness and Justice"
Featuring Dr. Brenda Salter McNeil
In her book, Roadmap to Reconciliation, Dr. Brenda Salter McNeil says, "It's time for the followers of Jesus to embark on the prophetic journey that leads to reconciliation and transformation around the world. Many of us may already be aware of the need for reconciliation in our own backyards. . . . We cannot ignore the plight of the people around us and as globalization continues its relentless march onward, we cannot turn a blind eye to the world at large either. We have to face the realities here at home and we must also embrace the stories of people all around the world."
As Christians, many of us can see the injustice and inequality in our lives and in the world. We are ready to rise up. But how, exactly, do we do this? How does one reconcile? What we need is a clear sense of direction. In this seminar, Rev. Dr. Brenda Salter McNeil will guide us through the common topics of discussion and past the bumpy social terrain and political boundaries that will arise as we seek to lead others into reconciliation. If you are ready to take the next step into unity, wholeness and justice, then this is the seminar for you!

---
NWD17 - CONFERENCE SCHEDULE
*Check back for information on our session speakers and workshop presenters
Main Session Speakers
Monday, October 16 | 6:30 pm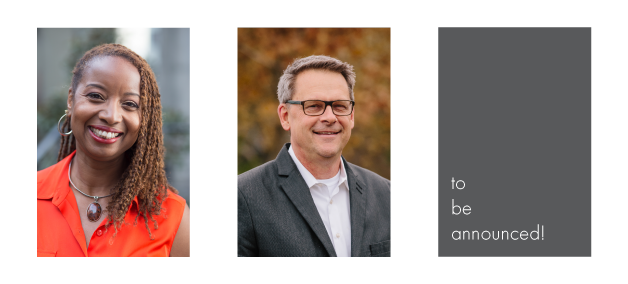 Rev. Dr. Brenda Salter McNeil - Author, speaker, consultant, professor
Rev. Dr. Brenda Salter McNeil is a dynamic speaker, author and trailblazer with over twenty-five years of experience in the ministry of reconciliation. Her mission is to inspire, equip and empower emerging Christian leaders to be practitioners of reconciliation in their various spheres of influence around the world. She is an Associate Professor of reconciliation studies in the School of Theology at Seattle Pacific University, where she also directs the Reconciliation Studies program. She is an ordained pastor in the Evangelical Covenant Church and is on the pastoral staff of Quest Church in Seattle. Dr. Brenda is recognized internationally as one of the foremost leaders of reconciliation. She is also the coauthor of "The Heart of Racial Justice" and the author of "A Credible Witness" and "Roadmap to Reconciliation". Dr. Brenda is married to Dr. J. Derek McNeil and they are the proud parents of two young adult children.
Dave Veach - Northwest District Supervisor
Dave is the Northwest Foursquare District Supervisor. He and his wife, Windy, live in Tacoma a short distance from the District office. Dave and Windy have been pastors for decades, during which time they raised three children, Chad, Bethany and Kyle. They are the proud grandparents to seven grandbabies with one more on the way. Dave endeavors to be resourceful and creative in every area that will help pastors succeed. They are both committed to the long-term health of pastors and their families.
Tuesday, October 18 | 9:00 am - MAIN SESSION
Tuesday, October 18 - 10:45 am - 12 noon - WORKSHOPS
Tuesday, October 18 | 6:30 pm | MAIN SESSION AND ORDINATION
Nicole Reyes - Speaker and author
Nicole Reyes is a communicator and author who travels and speaks at churches, conferences and events around the world. Her desire is for people everywhere to experience the radical love of Jesus Christ and passionately pursue His plans. She also encourages women to discover their true identity and purpose as they follow Jesus with daring faith.
As Director of Liberty Foundation, she works with church planters, community leaders and missions organizations around the world to spread the Good News of Jesus and care for those in need. Prior to her work with Liberty Foundation and Liberty Church, Nicole was on staff at Oasis Church in Los Angeles for 14 years.
When Nicole is not traveling, she loves spending time with her boyfriend Ben, her friends and her family. She loves to laugh, and is always up for new adventures!
Wednesday, October 19 | 9:00 am - 10:15 am - WORKSHOPS
Wednesday, October 19 | 10:30 am - 12 noon - MAIN SESSION
*************************************************
TUESDAY TOURS AND GOLF
Boeing Tour and Future of Flight Aviation Center - Tour the Boeing Assembly Plant inside the world's largest building (by volume) – to watch Boeing 747, 777 and 787 Dreamliner jets being assembled. Also, explore the dynamics of flight and experience new aviation innovations at the Future of Flight Aviation Center. Register early as there are a limited number of tickets available. Meet at the Future of Flight Aviation Center 30-45 minutes before your tour begins. Tours are 90 minutes. Chose 2 pm or 3 pm. Click here for more information about the BOEING TOUR. Directions.
Golf - Join us for a golf tournament at one of Everett's beautiful public golf courses - Legion Memorial - from 1pm - 5 pm. Carts and clubs available for rent. Pay your fees ($27.50) for 9 holes to the golf course on Tuesday. Reserve today as tee times are limited. Details available Monday, October 16 at NWD17 registration. Click here for more information about the Legion Memorial Golf Course. Directions.
HOTEL CONFERENCE RATES
Group rates are available at the following hotels, which were chosen for their high reviews and proximity to the conference location.
Two options to reserve hotel rooms:
1) CLICK ON THE LINK BELOW for the hotel, if provided. This allows you to book directly the rooms set aside for the NWD17.
2) If you CALL TO BOOK, please mention NWD17 or the "Northwest District".
Booking early is highly recommended as space is limited and
rates are subject to availability.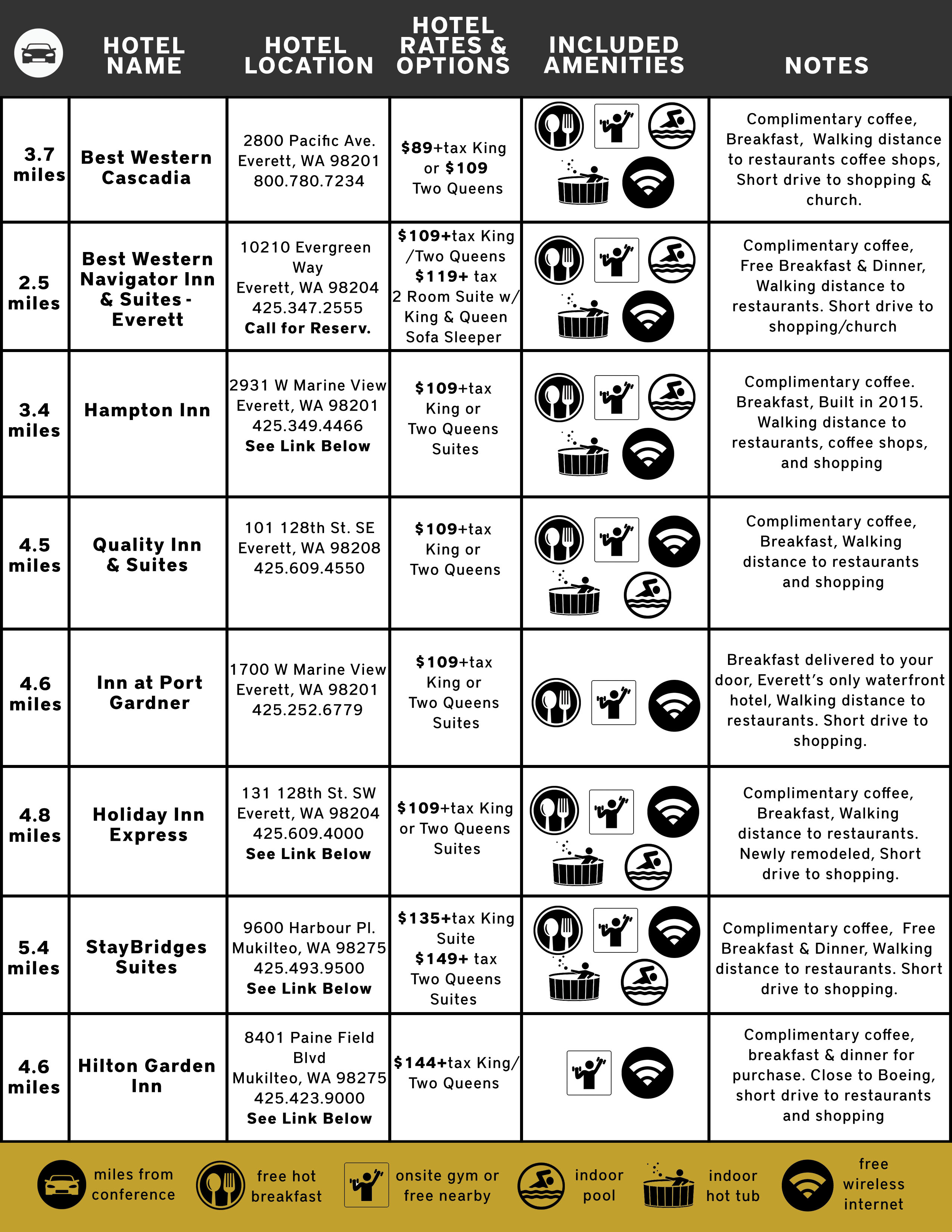 ONLINE LINKS TO HOTEL RESERVATIONS SPECIFIC TO THE NWD17
HAMPTON INN
HOLIDAY INN EXPRESS
STAYBRIDGES
HILTON GARDEN INN
Come and experience all that beautiful Everett has to offer. Make plans to tour the Boeing plant, golf on a scenic course, walk along the harbor, plus shop the premier outlets and malls in the Northwest.
CLICK HERE FOR MORE INFORMATION ABOUT ALL SNOHOMISH COUNTY AND EVERETT HAS TO OFFER DURING YOUR STAY