Description
The Children's Autism Center in Clear Lake will host the second annual North Iowa Autism Summit on June 23, an educational event designed for professionals in the field and families of children with an autism spectrum disorder.
The summit will be held at E.B. Stillman Auditorium at Clear Lake Middle School, located at 1601 3rd Ave. N. Registration begins at 8 a.m., and the summit kicks off at 8:30 a.m.
The summit will feature sessions with several doctorate-level professionals covering a variety of subjects that affect children with autism, their families, and those who support them.
Registration is $30 for professionals and $15 for families with children with autism. Individuals may register in-person the day of the event for $40. Lunch is included in the registration cost.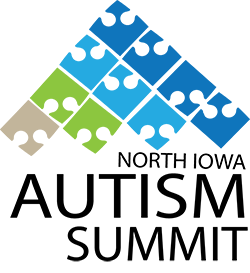 SUMMIT SCHEDULE
8 - 8:30 a.m.: Registration
8:30 - 8:45 a.m.: Welcome
Jeff Nichols
Opportunity Village
8:45 - 10:00 a.m.: Session #1
Functional Communication Training and Telehealth
Dave Wacker, Ph.D.
University of Iowa Stead Children's Hospital

10:00 - 10:15 a.m.: Break
10:15 a.m. - 11:15 p.m.: Session #2
Setting up for Success: Using Antecedent Based Interventions in the Classroom
Rachael Levine, Ph.D.
Northern Suburban Special Education District

11:15 - 11:30 a.m.: Iowa State Legislators speak
11:30 a.m. - 12:30 p.m.: Lunch (provided)
12:30 - 1:30 p.m.: Session #3
Toilet Training the Child on the Autism Spectrum
Lauryn Toby, Ph.D, BCBA
Opportunity Village Children's Autism Center
1:30 - 1:45 p.m.: Break
1:45 - 2:45 p.m.: Session #4
Autism in Iowa: Pillars of Paradox and Promise
Nate Noble, D.O.
Blank Children's Hospital
2:45 - 3 p.m. Closing remarks
Jesse Logue, Ph. D, BCBA-D
Opportunity Village Children's Autism Center