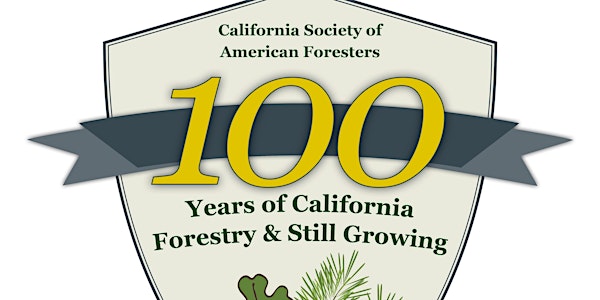 2017 NorCal/SoCal SAF Summer Meeting
When and where
Location
Gaia Hotel & Spa 4125 Riverside Pl Anderson, CA 96007
Description
Northern/Southern California Society of
American Foresters
2017 Summer Meeting – Value Added Forestry
Thursday August 24th & Friday August 25th
Gaia Hotel and Spa, Anderson, CA
If you have been thinking that biochar, CLT, and nanocellulose were the latest gourmet offerings at your local vegan BBQ bistro then you may want to attend the 2017 Summer Meeting to get the real story! "Value Added Forestry" will be the topic of our annual summer meeting of the Northern and Southern California Societies of American Foresters, as we explore the latest technology in wood products. The 2017 Summer meeting will be held in Anderson, CA at the Gaia Hotel and Spa and will include an exclusive field tour of Sierra Pacific Industries (SPI) door and window factory. We look forward to an excellent dialog about the future of forest products with all members of the California forestry and forest conservation community. Our conference this summer will focus on learning the value added in specific industry practices and techniques for forest products and residues.
Thursday will start off with the joint NorCal/SoCal Executive Committee (EC) meeting. The EC meeting be held at the Gaia Hotel & Spa. While the meeting is open to all interested individuals, however there is limited seating for non­-committee attendees.
The "Value Added Forestry" meeting will officially begin on Thursday evening with a wonderful evening program, including a social hour and silent action with exclusive items. The evening with continue with a Buffet Dinner, acknowledgments and a guest speaker.
Friday will begin as we carpool for an exclusive field tour to the hi-tech SPI door and window factory near Richland, CA. SPI is a vertically-integrated company that uses the latest technology. As a group, we will return for lunch back at the Gaia Hotel and Spa. After lunch, top industry professionals will present on a range of topics to include, small scale biomass gasification generators, biochar, cellulose nano materials/nano composites, and cross laminated timber. The meeting will conclude with a discussion on community involvement and look at approaches to create sustainable communities with engaged and enlightened citizens within our industry.
Mark your calendars now and register for the 2017 NorCal/SoCal SAF Summer Meeting. Join us to look at the future of wood products in California at the Gaia Hotel and Spa in Anderson, CA. When booking your reservation be sure to call (530) 365-7077 and use the group code: NORCALSAF to get the special SAF group rate.
Come early and enjoy the many summer outdoor activities in the greater Redding area! Visit Lake Shasta Caverns National Landmark, walk the Sundial Bridge, Shasta Lake, Mt. Lassen, shopping at Shasta Outlets, Sacramento River Trail, and downtown Redding. For additional ideas, visit www.visitredding.com.
Questions? Contact Kevin Locke at ncsaf@mcn.org
CFE credits will be available from the Society of American Foresters
2017 Summer Meeting Agenda
Thursday, August 24th
Thursday – August 24th Executive Committee
9:00 a.m. ­-12:00 p.m. Executive Committee Meeting at Gaia Hotel & Spa
12:00 p.m. ­-1:00 p.m. Lunch on your own at Gaia Hotel & Spa
1:00p.m.-4:00 p.m. Executive Committee Meeting continued
Thursday – August 24th Evening Program at Gaia Hotel & Spa
5:30 p.m. ­ 6:30 p.m. Registration, Social Hour and Silent Auction
6:30 p.m. – 7:45 p.m. Buffet Dinner, Acknowledgments and Oral History Project Update
7:45 p.m. – 8:15 p.m. Break and Silent Auction
8:15 p.m. – 9:00 p.m. Guest Speaker – Dan Tomascheski, SPI Vice President for Resources
"The Future of Value Added Products in California"
Friday, August 25th
Friday – August 25th Field Tour & Speakers/Meeting
7:45 a.m. - 8:15 a.m. Registration (Breakfast is on your own at resort)
8:15 a.m. – 8:30 a.m. Welcome
8:30 a.m. – 9:15 a.m. Carpool to Sierra Pacific millworks and window factory
9:15 a.m. – 11:00 a.m. Tour Sierra Pacific millworks and window factory
11:00 a.m. –11:45 a.m. Return to Gaia Hotel and Spa for lunch
11:45 a.m. – 1:00 p.m. Lunch - "A Perspective on SAF", Fred Cubbage, President SAF
1:00 p.m. – 1:40 p.m.- Small Log Utilization for Pallet Stock: Tim Cain, Fruit Growers Supply Co.
1:40 p.m. – 2:20 p.m.-Designing for Cross-laminated Timber Construction, TBA
2:20 p.m. – 2:40 p.m. Break
2:40 p.m. – 3:15 p.m. Biomass Gasification and Power Generation: Joel Armin-Hoiland, All Power Labs
3:15 p.m. – 3:45 p.m. Nano Cellulose Materials: Marcus Taylor, US Forest Service
3:45 p.m. – 4:30 p.m. Sustainability and Community Involvement, TBA
Gaia Hotel and Spa:
4125 Riverside Place, Anderson, California 96007
Email: stay@gaiahotelspa.com
http://www.gaiahotelspa.com/
Please call (530) 365-7077 to make your reservations and use the group code: NORCALSAF
Group Rates: Wednesday (8/23), Thursday(8/24) and Friday (8/25) - $94 (plus tax & services)
Other Local Travel & Lodging Information: www.visitredding.com