2017 New Jersey Complete Streets Summit
Description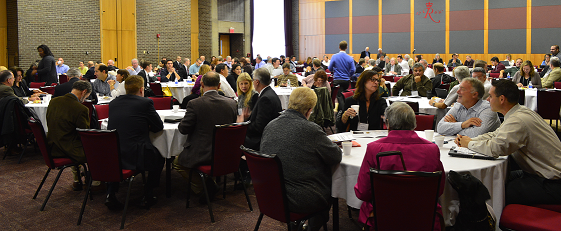 Registration is open for the 2017 New Jersey Complete Streets Summit hosted by the New Jersey Department of Transportation and the Alan M. Voorhees Transportation Center.
Who should attend:
This biennial Summit brings together planners, engineers, public officials, health professionals, and others involved with shaping communities throughout New Jersey.
What is the Summit:
This year's Summit features a keynote speaker, awards for municipalities and counties with a Complete Streets Policy, and a series of informative sessions. This year the sessions will be divided between two tracks – one for policy development and one for implementation. A listing of tentative sessions and descriptions is provided below.
Additionally, five municipalities and one county, all which have excelled at Complete Streets implementation, will be awarded, and their stories will be presented through short videos. Individuals who have been selected as "Complete Street Champions" will also be recognized and awarded.
Morning refreshments and lunch will be provided. We are also currently working to offer AICP credits and PDHs for attendance.
Why should you RSVP:
To learn more about how New Jersey streets can be made safer and more accommodating to road users of all ages and abilities, including pedestrians, bicyclists, motorists, and public transportation users.


TENTATIVE PROGRAM: 2017 New Jersey Complete Streets Summit
Breakfast/Sign-in/Networking 8:30 – 8:55
Welcome 9:00 - 9:10
Jon A. Carnegie, AICP/PP, VTC
Opening Keynote Address 9:10 - 9:55
Tony Garcia, Street Plans
Networking Break 9:55 - 10:10
Session 1: Showcase of Complete Streets 10:10 - 11:30
Complete Streets address a cross-section of issues and as such has enjoyed increasing popularity throughout the state and country. Hear from experts as they discuss cutting edge developments in Complete Streets as it intersects with Vision Zero, green streets, health and equity.
Remarks by NJ DOT Commissioner Hammer

Luncheon and Awards Ceremony 11:45 – 12:45
Session 2 (Breakouts) 1:00 - 2:00
2A POLICY: Complete Streets 101
We have seen the great opportunities a commitment to Complete Streets offers, but these achievements could not have occurred without a number of foundational achievements. This session will cover the basics of Complete Streets including issues related to liability, opportunities with Sustainable Jersey, passing exceptional policies, and quick fixes to build momentum around Complete Streets' achievable goals.
2B IMPLEMENTATION: Getting Beyond the Policy with Funding and Advocates
Transforming Complete Streets policies into actionable, concrete infrastructure improvements requires coordination between a number of moving pieces. This session will discuss some of the keys to successful implementation including securing funding, working with elected officials, and employing a Complete Streets Checklist to make Complete Streets simply a part of the routine.
Networking Break 2:00 - 2:10
Session 3 (Breakouts) 2:10 - 3:10
3A POLICY: Building Grassroots Support through Events
Grassroots support can greatly benefit Complete Streets projects and policies by spreading enthusiasm and curbing unnecessary and destructive NIMBYism. In this session panelists will a variety of fun events that encourage such support including walk to school days, open streets, and bicycle rodeos.
3B IMPLEMENTATION: Complete Streets Design Guide
This session will delve into the recently released "Complete Streets Design Guide" and will highlight the guidelines' utility across multiple levels. Complete Streets successes that align with the guide will be discussed at the municipal, county and regional level.
Session 4: New Jersey Bycle And Pedestrian Master Plan 3:10 - 3:55
New Jersey Bicycle and Pedestrian Master Plan, NJ DOT: This session, led by NJ DOT, will highlight the Bicycle and Pedestrian Master Plan. A portion of the session will be dedicated to collecting feedback on goal setting and strategies.
Call to Action 3:55 - 4:00