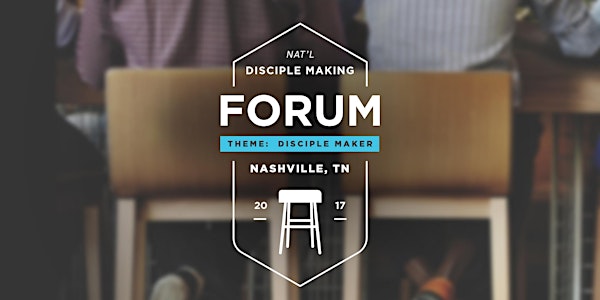 2017 National Disciple Making Forum in Nashville
When and where
Location
Brentwood Baptist Church 7777 Concord Road Brentwood, TN 37027
Refund Policy
Contact the organizer to request a refund.
Description
Make Disciples of Jesus
A national forum to help you grow as a disciple maker
November 9-10, 2017

Discipleship·org helps you grow as a disciple maker.
Our 2017 National Disciple Making Forum will teach you how to be a disciple maker in any aspect of life—from church leadership, to parenting, to working in children's, men's, and women's ministries—even to working with those who have deep rooted addictions.
Come as an individual or with your team (senior pastor, key staff, small group leaders, and elders).
Enjoy 3 main sessions as a team, but split up your team members between the 15 tracks, according to their needs (each track will have 5 breakout sessions). That's a total of 65 track sessions to choose from!
Email gearyt@discipleship.org for "buy 5 and get 5 free" registration savings (your church or organization only, please).
FORUM SCHEDULE
November 9-10: Thursday at 12:00 pm to Friday at 4:00 pm
THURSDAY, November 9, 2017
11:00am - Doors Open/Registration Begins
12:30pm – 2:00pm - Main Session/Forum 1
2:00pm – 2:30pm Break
2:30pm – 3:45pm - Track Session 1
3:45pm – 4:00pm Break
4:00pm – 5:15pm - Track Session 2
5:15pm – 6:45pm - Dinner Break (Food Trucks Available)
6:45pm – 8:15pm - Main Session/Forum 2

FRIDAY, November 10, 2017
7:15am - Doors Open
8:15am – 9:30am - Track Session 3
9:30am – 9:45am Break
9:45am – 11:00am - Track Session 4
11:00am – 12:30pm - Lunch Break (Food Trucks Available)
12:30pm – 1:45pm - Track Session 5
1:45pm – 2:00pm Break
2:00pm – 4:00pm - Main Session/Forum 3 (Finale)
MAIN SESSION SPEAKERS
Jim Putman - "Why Become a Disciple Maker!"
Thom Rainer - "Biggest Challenges Facing Disciple Makers"
Trillia Newbell - "Why Women Should Become Disciple Makers"
FORUM TRACKS
Relational DiscipleShift: How to Create a Disciple Making Church Culture (Jim Putman and the Relational Discipleship Network)

Creating Disciple Making Leaders (Bill Hull and the Bonhoeffer Project)

The Holy Spirit and Transformation (Dave Buehring and Lionshare)

Church Planting and Disciple Making (Todd Wilson and Ralph Moore from the Exponential Conference)

Discipling Millennials: Engaging the Next Generation of church leadership with the Gospel (Kennon Vaughan and Downline Ministries)

Women's Discipleship (Joanne Kraft - Grace and Truth Living)

Student Ministry and Disciple Making (Dann Spader and Sonlife)

Invest in a Few: How to Raise Up Reproducing Disciple Makers (Craig Etheredge and DiscipleFirst)

How to Disciple the Heart (Monte Starkes and Life-on-Life Missional Discipleship)

How to Mature People through Disciple Making (Daniel Im and the LifeWay Team)

Disciple Making Theology Matters (Tony Twist and the TCM Seminary)

Family Discipleship (Ron Hunter, Jr and D6)

Men's Discipleship (Regi Campbell of Radical Mentoring and Nate Larkin of the Samson Society)

Crockpot Church Cultures in a Microwave World (Roy and Margaret Fitzwater - Navigator Church Ministry)
FAQs
How can I contact the organizer with any questions?
Email gearyt@discipleship.org.
How far is the venue from the airport?

BNA is 17.6 miles from Brentwood Baptist Church (7777 Concord Road, Brentwood, TN 37027)
Is there an official hotel?

There is not an official hotel designated for the event but we suggest the following options which are convenient and more reasonably priced:
Baymont Inn & Suites Nashville/Brentwood
111 Penn Warren Dr, Brentwood, TN 37027
(615) 376-4666
Best Western Brentwood
5581 Franklin Pike Cir, Brentwood, TN 37027
(615) 373-8585
Candlewood Suites Nashville-Brentwood
5129 Virginia Way, Brentwood, TN 37027
(615) 309-0600
Country Inn & Suites By Carlson, Cool Springs, TN
7120 S Springs Dr, Franklin, TN 37067
(615) 778-0321
Four Points by Sheraton Nashville - Brentwood
760 Old Hickory Blvd, Brentwood, TN 37027
(615) 964-5500
Holiday Inn – Franklin-Cool Springs
1738 Carothers Pkwy, Brentwood, TN 37027
(615) 277-8700
Holiday Inn Express & Suites Brentwood
5566 Franklin Pike Cir, Brentwood, TN 37027
(615) 221-5001
Hyatt Place – Brentwood/Nashville
202 Summit View Dr, Brentwood, TN 37027
(615) 661-9477
Mainstay Suites
107 Brentwood Blvd, Brentwood, TN 37027
(615) 371-8477
Sleep Inn – Brentwood- Nashville- Cool Springs
1611 Galleria Blvd, Brentwood, TN 37027
(615) 376-2122
What's the refund policy?
If you can't find somebody else to use your tickets we'll refund 50% of your purchase price until one month before the forum starts (10/9/17).
Do I have to bring my printed ticket to the event?
If you don't bring it just check in at registration and we'll find you on our list.
Dave Buehring

Founder & President of Lionshare

Founder & President of Lionshare

Regi Campbell

Entrepreneur, author, Radical Mentoring founder

Entrepreneur, author, Radical Mentoring founder

Dr. Robert Coleman

Speaker, Author, Seminary Professor

Speaker, Author, Seminary Professor

Michelle Eagle

Speaker and Disciple Making Leader

Speaker and Disciple Making Leader

Craig Etheredge

Founder and President of discipleFIRST Ministries

Founder and President of discipleFIRST Ministries

Bobby Harrington

Pastor, Author, Co-Founder of Discipleship.org

Pastor, Author, Co-Founder of Discipleship.org

Bill Hull

Author, Speaker, Founder of the Bonhoeffer Project

Author, Speaker, Founder of the Bonhoeffer Project

Jayme Hull




Author, speaker, mentor

Daniel Im

NewChurches.com and LifeWay Christian Resources

Director of Church Multiplication

Ron Hunter, Jr.

Randall House, publisher of D6 Curriculum

Executive Director & CEO

Joanne Kraft

Speaker, author, Grace and Truth Living founder

Speaker, author, Grace and Truth Living founder

Nate Larkin

Ministry Leader, Author, Samson Society founder

Ministry Leader, Author, Samson Society founder

Ralph Moore

Author, Speaker, Hope Chapel Movement Founder

Author, Speaker, Hope Chapel Movement Founder

Trillia Newbell

Author, Speaker, Blogger

Author, Speaker, Blogger

Jim Putman

Pastor, Author, Network Leader

Pastor, Author, Network Leader

Thom Rainer

CEO Lifeway, Author, Blogger

CEO Lifeway, Author, Blogger

Ariyana Rimson

Speaker and Disciple Making Leader

Speaker and Disciple Making Leader

Dann Spader

President of Global Youth Initiative and Founder of Sonlife Ministries

President of Global Youth Initiative and Founder of Sonlife Ministries

Monte Starkes

Perimeter Church

Director of Life On Life Missional Discipleship and Global Outreach

Tony Twist

CEO & President of TCM International

CEO & President of TCM International

Dr. Kennon Vaughan

President and founder of Downline Ministries

President and founder of Downline Ministries

Todd Wilson

Founder of Exponential, Co-Founder of Discipleship.org

Founder of Exponential, Co-Founder of Discipleship.org

Jess Wolstenholm




Author, blogger, freelance writer