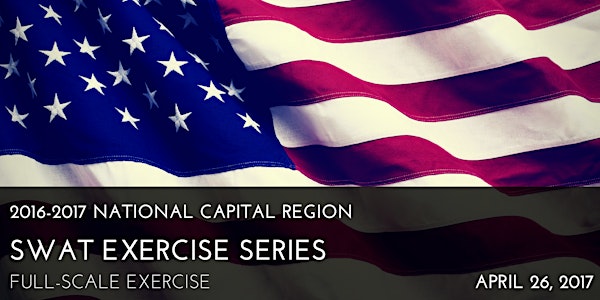 2017 National Capital Region SWAT Full-Scale Exercise- Volunteer Registrati...
Event Information
Location
Multiple Locations
Washington, DC
Description
Exercise Overview:
On behalf of the Metropolitan Washington Council of Governments and the NCR SWAT Subcommittee, we cordially invite you to participate in the 2017 National Capital Region (NCR) SWAT Full-Scale Exercise (FSE).

The 2017 NCR SWAT FSE, scheduled for April 26, 2017, is one (1) of two (2) exercises in the 2016-2017 NCR SWAT Exercise Series focused on exercising the NCR Coordinated Tactical Response Plan. Six (6) venues will host and support exercise play. Multiple SWAT teams will stage at and respond to a simulated complex coordinated attack at each of the six (6) different host venues.
Volunteer Participation:
All volunteers must be 18 years of age in order to participate in the exercise. Volunteers will be expected to act the part of a victim in a terrorist attack at a location to be determined by your preference in this registration and the need for volunteers at each location. Refreshments will be provided to volunteers at all locations. Emergency responders and other entities will test their ability to respond to and manage the scenario at each location. All volunteers will be given a safety briefing prior to the start of the exercise and instructed to follow all first responder commands. Prior to the exercise, you will receive an email with a location assignment and other logistical information pertinent to that location. You must bring a government issued ID to your assigned location in order to participate in the exercise.
Cancellation Policy:
If you need to cancel your registration prior to the event please email skessler@olsongroupltd.com at any time.
Date and time
Location
Multiple Locations
Washington, DC