Description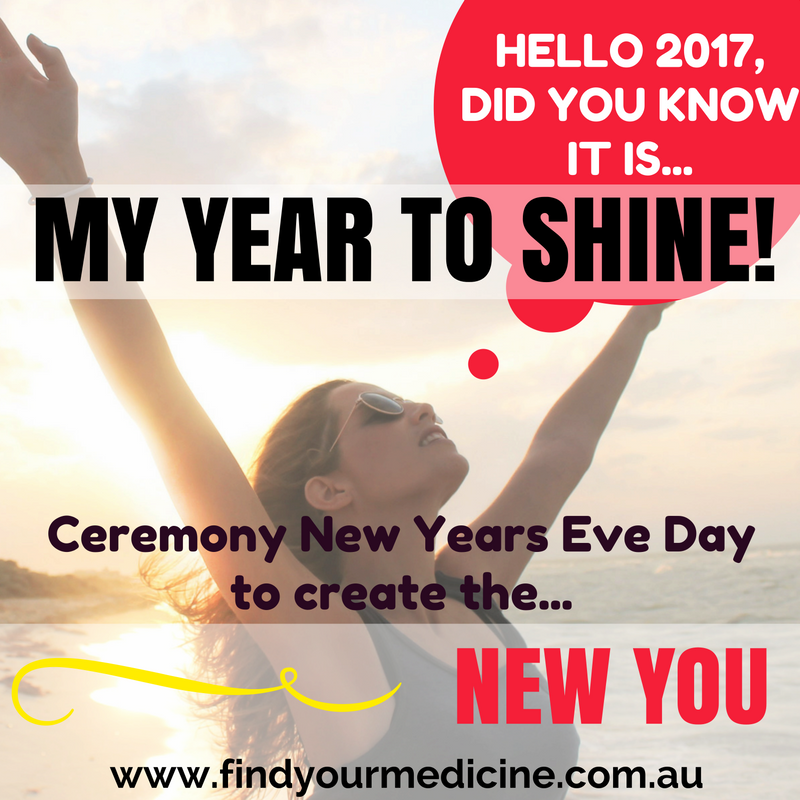 What are your plans for New Year's Eve afternoon?
I've got something special brewing that I want to share with you! If you were to sum up your experience of 2016 in a just a few words, what would they be? For me it's been Intense, Exciting and Overwhelming. I have felt this year has been about inner-work, change, new relationships, rapid growth and transformation and I've heard from many others they felt quite overwhelmed by it all, too.
Sound familiar?
Perhaps not so surprising as 2016 has been a year of completion of many cycles, so we were unconsciously letting everything come up for transformation and completion. I don't know about you but I'm done with it all and ready for new beginnings, to step into 2017 SHINING, empowered, centred, joy-filled, clear of my path, ready to celebrate life and reap the harvest I've been sowing!
In order to welcome in truly brand new beginnings, we have to create space, right?
And there is nothing quite like a ceremony to clear out the old and welcome in the new. Imagine yourself immersed with a group of other powerful, loving, conscious and curious souls opening-up, sharing and giving each other real space to talk, close off 2016 and create 2017 as our year to SHINE.
Imagine what it would be like to let go of:
 Disbelief, self-doubt and fear of failure and bring in Radical Self-Love, Self-Belief and Unshakeable Confidence!
 Comparing ourselves to others and birthing a Supportive, Loving and Empowering Community!
 Closing off the many ideas, projects and businesses from years ago that never eventuated or 'took-off', that are still weighing us down and bringing in Fearless Action and Creative Expression!
 Old archaic programs that are limiting our ability to be successful without exhausting ourselves, sacrificing or neglecting other aspects of our lives, such as 'No pain, no gain' or 'who am I to deserve this?' Imagine bringing in Flow and Abundance of all Good things with Ease and Grace!
 And finally, imagine clearing all of the negative thoughts, vibrations and emotions attached to money and freedom to do what we love…Making space for a new lifestyle that is aligned with our birthright and allows us to express ourselves as a beautiful gift and contribute more to humanity and to our planet…
Where do want to be in 2017? What are you planning to get you there?
Not only are we completing 2016 and beginning 2017, we are actually completing a COMPLETION CYCLE and beginning a BEGINNING YEAR of a new 9 YEAR CYCLE, whoa!
What does this mean? It means that the energies are super strong and also in OUR favour to radically shift our experience of Life on Earth. By transforming every aspect, whether that be our business, health, career, relationships or finances.
I know all too well what it's like to not be in my power, to feel life-less, having nothing to look forward to and no-one to reach out to that understands. I know what it's like to be living a lie, pretending that what I'm doing for a job is a part of 'my plan' and knowing at the same time that programming and fear is really running the show.
I know what it's like to wake up on Mondays and bargain yet another week with my soul.
And I've had enough, haven't you? If you want to start something new, if you are hungry for change and sick of feeling stuck or not getting quite the traction you are after, this is the time to close off the old and invite in a new way of BEING, LIVING, EXPRESSING and EXPERIENCING LIFE!
What's around the corner?
 People waking up
 People stepping into their power
 People coming together and standing up for their basic rights,
 Fun, play and creative spirit,
 Community and connecting back to earth
 Exploring the uniqueness of us all and shining that beauty from within It has the potential to be a giant party really!
Sound good? I like to think so!
So…if you are picking up what I'm putting down, I invite you to join my tribe for New Year's Eve Day in my humble home in Cannon Hill, SE Brisbane. Together we will bring in real closure to this year and all of our experiences and begin the process of creatively claiming 2017 as OUR YEAR TO SHINE and enjoy an EXPERIENCE-RICH LIFE!
We will create, share, dance, express and join in ceremony for a powerful guided healing meditation to remove those programs that have been keeping us small so that space is created to welcome in the most kick-ass year (to date)!
If you are ready to say YES to an amazing opportunity to harness these powerful energies in a sacred group space to say goodbye to the past and hello to a brand new beginning.
Saturday 31st December 2016 5pm-9pm Contribution (and also a Christmas Gift to YOU from YOU <3)
$80 early bird – payment due by the 21st December
$100 after 21st December
BOOKINGS ARE ESSENTIAL
Julia xox
Find Your Medicine