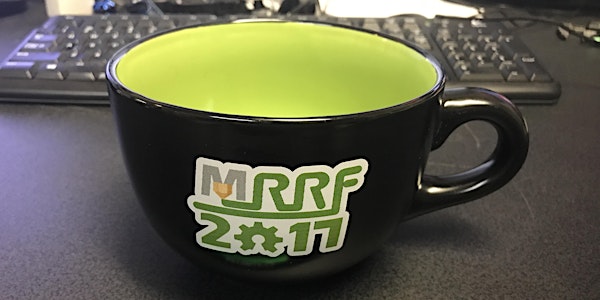 2017 Midwest RepRap Festival (#mrrf2017) AKA MRRF!!!
When and where
Location
Elkhart County 4-H Fairgrounds 17746 County Road 34 Goshen, IN 46528
Refund Policy
Contact the organizer to request a refund.
Description
2017 MRRF IS COMING
Proudly Hosted by SeeMeCNC &
Made possible by our sponsors
Google Making & Science
UltiMachine
Prusa Research
Lulzbot
UltiMaker
Pattern To Print
Beagleboard.org
BondTech
MicroSwiss
MuVe3D
MatterHackers
E3D
Atomic Filament
Taulman3D
Trick Laser
Printedsolid
iMade3D
Makerbox
713Maker
B3 Innovations
3DOrchard
MDL Systems
Mostly Printed CNC
What is MRRF???
The 5th annual Midwest RepRap Festival is taking place March 24-26th 2017 in the same location as last year. Nestled in the middle of nowhere Indiana, you'll find the largest gathering of 3D printers and 3D printing enthusiasts anywhere in the WORLD. With over 1,000 attendees each of the past few years MRRF has become the best 3D printing festival anywhere and we're excited to do it again!
WANT TO ATTEND AND JUST CHECK IT OUT?
As always MRRF is a 100% FREE event to attend. Feel free to come and see all the 3D printers and projects as well as the vendors. Ask questions, be amazed! Bring the family.
WANT TO SHOW OFF YOUR 3D PRINTING STUFF?

It's FREE to exhhibit your 3D printing related projects, 3D Printers, or anything that is related to 3D printing really! All exhibitors will have space to set up and display. Tables/Chairs are first come first serve, so come early and if you have a large group especially come and set up friday if you can. No matter if you built your own REPRAP from the ground up or you bought a 3D printer, or even if you don't have your own printer but have created 3D printing related projects EVERYONE IS WELCOME TO EXHIBIT!!! (but bonus points if you built your own) Here's your chance regardless of knowledge, skill, age etc... to show off your prints, machines, projects, ideas and more.
PLEASE add one free ticket per person attending or exhibiting. Register each person with the information you want displayed on the custom event badges!!! Anyone who registers BEFORE March 1st will get a badge. If you register after March 1st we can't guarantee that you'll get a custom badge printed in time for you.
WANT TO SPONSOR MRRF?
If you would like to attend MRRF as a commercial vendor we ask that you choose one of the sponsorship levels below. ALL SPONSORS get an 8' table and chairs. If you need a larger area or would like to talk about other ways you would like to help make this event awesome please contact us so we can discuss it first before buying one of the sponsorthip levels. Each sponsor will be proudly displayed at MRRF.
GOLD Sponsors will have their logos on all media PLUS the 2017 MRRF T Shirts available at the event
Silver Sponsors will have their logos on all media at the event
Bronze Sponsors will have their logos on all media at the event
We also have a badge/lanyard sponsorship available that will get your custom logo printed on the badges/lanyards
WHAT TO BRING
There will be plenty of power and FREE WIFI at the event however we ask everyone to bring at least a 25' extension cord and a power strip for their area to make sure you can get power to where you need it. MRRF is a family friendly event, so bring the whole family! There is a snack bar with plenty of food and drinks available both Saturday and Sunday, but feel free to bring coolers/snacks/etc.. with you, just NO GLASS BOTTLES as requested by the event hall. Over 21? BYOB but remember this is a family friendly event.
WHERE TO STAY
There are many hotels located nearby. Here's a list of a few that we always try to have special rates available at. Make sure to tell them you're staying for the 3d printer festival in town to check if they have special rates available for your stay
Best Western
900 Lincolnway East, Goshen, IN 46526 574-533-0408
Hampton Inn
1968 Lincolnway East, Goshen, IN 46526 574-533-8800
FRIDAY 5pm - 10pm
Setup day and hangout day as in past events, with many people showing up and bringing in all their stuff to show off. The event hall will open at 5pm and stay open until 10pm for setup for anyone coming to attend. If you're just coming to walk through you're welcome to come friday as well! Plenty of hang out time and meetups on Friday. Feel free to wander out and grab food then come back and hang out.
SATURDAY 10am - 6:30pm
Doors open by 9am for setup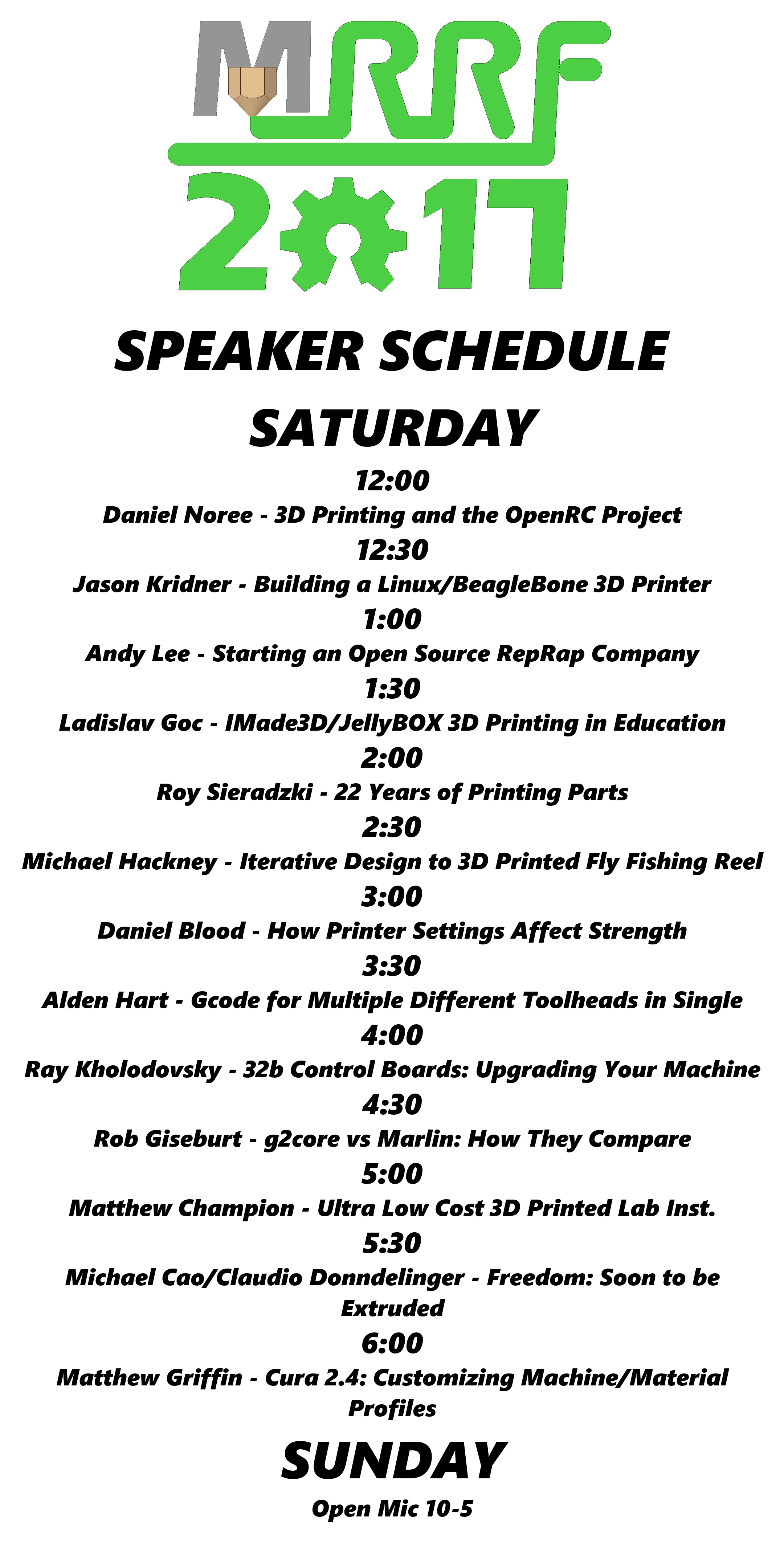 SATURDAY 7pm-9pm - Community Dinner
Sponsored by Google Making & Science
Chinese Buffet is where it's at again, so come hungry!
SUNDAY 10am - 5pm
Doors open by 10am. There will be FPV Drone racing outdoors weather permitting and a few more presentations this year on Sunday. Event ends 5pm and load out/cleanup afterwards.