Event Information
Location
Riverside
Bloomery Road
Charles Town, WV 25414
Description
Join us for the second annual Mid-Atlantic Permaculture Convergence, an inspiring day of connection, conversation, and collaboration featuring hands-on workshops, informative presentations, and powerful community-building.


This year's theme is "The Holistic Homestead"
Confirmed presentations include...
Keynote address on

"Mead: the community-building a fermentation addiction can engender."


with Jereme Zimmerman, author of Make Mead Like A Viking, plus an engaging session on

"How to Make Mead Like a Viking."

A hands-on learning session on Natural Building with a Permaculture Twist with Permaculture designer and author Michael Judd of Ecologia Design. Straw, clay and sand can build solid and beautiful structures and homes. Natural builder Michael Judd will share pros and cons of various techniques and experiences from his recently completed circular round wood strawbale home. Hands on focus will be natural plasters which can be used on a variety of surfaces and retro fitted into existing structures.
Herbalist Hillary Banachowski of Sacred Roots Herbal Sanctuary will

present on "

Invasives: Friend or Foe?" Invasives get a bad rap. ...but did you know that they play an integral part in the restoration of damaged ecosystems, provide habitat for pollinators and healing medicine for humans? This

class will explore some of the myths surrounding invasive plants and discover which ones you might just want to have in your medicine cabinet.

Eric Kelly of Charm City Farms will present on "Raising Small Livestock: Filling the corners and layers of the holistic homestead." This presentation style workshop will go through the pros and cons of raising rabbits, guinea pigs, quail, and pigeons. We will discuss raising each of these animals in different enclosures, in companion with one another, feeding alternatives, and value added products.

William Padilla-Brown of

MycoSymbiotics LLC. will present on "Fighting Social Injustice with Mycology." Access to good information on Mycology is becoming more available everyday. With a growing diversity of educators the information is being disseminated into communities where many other sciences aren't able to reach. Around our country we see a need for jobs, and regeneration of disturbed ecosystems. Mushroom farms are perfect models of Ecologically Regenerative Sustainable Micro Industries.
Jen Mendez of PERMIE KIDs will be returning to offer more of her incredible, engaging permaculture-inspired children's programming.
A panel discussion with local doulas and midwives, featuring Claudia Booker of Birthing Hands Midwifery & Birthing Services, discussing their roles in community health and empowerment, from pre-conception through postpartum care.
Jason Godesky and Guilianna Maria Lamanna will be joining us to share their game "The Fifth World", which presents an open source shared universe — a vision of a neotribal, ecotopian, animist realist future created by a growing community of authors, artists, designers, gamers, and dreamers. Jason & Giuli believe that story can knit together communities and bind our human communities more deeply to the more-than-human world we dwell in and use tabletop games to facilitate communal storytelling. They invite you to try their game, with or without discussion of the techniques used to train consensus-building, non-violent communication, and empathy.
Final Schedule: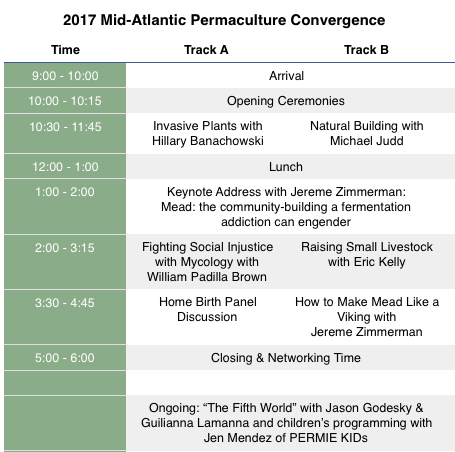 We are now accepting sponsors, advertisers, and vendors!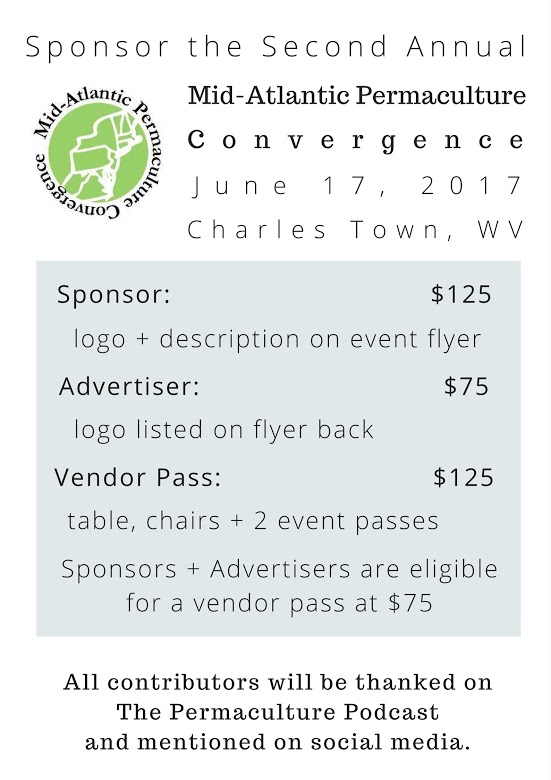 Looking for additional permaculture learning opportunities?
Join us at Riverside on the Thursday and Friday before the Convergence (6/15 and 6/16) for:
Seventh Generation Education, a 2-day permaculture training for teachers, mentors and parents run by the Institute of Permaculture Education for Children (IPEC) and Jen Mendez of PERMIE KIDs.
CLICK HERE for more information and registration.
FAQs
How do I get there?
Riverside is an easy 90 minute drive from both DC and Baltimore and there is plenty of parking available on site.
The property is just 15 minutes from the Harpers Ferry Amtrak Station.
Dulles (IAD) is the closest airport (about 50 minutes), but Reagan (DCA) and BWI are both options as well.
Where can I stay?
Coming from out of town? Not a problem!
The convergence is walking distance from the Moulton Park Campground, where campsites can be reserved for $15/night.
The KOA Campground at Harpers Ferry is just 6 miles from the property.
Local hotel options include the Clarion Inn Conference Center,Econo Lodge, and the Hampton Inn and Suites.
What about food?
You can purchase a lunch ticket for $10 (a vegetarian lunch offering will be provided by local caterer Carol Sanders), or else bring a picnic lunch. Beverages will be available for sale, but as the weather may be hot we highly recommend bringing bottled water.
We are working to make this a zero-waste event. Please bring your own dish, cup, and cutlery. We will have an outdoor wash station available.
What else can I do in the area?
Where can I contact the organizer with any questions?
Shoot us an email at info@theriversideproject.com with any questions.
Please note, all tickets are NON-REFUNDABLE, except in the case of event cancellation. If you are unable to attend, your ticket(s) may be transfered to others.
Date and Time
Location
Riverside
Bloomery Road
Charles Town, WV 25414