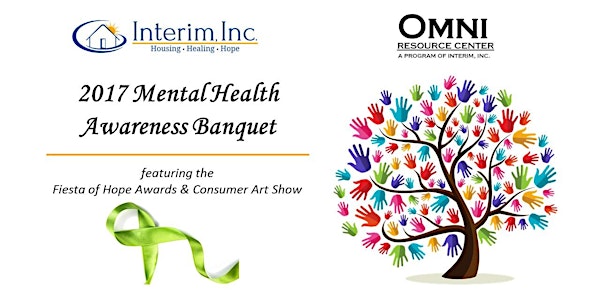 2017 Mental Health Awareness Banquet (f/the Fiesta of Hope Awards & Art Show)
Date and time
Friday, May 5, 2017 · 5:30 - 8:30pm PDT
Location
Embassy Suites by Hilton Monterey Bay Seaside 1441 Canyon Del Rey Boulevard Seaside, CA 93955
Description
Celebrate with us!
Interim, Inc. and the OMNI Resource Center have the distinct honor of recognizing the dedication of our wonderful volunteers at our annual awards banquet and dance. This year, we are pleased to feature the Fiesta of Hope Awards, and a Consumer Art Show! We are also excited to have DJ Madonna return for the evening's entertainment!

Date: Friday, May 5, 2017

Location:
Embassy Suites
1441 Canyon Del Rey Blvd., Seaside
Tickets: $50
Tables of 10: $500
Consumers and family members: Please contact the OMNI Administrator at (831) 800-7530 x431 for special pricing.
---


Schedule of Events
4:30 PM ~ Consumer Art Show

5:30 PM ~ Opening Remarks
Savannah Alvarez, Wellness Navigator, Interim, Inc.
Dr. Amie Miller, Director, Monterey County Behavioral Health Bureau
5:45 PM ~ Dinner
6:00 PM ~ Speaker
Barbara Mitchell
Executive Director, Interim, Inc.
6:10 PM ~ Consumer Speaker
Roxanne Rossiter
Volunteer, Interim, Inc.
6:20 PM ~ Success Over Stigma and Hope & Recovery Awards Presentation
Kontrena McPheter
Peer Outreach & Advocacy Coordinator, Interim, Inc.
6:30 PM ~ Interim, Inc. Volunteer Recognition Awards
Catherine Brennan, Interim, Inc. Board Secretary
Savannah Alvarez
6:50 PM ~ Fiesta of Hope Awards
Mark Lopez
Mental Health Commission
7:10 PM ~ Kristen Hart Awards
Jim & Karen Hart, and Jim Kenny
7:20 PM ~ Music & Dancing
9:00 PM ~ Closing Remarks
Savannah Alvarez

This event is sponsored in part by donations from the Dorothy and Joe Messner Memorial Fund.
For more information, please contact Lisa Corpuz, OMNI Administrator, at (831) 800-7530 x430.
About the organizer
Interim, Inc. is a private, non-profit, public-benefit corporation funded through contracts with Monterey County Department of Health - Behavioral Health Bureau (including Mental Health Services Act funds), and the California Department of Rehabilitation.  Other funding sources include: US Dept. of Housing & Urban Development Supportive Housing Programs, City of Monterey, City of Salinas, client fees & rents, foundation grants, and contributions.  Our Federal Tax ID is #51-0159122.  Interim, Inc. does not discriminate on the basis of race, color, national origin, sex, age, creed, religion, disability, marital status, medical condition, veteran status, or sexual orientation.  Interim is an Equal Opportunity Employer.  Any questions relating to this policy may be referred to the Deputy Director at 831.646.2220, ext. 304.  TTY users may contact the California Relay Services at 800.735.2929 (English) or 800.855.3000 (Spanish).