2017 Math Summer Programs at Mathnasium. Starts at $395. Newton-Needham-Wellesley

Monday, June 5, 2017 at 1:00 PM

-

Saturday, September 30, 2017 at 4:00 PM (EDT)
Event Details
To print Summer application form to drop off in person, please click here.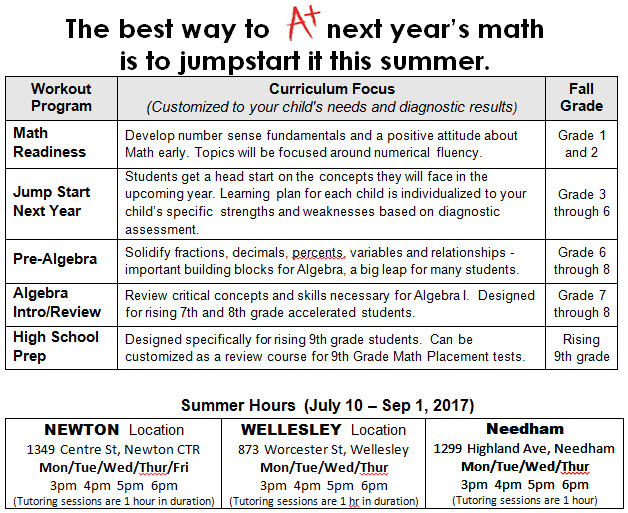 School year members?  Use Promo Code "MEMBER" for $100 Member Early Bird Discount.
Mathnasium is not a group class
.  We tailor a personalized prescriptive learning program for each student.  Depending on your child's needs and assessment results, we will customize one of the curriculum below (we only teach Math).  Your child will be working with a Mathnasium instructor in a fun, relaxed small-group setting (max 3 students per instructor). 
WHEN: Time your individualized sessions between July 10  and  Sep 1, 2017
Available hours:    Mon through Friday: 3 pm, 4 pm, 5 pm, 6 pm  (Friday closed in Wellesley/Needham)
Each tutoring session is 1 hour long, flexible scheduling.
WHAT will your child do during the hour?  Every child has his/her own customized learning plan based on needs and diagnostic assessment results.  During the hour, your child will work on his/her learning plan with an instructor in a small group setting (max 3 students/instructor).
COST:    See Tuition table above.  We are not a group class.  You will not find individualized tutoring rates in any other Learning Centers in New England.
 CALL (617) 340-3665 to register by phone or ask any questions.  
To print Summer application form to drop off in person, please click here.   
Watch Mathnasium Method video at: http://www.mathnasium.com

Save This Event
When & Where

Mathnasium Math Learning Center
Newton, Needham & Wellesley



Monday, June 5, 2017 at 1:00 PM

-

Saturday, September 30, 2017 at 4:00 PM (EDT)
Add to my calendar
Organizer
MATHNASIUM Math Learning Center
Call (617) 340-3665 for any quetions.
This workshop is only offered in our Newton Center location:
   NEWTON-1349 Centre St, Newton Ctr
About Mathnasium
1. We teach Math and Math only (that's why we are so good at it). We have a big warning sign in our center that says: WARNING: Your Child could Become CRAZY about Math. We've seen it happen many times so we thought we would warn you.
2. We do eyeball-to-eyeball instruction. An individualized curriculum is created for every child to target his specific math skills gaps and to build upon his strengths. Since no 2 children have the same skills gaps and strengths, no 2 children share the same learning curriculum. Call me at (617) 340-3665 to find out how we can give a child individual attention, get dramatic results, and keep our program fees affordable.  EXCEPTION: The Multiplication Hero Workshop is a large group format, and not eyeball-to-eyeball instruction.
3. How do we measure results? We know that you didn't bring your child to get good grades in our center. You bring your child to get good grades in school. Therefore, we measure our results based on your child's school grades, test scores, and your child's confidence and attitude about Math, not just on our center's pre-post quarterly assessments. To that end, we contact your child's teacher to get her thoughts and feedback on your child's learning plan. Example, a teacher contacted us recently because she was starting a new section on fractions and she asked us to help Kayla - one of her students attending our center - to give her extra support so Kayla can get a head start.
Call (617) 340-3665 and ask for our Center Director. We will be happy to schedule a FREE TRIAL.  Your child will tell you if Math makes sense at Mathnasium or not.
2017 Math Summer Programs at Mathnasium. Starts at $395. Newton-Needham-Wellesley