Description
"From the Basics To Emerging Trends in Athletic Training"

This conference is designed to provide essential and advanced knowledge to Certified Athletic Trainers.
Conference Learning Objectives:
• Identify the role of imaging in the management of injuries
• Describe the advantages and challenges in 3rd Party Reimbursement for athletic training services
• Apply appropriate protocols for return to play decisions after illness
• Discuss the implications of current issues facing an active patient population including musculoskeletal injury, illnesses, opioid concerns, psychological health, performance & analytics, and cardiac health
Featured Topic: 3rd Party Reimbursement for the Athletic Trainer
The MATA is proud to feature 3rd Party Reimbursement at this year's Annual Symposium. We are excited to have Steve Allision, ATC, LAT and Brandon Lorrig, ATC, LAT join us to discuss Wisconsin's efforts in the NATA 3rd Party Reimbursement Pilot Project. We are also excited to have Amy DeRosa from IncreMedical join us to present on the value of Athletic Trainers.
Confirmed Conference Faculty:
• Scott Haglund, MA Ed, RTR, ATC: Assistant Professor/Clinical Coordinator-Radiology, St. Catherine University
• Hollis Fritts, MD: Musculoskeletal Radiologist; Center for Diagnostic Imaging
• Jon Campbell, MD: Orthopedic Sports Medicine Fellow; Fairview/Minnesota Orthopedic Sports Medicine Institute
• Amy Brugge, EdD, ATC: Assistant Professor; College of St. Scholastica/Chair-MATA Government Action Committee
• Troy Hoehn, MS, ATC, CSCS, ITAT: Head Athletic Trainer; Orthopeadic & Fracture Clinic/President MATA
• Stuart Borne, MEd, ATC, CSCS: Strength and Conditioning Coordinator; University of St. Thomas
• Justin Anderson, Psy.D., LP: Sports Psychologist; Premier Sports Psychology
• Amy DeRosa: Vice President of Client Services; IncreMedical
• Steve Allison, ATC, LAT: Independent Consultant—OrthoVise, LLC; NATA & WATA 3rd Party Reimbursement Project
• Brandon Lorrig, ATC, LAT: Sports Medicine—Athletic Trainer; Western Wisconsin Health
• Siatta Dunbar, DO, CAQSM: Sports Medicine Physician; Fairview Sports & Orthopedic Care
• Eric Ernst, MD: Cardiologist; MHealth—University of Minnesota Heart Health Care
• David Jewison, MD, CAQSM: Primary Care Sports Medicine Physician; MHealth—University of Minnesota Sports Medicine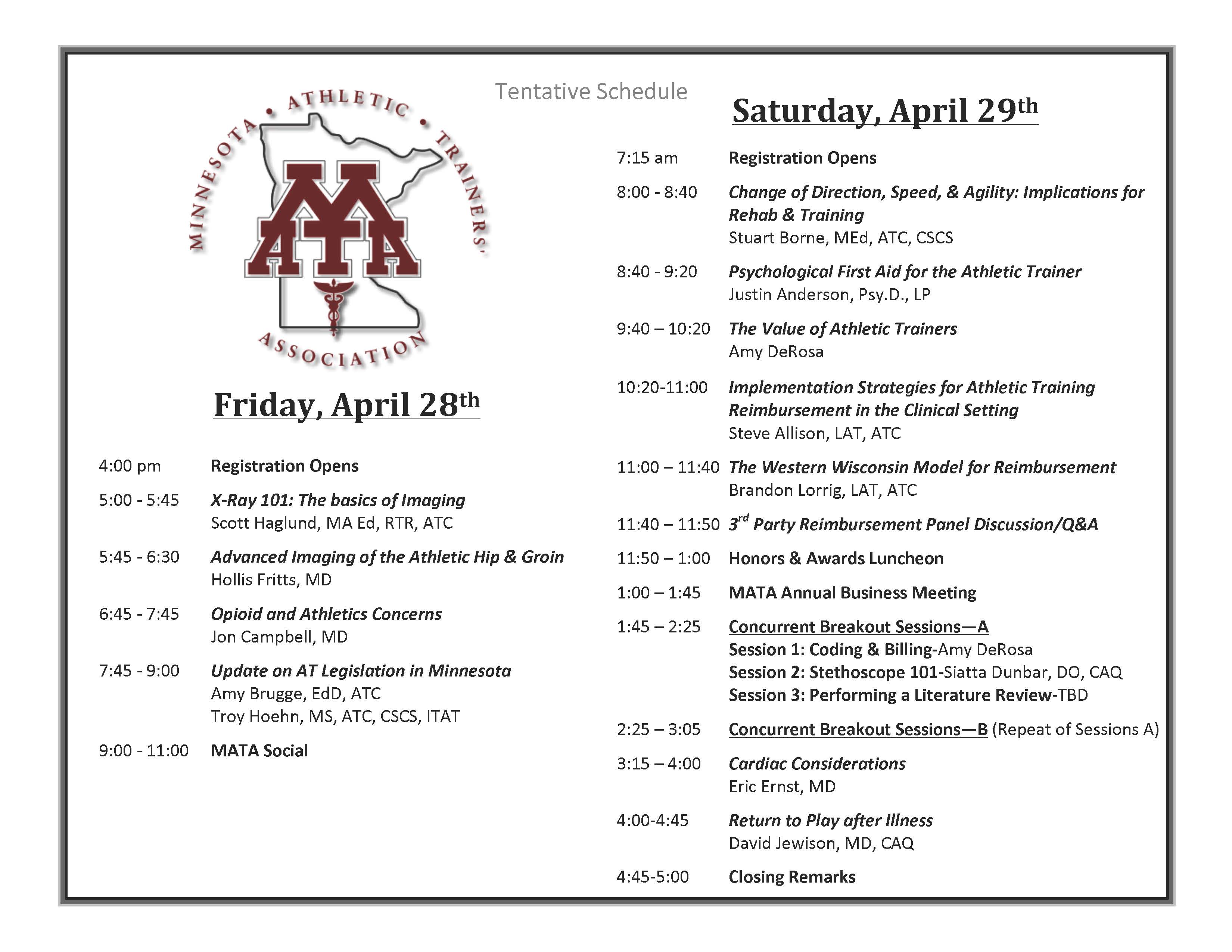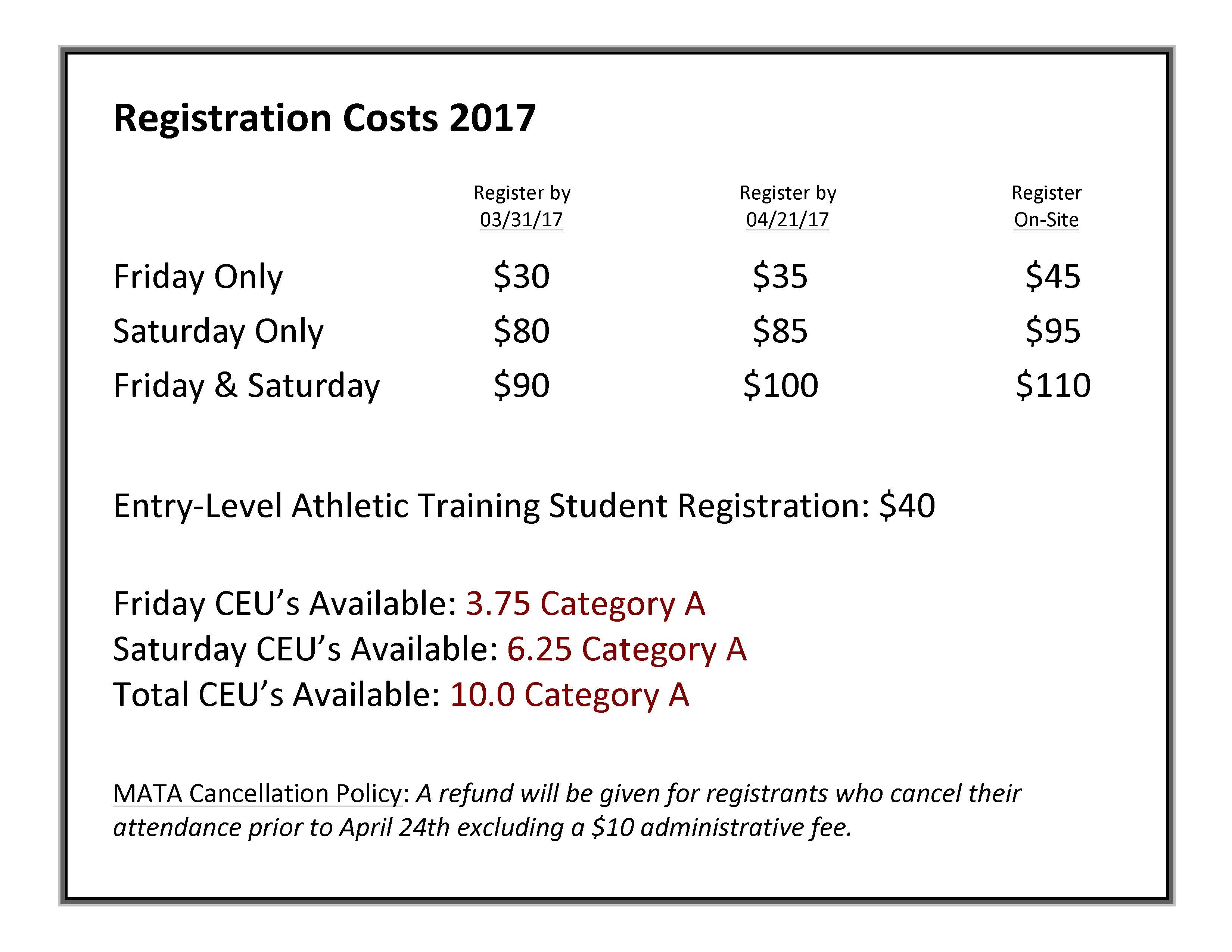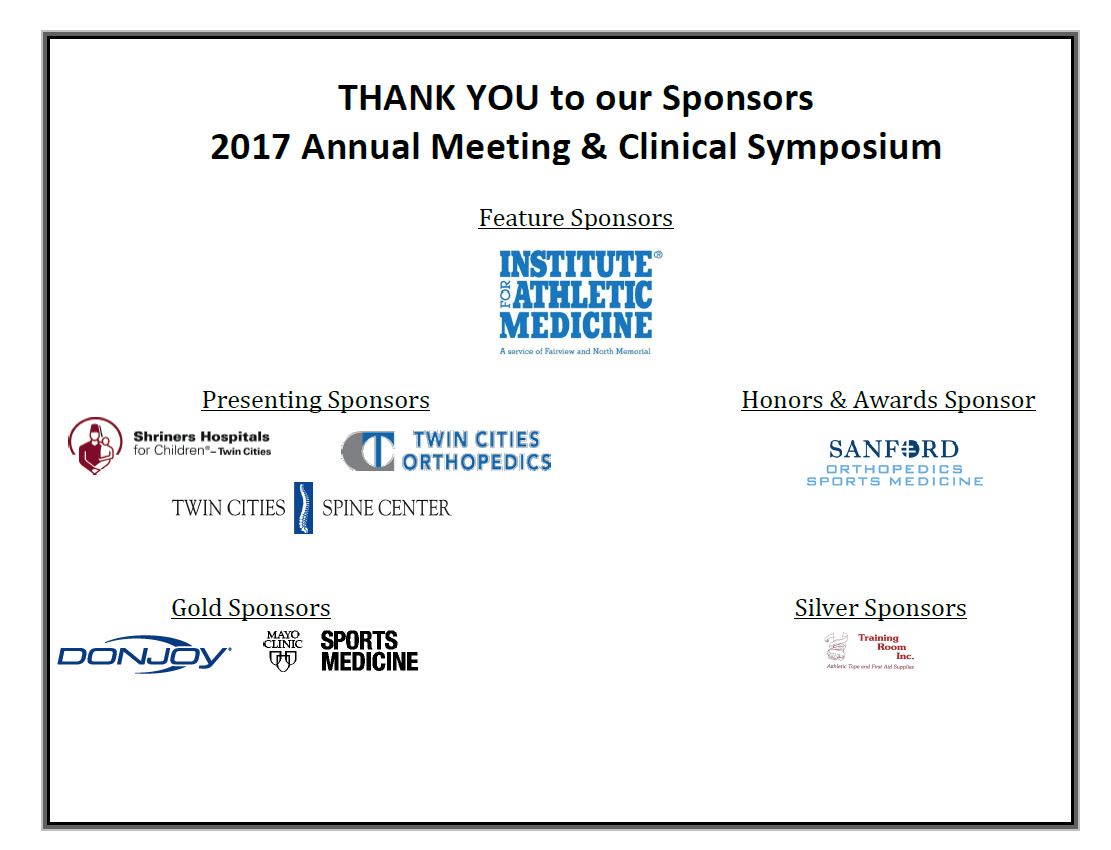 Minnesota Athletic Trainers' Association is recognized by the Board of Certification, Inc. to offer continuing education for Certified Athletic Trainers. This event is eligible for up to 10.0 BOC Category A CEU. Athletic trainers are responsible for reporting only those hours they are in attendance.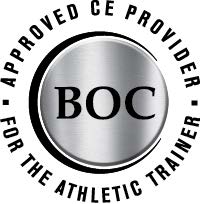 To view the full e-brochure, please go to the MATA Website.