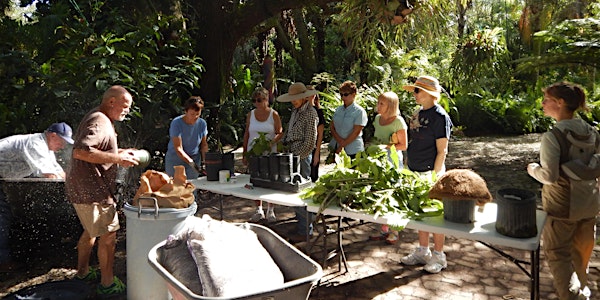 2017 Master Gardener Training Preview Session
When and where
Location
UF/IFAS Extension Collier County 14700 Immokalee Road Naples, FL 34120
Description
The Master Gardener Training Program is demanding and intensive. Classroom work constitutes more than 80% of the training period, and a portion of each weekly six hour session is practical, hands-on activity related to the particular subject matter. Subjects include basic botany, soils, fertilizers, entomology, citrus, turf grasses, ornamental plants, diseases, and other related topics. All information is based on research recommendations of the University of Florida and other authoritative sources.
There is a registration fee of $250.00 (made payable to Collier County BOCC). This fee includes the cost of reference materials from the University of Florida/IFAS. These materials are updated frequently so Master Gardeners always have the most current recommendations approved by the University of Florida/IFAS Extension.
In order to be considered for the training you must attend one of the three preview sessions.
visit the training website for more information and to download a registration packet: http://collier.ifas.ufl.edu/HomeGarden/Master%20Gardener/MGTraining.shtml
We will select 17 people to participate in the Master Gardener training program in 2017. The classes will start on March 7th and will go through June 1st. Dates for the class are as follow:
March 7, 14, 23, 30, 8:30AM-3:30PM.
April 6, 13, 20, and 27, 8:30AM-3:30PM, April 4th and 25th morning only,
May 4, 11, 18, 25, 8:30AM-3:30PM.
June 1st last day, final test and graduation.
A love of gardening, or a desire to learn about gardening, a sincere desire to help others, and a personal commitment to volunteer service are the major selection criteria involved. Gardening experience and knowledge are certainly helpful, but they are not necessary for enrollment in the Master Gardener Training Program.
Selection to become a candidate for the Master Gardener Training Program is not based on prior training, education, knowledge, or experience. Nor does age, race, gender, or physical handicap determine selection.