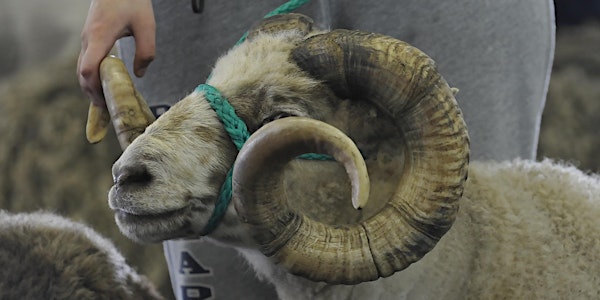 2017 Maryland Sheep & Wool Festival
When and where
Location
Howard County Fairgrounds 2210 Fairgrounds Road West Friendship, MD 21794
Refund Policy
Contact the organizer to request a refund.
Description
Welcome!
Welcome to the online registration site for the 2017 Maryland Sheep & Wool Festival. Complete details about the Festival can be found at our website, www.sheepandwool.org.
This year, admission to the Festival will be $5.00 per day for adults 18 and over; anyone under 18 will be admitted free. Buy your advance tickets here. You can also pay at the gate by cash or check.
Use this site to register for Family Activities, Fiber Arts Workshops, and Shepherd Workshops. This includes pre-festival workshops that will be held on May 3 - May 5. Registration will begin on Sunday, February 12 at 2:00 pm EDT. Only a limited number of spaces is available in each workshop. Once a workshop sells out, email office@sheepandwool.org if you would like to be placed on the waiting list. Be sure to include the workshop name and number in your email.

While you are here, you may also order a catalog (for this year or next), purchase tickets to the Saturday Shepherd's Feast or Sunday Breakfast Buffet, or make a donation to support the future of the festival. Click on the green "Tickets" button to get started.

Registration Tips
Don't double book! Eventbrite allows you to register for more than one class at a time. It does not, however, prevent you from registering for multiple classes that occur at the same time. Please pay careful attention to the dates and times of the classes you select in order to avoid "double booking" yourself. We will not be held responsible for your selection of classes and any conflicts that occur.
Buying for others: To allow you to buy a seat for a companion, you may purchase more than one seat in a class. You may also buy a seat on behalf of another person. Make sure that you give us complete contact information, including email address, for each attendee, so we can notify them of any changes that may happen.

Refund Policy
Admission
Admission tickets are non-refundable. Unused tickets will be considered a donation to the Festival.
Workshops and Family Activities
After confirming your acceptance into a class there is a limited refund policy.

75% refund if requested by April 6th
50% refund if requested between April 7th and April 20th
No refund after April 20th.
Student may also opt, on their own, to re-sell or gift the class at their own expense. It is the responsibility of the original purchaser to notify the Festival of any changes so that the class list is correct and the new owner is allowed into the class. Regardless of whether you re-sell or gift the class, please notify the Festival if you find you are unable to attend.

Saturday Shepherds Feast and Sunday Breakfast Buffet
No refund after May 3rd.