Description
Come One….Come All!
Martin Baseball Fans,
Come join us as we celebrate 30 years of Martin Baseball's winning tradition. A special welcome to the 1987 Warriors who brought home the first district title for Martin Baseball. Together, we celebrate the past, present and future at our Annual B.G. Wilson Alumni Game and dinner on Saturday, February 18th.
Don't miss the opportunity to win great door prizes, browse the spirit shed, hear Jillian Moore sing the national anthem, check out The Express Little League team being announced on the field, and enjoy a special BBQ dinner following the big game as the 2017 Varsity Team take on the Alumni!
Gates Open at 2pm.
2:00-3:00 Open House

3:30 Announcements begin

3:55 National Anthem

4:00 Game Begins

Immediately following the Game: Dinner at the Hitting Facility
Ticket Information:
NOTE: No charge to play in the game but please let us know if you plan to play.
$10 = 1 BBQ dinner + 1 door prize ticket

$25 = 1 BBQ dinner + 5 door prize tickets ($15 value)

$40 = 1 BBQ dinner + 5 door prize tickets + one long sleeve commerative t-shirt (see images below $25 value!)
Front of shirt: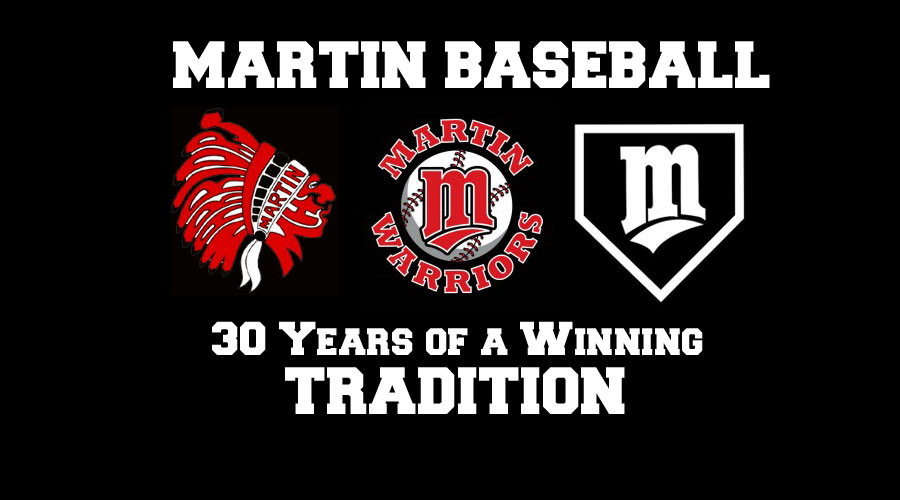 Back of shirt: