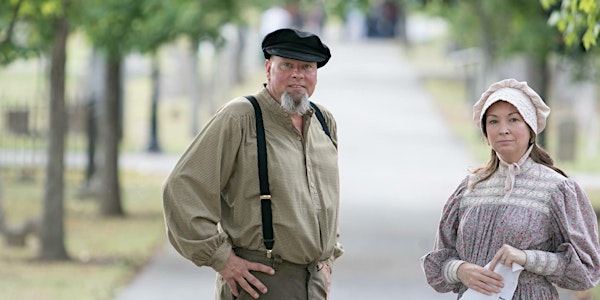 2017 Living History Tour - The Early Settlers of Nashville
When and where
Location
Nashville City Cemetery 1001 4th Avenue South Nashville, TN 37203
Description
TICKETS ARE FOR SALE AT THE FRONT GATE OF THE EVENT; CORNER OF 4TH AVE S AND OAK STREET


18th Annual Living History Tour at the Nashville City Cemtery


How Did Early Settlers of Nashville Survive in the Wilderness?
Hear stories of how these courageous men, women, and children arrived at French Lick, built Fort Nashborough, and endured the hardships of life in the wilderness. Discover how the early pioneers carved out a successful community on the western frontier in just 27 years. The first settlers arrived in December 1779 and more arrived in April 1780. From
1779 Settlement to 1806 Incorporation of Nashville.
Meet their Leader.

Visit with the 10 year old boy who drove the sheep on the overland trip to French Lick.

Introduce yourself to a Native American who wanted to create peace with the settlers.

Learn about a 1794 feast hosted for 100 people by a local family. Find out who these people were and why most of them were going to visit President Washington.

Hear the remarkable story of one of the most famous jockey riders in America.

A Methodist elder will describe an unusual use of their earliest log church building.

Meet the first Judge at the Settlement and hear about the harsh punishments for crimes. Keeping law and order was essential on the frontier.

The County Court Clerk will tell you what people used to pay his salary and it was not money.

Hear from a slave who successfully ran a business on the Public Square in 1794.

Not everyone wore homespun. You will see a prominent merchant in a queue and knee britches.

A Scotsman came to the frontier to bring Presbyterianism but ended up becoming everyone's favorite wedding preacher.

In celebration of the 250th Birthdays of Andrew and Rachel Jackson - the Nashville City Cemetery Association and Metro Historical Commission are again coordinating with The Hermitage. All of the people portrayed on the Living History Tour knew the Jacksons. All afternoon, strolling through the grounds, will be Andrew and Rachel Jackson when they were a young couple. This was a happy time in their lives before wars, politics, and gossip. Chat with them and have your picture taken.