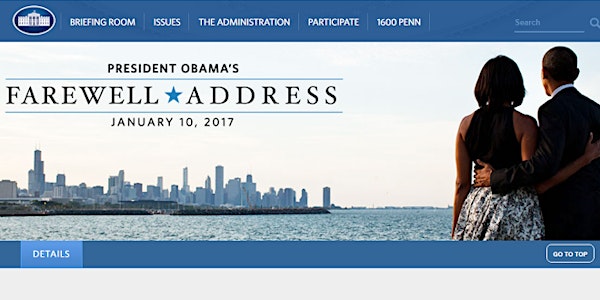 2017 Kickoff Progress Party: President Obama's "Yes We Can" Farewell Addres...
Event Information
Location
Local Sixteen - upstairs lounge
1602 U Street NW
Washington, DC 20009
Description
& #YESWECAN (WH OFFICIAL) & #PROGRESSPARTY ON TWITTER!
*Pizza & Raffle prizes courtesy of Local Sixteen
* Raffle Grand Prize courtesy of Boomerang Pirate Ship
*$5 beer/wine/rail drinks and appetizer specials all night
"America is not the project of any one person. Because the single most powerful word in our democracy is the word 'We.' 'We The People.' 'We Shall Overcome.'
'Yes, We Can.'"
- Barack Obama

Join DC Network For Progress (our fb community group) as we say goodbye to President Obama with his "Yes We Can"-themed Farewell Address from Chicago and begin planning how to fight back in 2017 with your fellow Progressives, Democrats, Hope Mongers and Change Makers!

7PM: "YES WE CAN" NETWORKING FORUM
Come early to share how you are fighting to make sure "Love Trumps Hate" and what ways would you like to get involved to prove "Yes We Can" in the future. In addition to introductions around the room we will have Name Tags to encourage conversations offline as well as through connecting via Eventbrite, Facebook, Twitter and Slack online.

We will also do a brief demo of our new "N4P on Slack" networking community as a platform to foster further communication and collaboration about Events, Actions, News, Resources and Ideas that will move our causes forward. Sign Up Here to join 160+ networkers who already asked to get an invite...or preview the topic categories that are included before you decide.

FAREWELL ADDRESS MESSAGE FROM BARACK OBAMA:
(Start Time TBA)

"In 1796, as George Washington set the precedent for a peaceful, democratic transfer of power, he also set a precedent by penning a farewell address to the American people. And over the 220 years since, many American presidents have followed his lead.

On Tuesday, January 10, I'll go home to Chicago to say my grateful farewell to you, even if you can't be there in person.

I'm just beginning to write my remarks. But I'm thinking about them as a chance to say thank you for this amazing journey, to celebrate the ways you've changed this country for the better these past eight years, and to offer some thoughts on where we all go from here.

"Since 2009, we've faced our fair share of challenges, and come through them stronger. That's because we have never let go of a belief that has guided us ever since our founding—our conviction that, together, we can change this country for the better.

So I hope you'll join me one last time.

Because, for me, it's always been about you."

- President Barack Obama

SHARE YOUR FAVORITE #YESWECAN MOMENTS:
https://www.whitehouse.gov/Farewell
(includes live-stream link)


QUESTIONS? COMMENTS?
Contact Jim McBride, network4progress@gmail.com (preferred), 703-867-5070 (last-minute text requests only)
Date and time
Location
Local Sixteen - upstairs lounge
1602 U Street NW
Washington, DC 20009