Description
It's Time To Get Spooky!
Party with Kansas City Bars for Halloween Trolley Bar Crawl!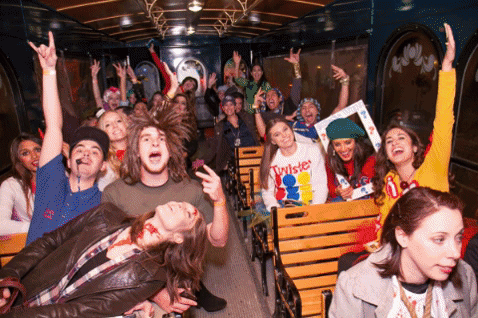 WE WILL HAVE SHUTTLE SERVICE TO WALDO, BROOKSIDE, WESTPORT & MARTINI CORNER (930PM-130AM)
Some reminders for the event: http://bit.ly/2yREneS


AT CHECK IN YOU CAN CHECK IN FOR ONLY YOURSELF - ONE PACKET PER PERSON. IF YOU ARE ARRIVING PAST 1030PM WE HAVE VERY LIMITED PACKETS LEFT AT THE BAR (FIRST COME) - PLEASE ARRIVE BEFORE 1030PM

***Waldo***
Check In Location (8-10PM) The Well (7421 Broadway St) - TBA

Tanner's (7425 Broadway St) - $3 Domestic Bottles, $4 Fun Shots, $5 Bloody Melon Ball Shots & Drinks
Waldo Bar (7438 Wornall Rd)
Lew's (7539 Wornall Rd) - TBA
***Brookside***
Charlie Hoopers (12 W 63rd St) - TBA
***Westport***
Gambal's Social Club (4116 Pennsylvania Ave) - *Specials Only Bottles: $2 PBR, Highlife, Rolling Rock, $3 Bud Light, Coors Light, Miller Light, $4 Blvd Wheat, Blvd Pale Ale, $4 Wells. Tallboys: $2 Hamms, $3 PBR, Highlife, Rolling Rock, Schlitz, $4 Bud Light, Coors Light, Miller Light
Dempsey's Burger Pub (4120 Pennsylvania Ave) - *Specials Only $4 Tullamore Dew Irish Whiskey Pours and Shots, $5 Odell Taps

Californos (4124 Pennsylvania Ave) - *Specials Only $3 PBR tallboys, $5 Sangrias, $5 Well Cocktails, 3 Son Green Band (9PM) There is a $5 music donation on deck.

***Martini Corner***
Sol Cantina (408 E 31st St) - $2.50 Bud Light Bottles, $3 Zombie Shots, & $5 Vodka Redbulls. Promo Card ($5 off Regular Priced Entree)
Brick House (400 E 31st St) - *Specials Only $2 Wells, $3 Tall Boys, $4 Bombs & $5 Crown Royal Apple Shots
Venues (Subject to change!):

Check out who is signed up to go on Facebook!
Package Includes *Additional Venues and Information will be added*:
(2) $5 Promo Cards

Drink Specials ($3, $4 & $5 Specials)

Shuttle Transportation (930-130AM * Last Pickup at 115AM)

No Cover (You may still have to wait in line)

Costume Contest $500 Grand Prize through Social Media! See Below Details!

Registration 8-10pm (Please do not be late!)

First Time Lyft users, use code BeSocial for $5 in rides!

Have a large group or a ton of friends!? Get Paid to Party - http://www.eventbrite.com/affiliate-register?eid=33714299377&affid=168887262

Portion of proceeds benefits local charity
$500 Costume Contest Details:
(Please use social media outlets Facebook, Instagram or Twitter to Enter to WIN! #BeSocial and #KansasCity MUST BE USED)
Twitter or Instagram #BeSocial BEFORE and DURING the event with Halloween images, your costume selection or with fun Halloween Movie lines to increase your chance to win $500!
Compliant with all state liquor laws
Must be 21+ w/ State Issued ID
No Refunds
Please contact organizer directly with any questions.