Description
Please join us in recognizing community leaders who have made a positive impact on girls and women in our community!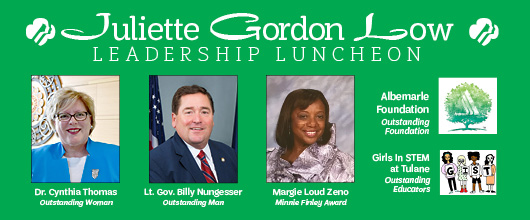 These awardees follow in the footsteps of the founder of Girl Scouts of the USA, Juliette Gordon Low. Juliette "Daisy" Low outgrew the trappings of an upper-class society life to create an organization for young women that integrated leadership, equality for all, self-confidence, responsibility, integrity, decision-making, teamwork, outdoor skills, and philanthropy.
OUTSTANDING WOMAN
DR. CYNTHIA THOMAS
President of Dominican High School
OUTSTANDING MAN
BILLY NUNGESSER
Lieutenant Governor of Louisiana
OUTSTANDING BUSINESS/FOUNDATION
ALBEMARLE FOUNDATION
Sandra Holub, Executive Director
OUTSTANDING BUSINESS/EDUCATORS
GiST – GIRLS IN STEM at TULANE
Dr. Donata Henry and Dr. Michelle Sanchez
MINNIE FINLEY AWARD - Recognizing a Girl Scout Louisiana East council volunteer who has made a difference in our community!
MARGIE LOUD ZENO
Girl Scouts of the USA continues Juliette's legacy today by enabling girls to grow into responsible, caring, independent citizens.
Thank you goes to sponsors: Albemarle Foundation, Postlewaite & Netterville, Lamar Advertising Co., Mary Jane Becker, Jackie Daniels, Julie LeBlanc, Margie Loud Zeno and Joan Mollohan.