2017 Jewish Sports Hall of Fame Induction Ceremony & Banquet
Sales Have Ended
Ticket sales have ended
Reservations have ended for this event. However, there may be seating available at the venue. Please review the event information for locations, directions, etc. Or contact 408-242-3339 or gary@jshofnc.org
Sales Have Ended
Ticket sales have ended
Reservations have ended for this event. However, there may be seating available at the venue. Please review the event information for locations, directions, etc. Or contact 408-242-3339 or gary@jshofnc.org
Description

Celebrating 11 Years
2017 JSHoF Induction Gala Banquet
Enjoy an Eventful Evening of Sensational Sports Stars, Stories, Students, and Scholarships.
Celebrity Reception: Have your photo taken with a sports legend.

Silent Auction: Bid on a variety of unique items and sports memorabilia.

Savor a five-star dinner, libations, and a whole lot more!
Your donation is tax-deductible to the fullest extent allowed by law and benefits our student scholarship fund.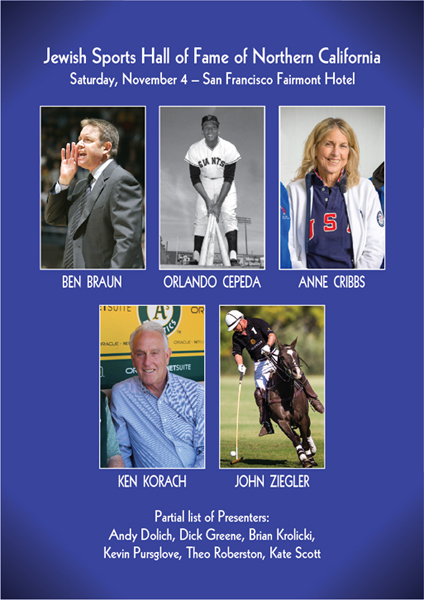 BENJAMIN ABRAHAM BRAUN
Ben Braun has coached basketball since his graduation from the University of Wisconsin-Madison in 1975. After two years as an assistant coach at Racine's Washington Park High School, he spent eight years as head coach at Siena Heights University in Adrian, Michigan. Next, during his 11 years at Eastern Michigan University, where he holds the school record for the most wins — 185 — he was thrice-named Mid-American Conference Coach of the Year, and in 1989, was the U.S. men's basketball team head coach at the Maccabiah Games. Braun then became head coach of Cal's Golden Bears for a dozen years, distinguished as the first Cal coach to be honored as Pac-10 Coach of the Year. He went on to coach at Houston's Rice University for eight seasons. Currently, Braun is director of development for the Oakland Soldiers AAU program and lives in Berkeley with his family.

ORLANDO CEPEDA
Since 1958, Orlando Cepeda's baseball career has been a series of firsts. He was unanimously named "Rookie of the Year" in his debut season with San Francisco and also voted "Most Valuable Giant" in an Examiner poll. Cepeda holds the distinction of being the first player to sign a contract to only play as a designated hitter for the Boston Red Sox, and won Designated Hitter of the Year. He went on to win games for the St. Louis Cardinals, and win more team and league awards for his outstanding playing. An active ambassador for the Giants, Cepeda belongs to 14 (soon to be 15) halls of fame, and has been honored for his community service and humanitarian work. In 1999, the Giants retired his number 30, and in 2008, unveiled a life-size bronze statue of Cepeda in the fourth corner of AT&T Park. Cepeda and his wife live in Fairfield.

ANNE WARNER CRIBBS
Anne Warner Cribbs won a gold medal at 14 in the 200-meter breaststroke at the 1959 Pan American Games, and another gold medal at 15 in the 1960 Rome Olympic Games as a 400-meter medley relay team member. She co-founded the American Basketball League (ABL) for female hoopsters, led local Olympic bids as President and CEO of the Bay Area Sports Organizing Committee (BASOC), and produced national and international championships for swimming, table tennis, hockey, fencing and curling. The Foundation for Global Sports Development bestowed her with the Athletes in Excellence Award for her work with youth. Cribbs is Chair of the California Senior Games Association (CSGA) and Chairman Emeritus of the Northern California Olympians. The Stanford alumna lives in Palo Alto, where she serves as a commissioner for its Parks and Recreation Department.

KEN KORACH
In his 37 years as a broadcaster and recipient of numerous awards for sportscasting, Ken Korach has gone from covering college basketball and football to calling baseball games for the California and Pacific Coast Leagues, the Chicago White Sox and the Oakland A's. Now in his 22nd season with the A's and 12th year as the team's lead radio announcer, Korach's tenure is second only to the legendary Bill King. He shares what he's learned about his ex-booth mate in "Holy Toledo - Lessons from Bill King: Renaissance Man of the Mic." In his concern for Oakland's high school baseball programs, he founded Ken Korach's A's Winning for the Community to raise funds and serves as an advisory board member for the Oakland Tech High School Field of Dreams. Korach and his family divide their time between Oakland and Henderson, Nevada.
Northern California native John Ziegler learned to appreciate horses and equestrian activities as a youth during summers spent working at his grandfather's Central Valley ranch. In his 40s, he began horseback riding once again with his daughter Emily, which evolved into a real passion for polo. Over the past 20 years, Ziegler and his son Jack have competed for cups in polo tournaments all over California, as well as in Argentina, England, Ireland, France, Spain, and Morocco. They've played for charities and participated on teams sponsored by St. Regis Hotels & Resorts, Aston Martin, Mondavi Winery, Restoration Hardware and Santander Bank. In California, his team won the United States Polo Association's (USPA) Governor's Cup and President's Cup. When he's not traveling for tournament play, Ziegler enjoys riding at his ranch in Petaluma.
STUDENT SCHOLARSHIP AWARD WINNERS
AVSHALOM BERROL
Avshalom Berrol from Skyline High School is the winner of the Tad Taube award. He is an outstanding runner on the Skyline cross country and track teams. Avshalom loves running and has a keen sense of the need to ensure that others can maximize their running pleasure. Avshalom actually spends some of his free time participating in cross country course clean up and cleaning out track drainage systems. Avshalom also has an artistic side. He has somehow found the time to play in the Skyline jazz and marching bands.
SARAH BLUMENFELD
Sarah Blumenfeld from Lincoln High School is one of San Francisco's best volleyball players. Indeed, she's a two-time CIF San Francisco Section All-City volleyball player. Sarah is quite the athlete, but her future might not be on the courts and fields of play. Sarah happens to be about as accomplished a scientist as a high school student can be. Sarah has worked on research projects in the San Francisco State Biology Department and has even been a teen advocate for Science Communications at the California Academy of Sciences.
ZACHARY BONILLA
Zachary Bonilla from Aragon High School is this year's winner of the Aerial Gilbert award. The Aerial Gilbert winner must have overcome obstacles to become an inspiring role model. Zachary fits the bill. Zachary has ADHD, but that has not stopped him from being one of the Peninsula's best lacrosse players. Zachary is a two-time Peninsula Athletic League first-team, All-League, long-stick midfielder. But he's more than a good player. He's a leader. He runs team workouts, guides the underclassmen, and sets the bar for Aragon.
WEIBIN HE
Weibin He from Thurgood Marshall High School is the winner of this year's Mensch Award. This award is given to a student who is not of the Jewish faith who displays outstanding academic, athletic, and community service skills. Weibin embodies this award. He's a starter on Marshall's basketball and badminton teams. He's one the best students at Thurgood Marshall High, and when he's not studying or playing basketball and badminton, he's involved in a vast array of activities. Weibin has been active in the San Francisco community through the Youth for Community Engagement program and the Newcomer Club. He's also been active outside of the U.S., working with the Costa Rica Animal Rescue Project. Weibin is one of Marshall High School's leaders. He is a true Mensch.
EDWARD NIKOFF
Edward Nikoff is a fine student at the Jewish Community High School of The Bay. He is also an accomplished soccer player. Nothing gets past Edward. He is an All-League Goalkeeper in the Private School Athletic League. He is also a fine club soccer player. Of course, life does not consist of soccer alone. Edward has been in multiple school plays and is the captain of the debate club.
REBEKAH REYNOLDS
Rebekah Reynolds from Clayton Valley High School is the winner of the 2017-18 Ernie Wiener award. Ernie Wiener was the legendary and beloved Executive Director of the American Jewish Committee. Rebekah is most deserving of the award named after Ernie. Rebekah is an excellent water sports athlete. She has been a fine swimmer for Clayton Valley and for her club team. She excels in water polo and has played a starring role on the Clayton Valley team. She has also shined on a broader stage in water polo. Rebekah has played on Olympic Development teams, been a USA Water Polo Academic All-American, and was a member of the US team in the open division of the 2017 Maccabiah Games, helping the US team win a silver medal.

OLIVIA SHANE
Olivia Shane from Menlo Atherton High School excels in three sports. As captain of the Menlo Atherton Cross Country team, she led her teammates to the PAL finals – CCS every year. She also attained All-League status as the captain of Menlo Atherton's Track and Field team by leading them to a win in the PAL finals. During her freshman, sophomore, and junior years, she has been an outstanding soccer player on a team that won the D1CCS finals. Olivia also has a commendable record of public service, including an internship at Jewish Family and Children's Services, as a volunteer at the Ronald McDonald House, and president of Partner's in Health Club in Menlo Atherton. Olivia is also a member of the National Honor Society, maintaining a 4.0 academic record.

Presenters include:
Partial list of presenters: Dick Greene, Brian Krolicki, Theo Robertson & Kevin Pursglove
Panel Host: Andy Dolich
Master of Ceremonies: Kate Scott
This year's induction ceremony and banquet will take place Saturday, November 4, at the Fairmont Hotel in San Francisco, beginning with a reception and silent auction at 6 p.m. The induction and dinner will follow at 7:15 p.m.
Visit our website for inductee videos, upcoming events and lots more! • www.jshofnc.com

The class of 2017, along with some incredibly talented Bay Area high school student-athletes, will be honored.

The Jewish Sports Hall of Fame of Northern California was established:
To communicate to the public the contributions Jewish sports figures have made to the quality of life throughout the world

To educate the public of the contributions Northern California Jewish Sports figures have made to our community

To recognize and celebrate the induction of professional Jewish athletes, high school athletes, and community members into the Jewish Sports Hall of Fame of Northern California and its associated award programs

To provide support, mentoring, and assistance for Jewish youth participating in sports

To forge positive relationships with diverse organizations and individuals promoting the value of sports in our daily lives

To deter anti-Semitism by responding to extremism without being extreme, encourage educational campaigns, and raise the consciousness of people worldwide.
Visit the Jewish Sports Hall of Fame Northern California's "Wall of Fame" on the Taube Koret Campus for Jewish Life in Palo Alto.

The Jewish Sports Hall of Fame of Northern California is a 501(c)(3) nonprofit, all-volunteer organization. There is no paid staff or administrative costs. We derive all of our revenue from sponsors, vendors, donations, event revenue, and charitable grants. We rely completely on members and volunteers for the time they devote to the events we present.
Our tax ID number is: 26-0493232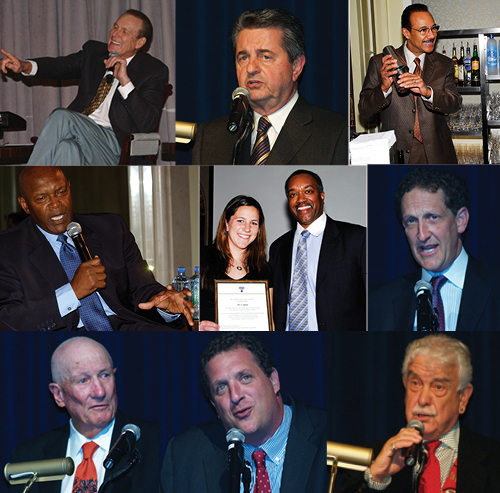 Row 1: Rick Berry, Carmen Policy, and Spencer Christian
Row 2: Vida Blue, Don Collins and award winning student, and Larry Baer
Row 3: Al Rosen, Harris Barton, and Jack Anderson

Visit our website for inductee videos, upcoming events and lots more! • www.jshofnc.org