2017 Jewish Sports Hall of Fame Induction Ceremony & Banquet
Description

Celebrating 11 Years
2017 JSHoF Induction Gala Banquet
Enjoy an Eventful Evening of Sensational Sports Stars, Stories, Students, and Scholarships.
Celebrity Reception: Have your photo taken with a sports legend.

Silent Auction: Bid on a variety of unique items and sports memorabilia.

Savor a five-star dinner, libations, and a whole lot more!
Your donation is tax deductible to the fullest extent allowed by law and benefits our student scholarship fund.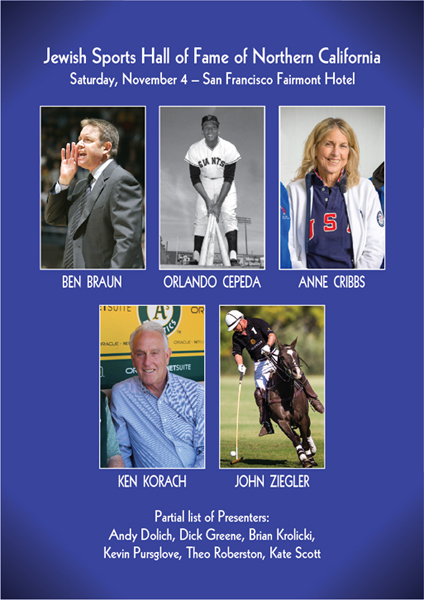 BENJAMIN ABRAHAM BRAUN
Benjamin Abraham Braun is a men's college basketball coach. He is a former coach at Rice University, where he spent eight seasons.


ORLANDO CEPEDA
Orlando Cepeda (a.k.a. Orlando Manuel "Peruchin" Cepeda Pennes) is a Puerto Rican former Major League Baseball first baseman and a member of the National Baseball Hall of Fame in Cooperstown, New York.

ANNE WARNER CRIBBS
Anne Warner Cribbs is a retired American breaststroke swimmer who won a gold medal over 200 m at the 1959 Pan American Games. She also competed in the1960 Olympics, and received the Athletes in Excellence Award from The Foundation for Global Sports Development, in recognition of her community service efforts and work with youth.


KEN KORACH
Kenneth Louis "Ken" Korach is an American sports commentator for the Oakland Athletics and published author.


JOHN ZIEGLER
John A. Ziegler Jr. is an American lawyer and ice hockey executive. He was the fourth president of the National Hockey League. He received the Lester Patrick Trophy in 1984 and was inducted into the Hockey Hall of Fame in 1987.


Honorary Chair and Co-Chairs: Tad Taube (Chair), Andy Dolich, Bob Sockolov, Dan Weiner, Leland Faust, Milt Jacobs, Roger Levy, Sheila Ash, Steve Sockolov, and Stuart Seiler
Presenters include:
Partial list of presenters: Dick Greene, Brian Krolicki, Theo Robertson & Kevin Pursglove
Panel Host: Andy Dolich
Master of Ceremonies: Kate Scott
This year's induction ceremony and banquet will take place Saturday, November 4, at the Fairmont Hotel in San Francisco, beginning with a reception and silent auction at 6 p.m. The induction and dinner will follow at 7:15 p.m.
Visit our website for inductee videos, upcoming events and lots more! • www.jshofnc.com

The class of 2017, along with some incredibly talented Bay Area high school student-athletes, will be honored.
The Jewish Sports Hall of Fame of Northern California was established:
To communicate to the public the contributions Jewish sports figures have made to the quality of life throughout the world

To educate the public of the contributions Northern California Jewish Sports figures have made to our community

To recognize and celebrate the induction of professional Jewish athletes, high school athletes, and community members into the Jewish Sports Hall of Fame of Northern California and its associated award programs

To provide support, mentoring, and assistance for Jewish youth participating in sports

To forge positive relationships with diverse organizations and individuals promoting the value of sports in our daily lives

To deter anti-Semitism by responding to extremism without being extreme, encourage educational campaigns, and raise the consciousness of people worldwide.
Visit the Jewish Sports Hall of Fame Northern California's "Wall of Fame" on the Taube Koret Campus for Jewish Life in Palo Alto.

The Jewish Sports Hall of Fame of Northern California is a 501(c)(3) nonprofit, all-volunteer organization. There is no paid staff or administrative costs. We derive all of our revenue from sponsors, vendors, donations, event revenue, and charitable grants. We rely completely on members and volunteers for the time they devote to the events we present.
Our tax ID number is: 26-0493232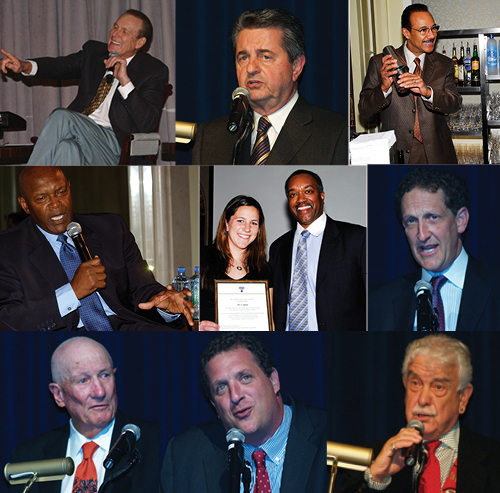 Row 1: Rick Berry, Carmen Policy, and Spencer Christian
Row 2: Vida Blue, Don Collins and award winning student, and Larry Baer
Row 3: Al Rosen, Harris Barton, and Jack Anderson

Visit our website for inductee videos, upcoming events and lots more! • www.jshofnc.org