2017 JE Dunn and The Orange Duffel Bag Initiative / Partner Appreciation Ev...
Description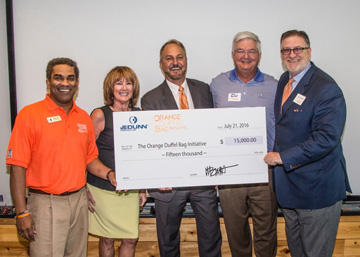 Please join us July 25 from 1- 2:30 P for Orange Duffel Bag Initiative's annual appreciation event at JE Dunn Construction!
A fun luncheon is planned to thank key sponsors, partners, donors, volunteers and staff who have helped the ODBI further its mission. Since 2010, together we've positively impacted 800+ high school and college students, in foster care, homeless or experiencing high poverty, stay on track for education success!
Meet our board of directors, ODBI grads and learn more about ODBI's mission and upcoming ODBI Golf Classic, August 21 at Indian Hills Country Club.
Hope you can join us! Please feel free to invite others you feel might want to learn more and help us continue this important work.
Look forward to seeing you July 25st at JE Dunn Construction Offices - 2555 Cumberland Parkway SE Atlanta GA 30339!
Can't join us, but wish to send a message?
Email dblack@theodbi.org