Description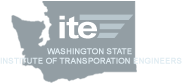 The Washington State Section of I.T.E. and the Northwest Section of I.M.S.A. are hosting the annual vendor exhibition. This exhibition is held in conjunction with the annual joint meeting of these two professional associations. This will be an excellent opportunity for you to display your products to the transportation engineers, signal electricians, and traffic technicians of the great Northwest. Mark your calendars for Monday, February 13, 2017. Again, the 2017 exhibition will be held at the Doubletree Hotel near the Sea-Tac Airport.
This year, registration to attend the conference will be required for free validated parking. Conference attendance is still no-cost and does not include lunch. Each registered attendee is limited to receiving one (1) free validated parking ticket at sign-in.Please note that if you attend as part of a group and carpool, each group will receive only one validated ticket. The conference is free to attend. Lunch with a keynote speaker costs $45 for members, $50 for non-members, and $15 for students.
Lunch reservations are non-cancellable and payment is non-refundable. If you or someone in your group has a lunch reservation but cannot attend, you will still be responsible for the cost of the lunch.