Description
Bubbles; Bubbles everywhere! Remember the days you ran wild blowing bubbles, catching them, popping them with your nose without a care in the World!! Well, let nostalgia take over your mind & let's revisit those fond memories from long ago! For one day, & one day only we are hosting an International Bubble Flash Mob.

Date: Saturday, July 8th 2017
Time: 1:00 - 1:30 pm
Location: Seattle TICKETS HOLDERS will receive an email that includes the location of flash mob 3 hours before the event.
FACEBOOK/OUR WEBSITE will be updated with the location of the flash mob 1 hour before the event.
BUBBLE MOB KIT will receive an email of the location 24hr before the event and two of our recommended bubble wands.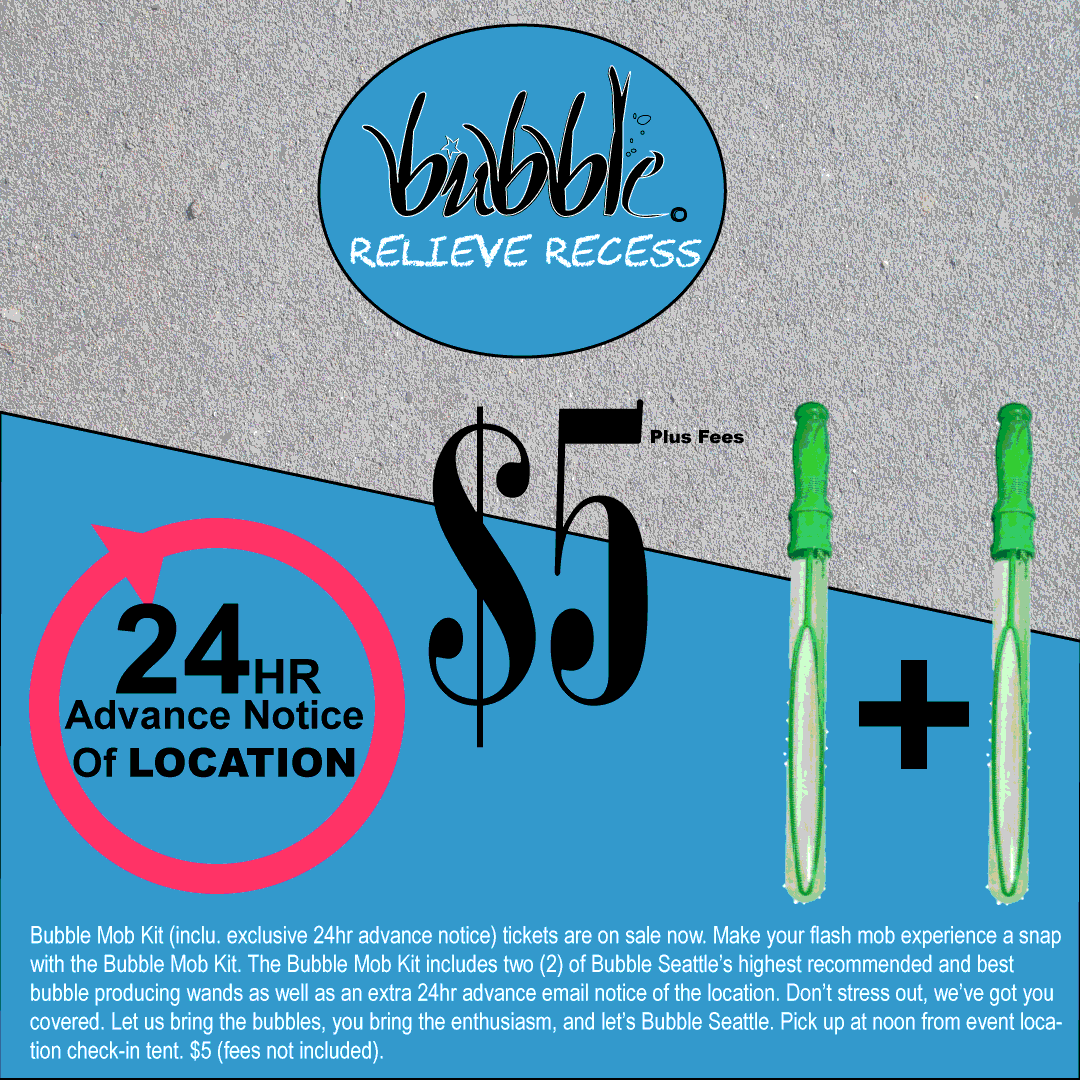 Cost: Free! (Donations accepted)
Find updated info on:
Join us at http:// www.bubbleseattle.com/
Like us on Facebook: https://www.facebook.com/bubbleseattle
Pics: https://www.flickr.com/photos/bubbleseattle/sets/
2015 video: https://youtu.be/soaSr347gAM

We ask that everyone attending bring extra bubbles to invite the innocent bystanders to join us in the fun. So grab some bubble wands, bubble generators, bubble toys, and join our fun packed social bubble BASH!

Invite and share away! Every extra person who comes along adds around 5000 more bubbles!!!!



Event Itinerary:
We will be meeting at the location at 1:00p.m. Hide the best you can. At 1:00p.m. you will receive the cue to start.

Two important rules for flash our mobbers:

- Please act as casual as possible before and after the flash mob. If you find it hard to keep a straight face, bring a book or an IPod.
- Please don't blow bubbles into people's faces. No one wants soap in their eyes or on their electronics.

FINAL TIPS: Practice your bubble blowing. I know it sounds like a no-brainer, but with a little practice beforehand you can turn your average 5 bubbles per blow to a whopping 10-20 bubble per blow.

Cleanup: Remember napkins can save your hands from becoming sticky all day.

WE ARE NOT RESPONSIBLE FOR LOST, STOLEN OR BROKEN ITEMS OF ANY KIND. BY SHOWING UP TO THIS EVENT AND PARTICIPATING YOU AGREE TO THE TERMS OF BUBBLE'S RELEASE OF LIABILITY AND CODE OF CONDUCT DOCUMENTS WHICH CAN BE FOUND ON OUR WEBSITE.

Please direct any questions or comments you might have to:
Bubbleseattle@gmail.com