Description
Chicago Innovation and the Economic Club of Chicago are teaming up with The Village Chicago and The Retirement Research Foundation for the second annual Innovation for the Ages. Featuring talks from "ageless innovators" who don't know the meaning of the word "retirement." Instead, they are constantly re-inventing themselves by focusing on innovation, taking risks and doing things differently.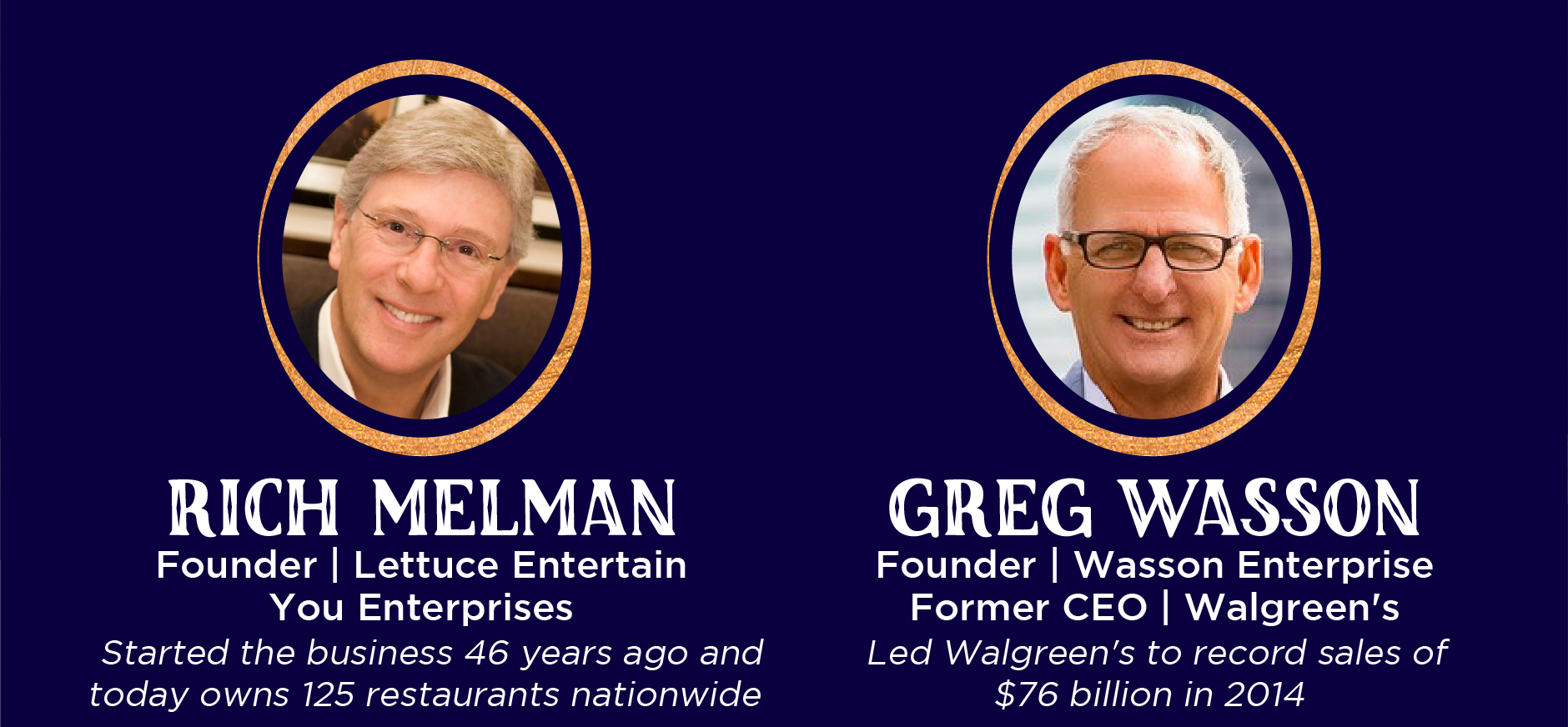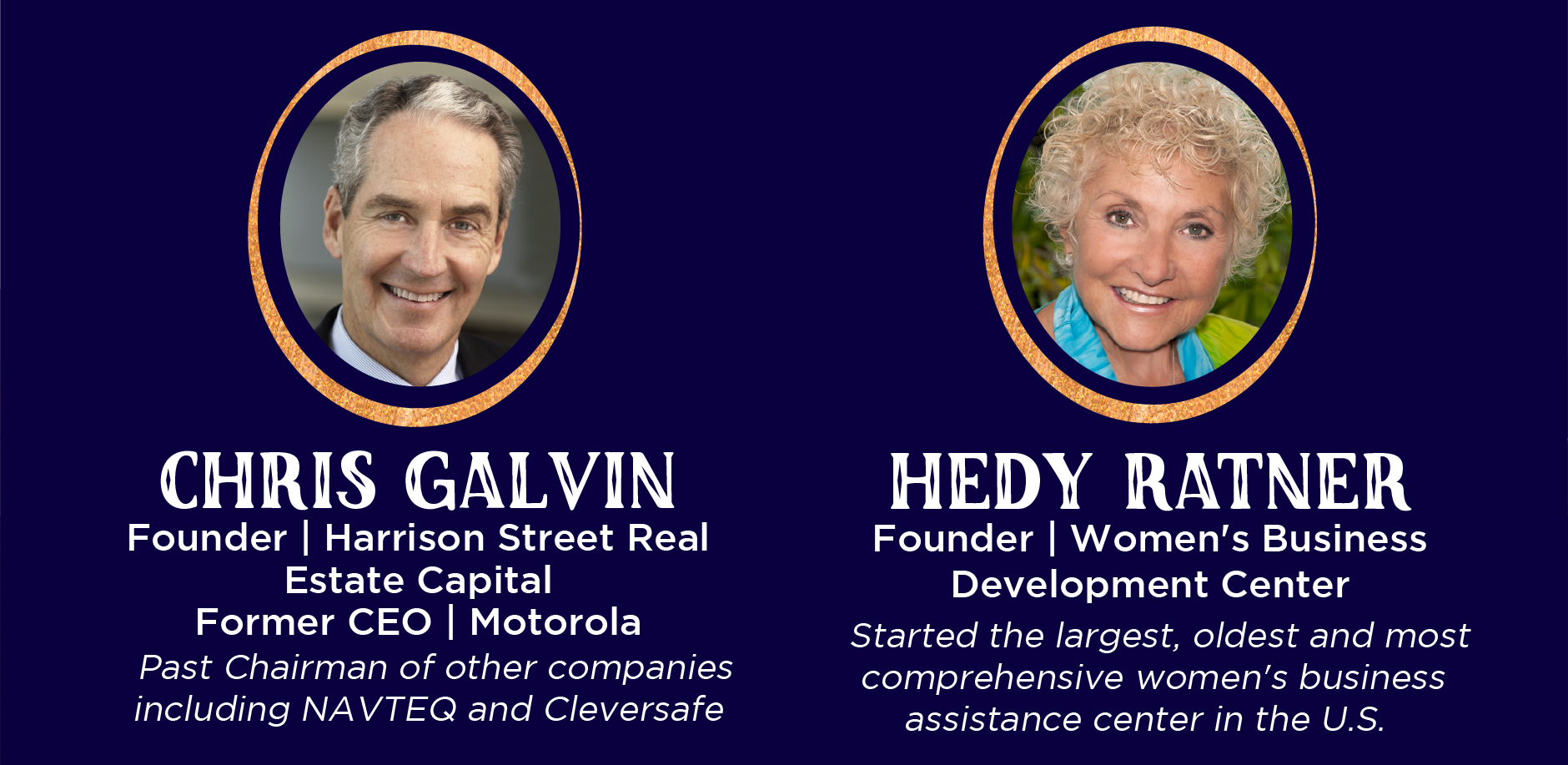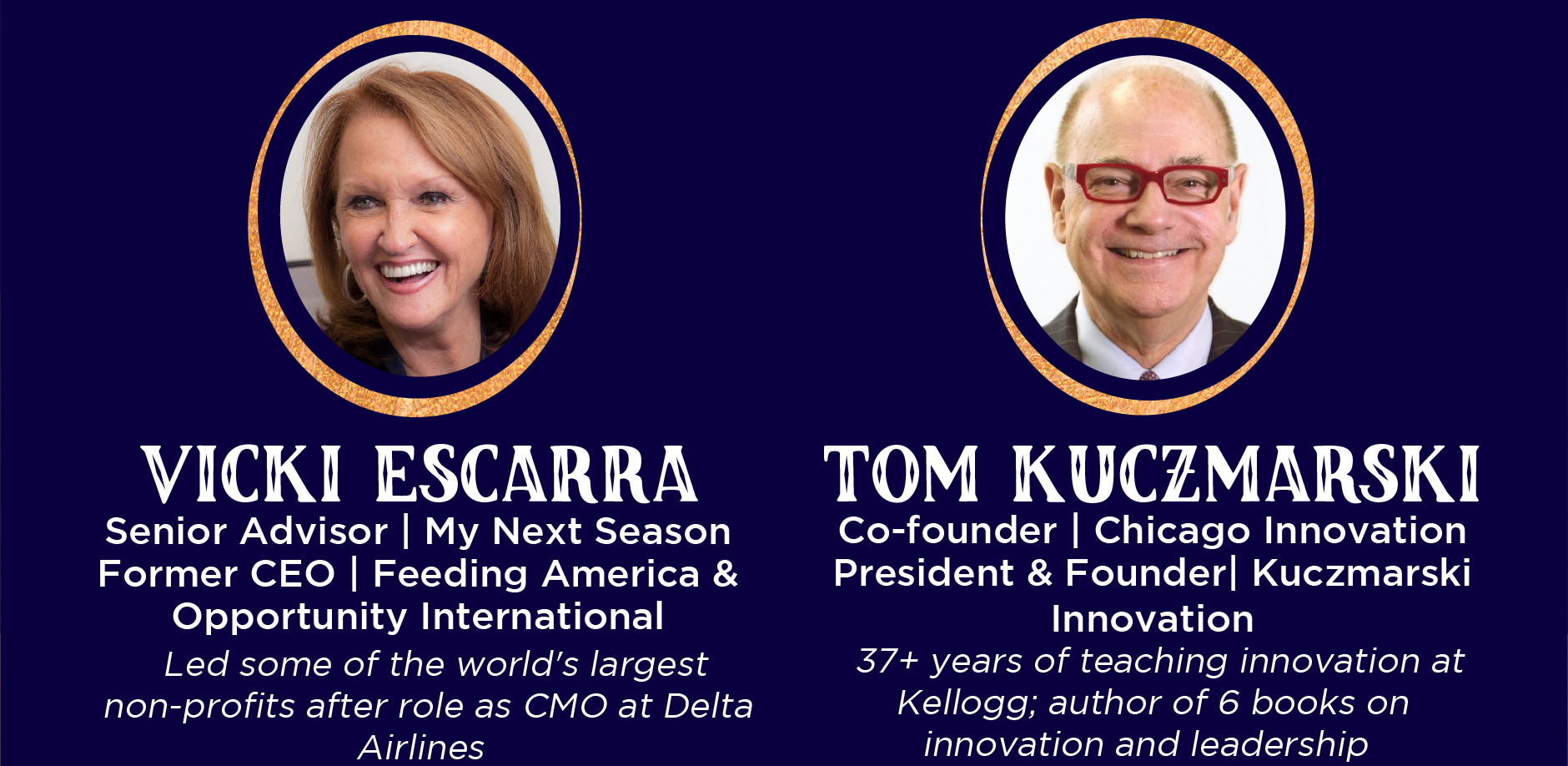 Complimentary drinks and appetizers will be provided by Blue Plate and Breakthru Beverage.
Innovation for the Ages sold out in 2016 and will likely sell out again.
Please RSVP soon if you plan to attend.


Vicki Escarra
Vicki is an American business person and entrepreneur. She founded Vicki Escarra LLC in 2017 with the belief she could use her extensive leadership experience in the profit and nonprofit space to assist in building higher performance communities / organizations and in return make a greater impact on our world. From 2012 to 2017, Vicki was the Global CEO of Opportunity International, a non-profit organization helping women and men in developing nations work their way out of poverty. From 2006 to 2012, Vicki served as President and CEO of Feeding America, the third largest nonprofit in the United States. Prior to working at Feeding America, Vicki served for nearly 30 years at Delta Air Lines, where she rose to the rank of Executive Vice President and Chief Marketing Officer.
Chris Galvin
Chris is Chairman, CEO, and/or Co-Founder of Harrison Street Capital, LLC; Harrison Street Real Estate Capital LLC; Harrison Street Securities LLC; and Gore Creek Asset Management LLC. He also serves as Chairman or Board Member for a number of organizations such as UniqueSoft LLC, VelociData, and evolve24. His current outside activities include being the Trustee and member of the Executive Committee of Northwestern University's Board of Trustees, a member of the American Society of Corporate Executives, and a role on the Committee on International Economic Policy of the US Department of State (ACIEP). Chris is the former Chairman and CEO of Motorola Inc. and has also served as Chairman of NAVTEQ Inc., Chairman of Cleversafe Inc., and member of the U.S. Department of Defense Manufacturing Board.
Thomas D. Kuczmarski
Tom, president of Kuczmarski Innovation, is a nationally recognized expert in the innovation and development of new products and services. Over the course of his career, he has helped hundreds of clients, ranging from small businesses to Fortune 100 corporations, learn to systematically unlock the value of innovation. The author of six books and many articles, Mr. Kuczmarski has taught product and service innovation at Northwestern University's Kellogg Graduate School of Management for 36 years. Mr. Kuczmarski is the founder and co-chair, along with Dan Miller, of the Chicago Innovation Awards, which recognizes each year the most innovative new products, services, business models and processes developed in the Chicago area.
Richard Melman
Rich is Founder and Chairman of Lettuce Entertain You Enterprises, a Chicago-based corporation that owns over 125 restaurants nationwide. In 1971 Rich and Jerry A. Orzoff opened R.J. Grunts and continued to develop restaurant concepts together until Orzoff's death in 1981. With Jerry, Rich formulated a philosophy based on the importance of partners, of sharing responsibilities and profits with them, and of developing and growing together. Today, he has 70 working partners, most of whom have come up through the organization. Rich's guiding philosophy is that he is not interested in being the biggest, the richest or the most well known restaurateur. He has always just wanted to be the best he can be. He places enormous value on the over 7,000 people who work for Lettuce Entertain You, and feels tremendous responsibility for their continued success. Rich's commitment now is to develop the young leaders of Lettuce to insure that the company will be around for another 46 years.
Hedy Ratner
Hedy is founder, President Emerita of and Consultant to the Women's Business Development Center, the largest, oldest—30 years—and most comprehensive women's business assistance center in the U.S. The Women's Business Development Center has a national and international reputation for advocacy and programs for women's economic empowerment. WBDC, now celebrating its 30th Anniversary, has served over 70,000 women in the Midwest developing and supporting successful women owned businesses. WBDC implements women's business programs in 9 Midwestern states. The Center provides counseling, training, financial, certification and procurement assistance in Spanish and English for emerging and established women business owners with additional programs for women veterans and for child care businesses.
Greg Wasson
Greg was the former CEO of Walgreens Boots Alliance, Inc. As CEO, Greg led this fortune 35 company to record fiscal 2014 sales of $76.4 billion. Greg Recognized throughout the drugstore and healthcare industry for transformational leadership, innovation, bold business moves and executing strategic long-term vision. After retiring Greg founded Wasson Enterprise, a family based investment firm focused on angel investing, partnerships and WE run businesses. Wasson Enterprise's first partnership is with Innventure, where Greg is the Chairman. Innventure commercializes disruptive technology for multinational organizations. Greg is also on the Verizon Communications Inc. (NYSE: VZ) Board, the PNC Financial Services Group, Inc. (NYSE: PNC) Board, and the Health Care Service Corporation (HCSC) Board.