Description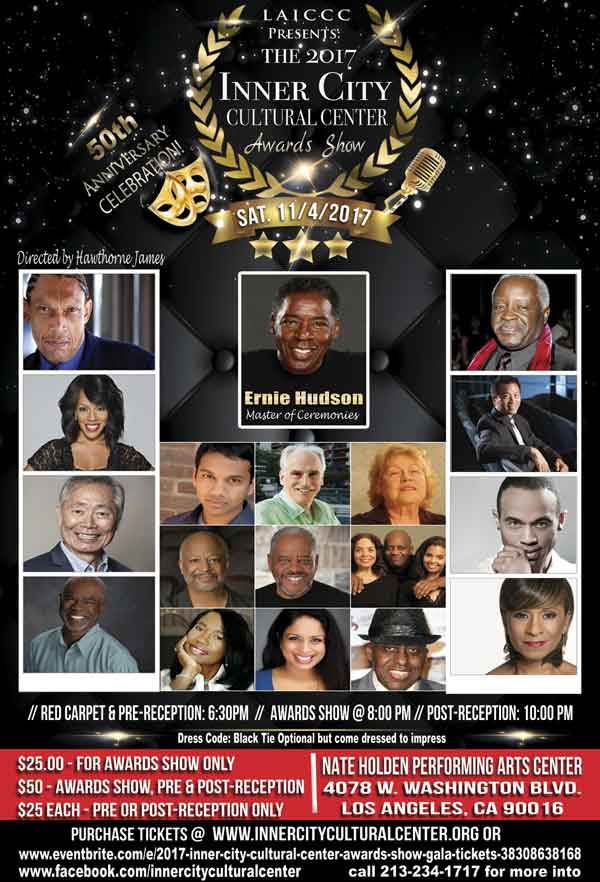 Come join our M.C., Ernie Hudson (Grace and Frankie, Ghostbusters, OZ), actors Wendy Raquel Robinson, Glynn Turman, Art Evans, George Takei, Iona Morris, Wendy Raquel Robinson, Bill Duke and many other Inner City Cultural Center (ICCC) alumnus as we host the 50th Anniversary 2017 Inner City Cultural Center Awards Show & Celebration entitled "OUT OF THE ASHES: FROM MULTI-CULTURALISM and DIVERSITY TO INCLUSION 1967-2017".
In honor of founder C. Bernard Jackson, the O.G. ("original genesis") of multi-cultural, non-traditional casting in stage, screen and television. The evening's program will present awards to theater artists, organizations and those in the television and film industry who support diversity and inclusion.
In addition to the awards, the gala includes a red-carpet pre-show and post show reception on Saturday, November 4, 2017 at the Nate Holden Performing Arts Center, 4718 West Washington Blvd., Los Angeles, CA 90016.
Some of the alumni, friends, and supporters who have passed through ICCC's doors or had their career launched at ICCC include: Alvin Ailey Dance Company, Eddie Albert, Margo Albert, Bonnie Bedelia, Milton Berle, Roscoe Lee Browne, Adolph Caesar, Mel Carter, Rosalind Cash, Art Evans, Kim Fields, Marla Gibbs, Louis Gossett Jr., Lawrence Hilton-Jacobs, Ernie Hudson, Momoko Iko, Robert Ito, Janet Jackson, Plas Johnson, Yaphet Kotto, Ted Lange, Bella Lewitsky, Mako, Nobu McCarthy, Pat Morita, Wendy Raquel Robinson, Beah Richards, George Takei, Lorenz Tate, Paul Taylor Dance Company, Twyla Tharp Dance Company, Marlo Thomas, Glynn Turman, Luis Valdez, Malcolm Jamaal Warner, Robert Wise, Carmen Zapata ....among others too numerous to name!
The celebration will also announce the launch of a ICCC book publication, documentary film and the C. Bernard Jackson Memorial Library Legacy project.
https://www.youtube.com/watch?v=U3QOCoedg1o