Description
It's Time To Get Spooky!
Party @ downtown Indy bars for our Halloween Bar Crawl!

Sponsored by Jack Daniels Fire & Svedka
Lucky for you, we are in our 5th year and over 3000 participants are expected!
2017 Halloween Bar Crawl VIDEO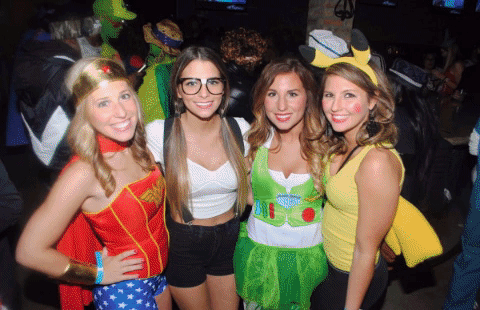 Some reminders for the event: http://bit.ly/2yREneS


****We have PreCheck Thursday 530-8pm at After 6 - 247 S MERIDIAN (Check In for all friends have their tickets on your phone or printed). We do this so you can start at any bar at anytime on Saturday! Saturday check in 8-10pm and you can only check in for yourself!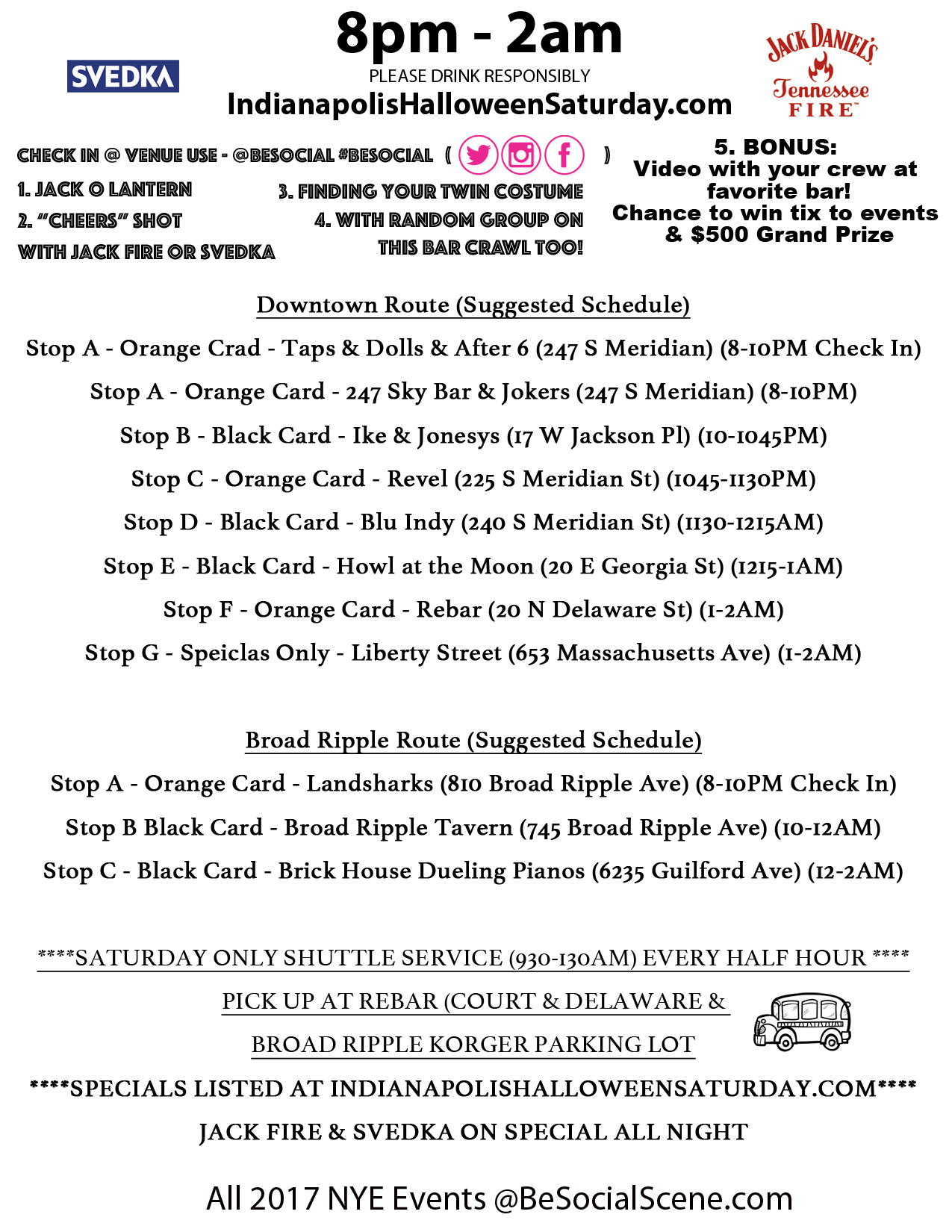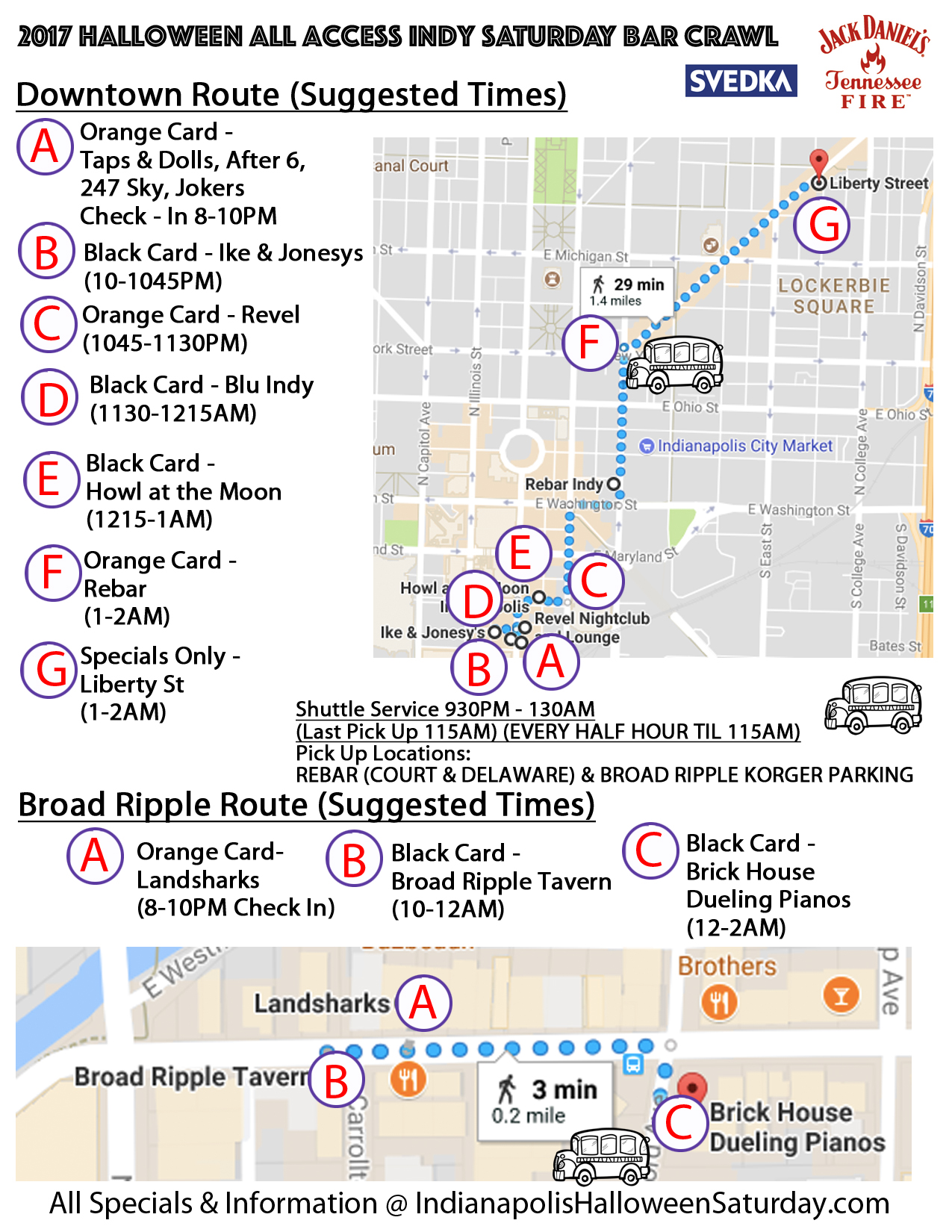 Check In (8-10PM) Location Taps and Dolls (247 S Meridian) & Landsharks (810 Broad Ripple Ave)
AT CHECK IN YOU CAN CHECK IN FOR ONLY YOURSELF - ONE PACKET PER PERSON. IF YOU ARE ARRIVING PAST 1030PM WE HAVE VERY LIMITED PACKETS LEFT AT THE BAR (FIRST COME) - PLEASE ARRIVE BEFORE 1030PM

Taps & Dolls (247 S Meridian) - $3 - Rebel Yell and Serpent's Bite, $4 - Svedka Drinks, $5 - Jack Fire Drinks

247 Sky Bar, After 6 & Jokers (247 S Meridian) - $3 - Rebel Yell and Serpent's Bite, $4 - Svedka Drinks, $5 - Jack Fire Drinks
Ike & Jonesys (17 W Jackson Pl) - $3 - Svedka Halloween Shot, $4 - Svedka Drinks, $5 - Jack Fire
Revel (225 S Meridian St) - $3 - Domestic Beer, $4 - Svedka, $5 - Jack Fire
Blu Indy (240 S Meridian St)

Howl at the Moon (20 E Georgia St) - $3 Miller High Life & Coors Original Cans & $4 Jack Fire Shots

Rebar (20 N Delaware St) - $3 Pork Rinds (Fried Fresh in House) in 2 Flavors, Chipotle Cinnamon and Siracha, $5 1/2 order of Nachos Bourbon BBQ Pulled Pork Nachos, SW Style, $2 Domestic Bottles Beer (Whats Available), $3 16oz Domestic Beers, $3 Svedka or Jack Fire Shots & $5 Halloween Cocktail
Liberty Street (653 Massachusetts Ave) *Specials Only - Jack Fire Shots, Fall-tini- made with Svedka, House Cinnamon Syrup and Cranberry, Moscow Mules made with Svedka & $4 Pumpkin Pint Draft

**Broad Ripple**

Landsharks (810 Broad Ripple Ave) - $2.50 Hamm's, $4.00 Long Islands, $5.00 Svedka Vodka, $5.00 Jack Fire, $5.00 Jell-O shots, $15.00 Domestic Buckets

Broad Ripple Tavern (745 Broad Ripple Ave) - $3 - Halloween Shot: Candied Apple and Pumpkin Smash, $4 - Svedka, $5 - Jack Fire
Brick House Dueling Pianos (6235 Guilford Ave) - $3 - Halloween Shots, $4 - Domestic Beers, $5 - Svedka and Jack Fire drinks
Venues (More to be announced and subject to change!):

Check out who is signed up to go on Facebook!
Package Includes *Additional Venues and Information will be added*:
(2) $5 Promo Cards (Jack Fire and Svedka)

Drink Specials ($3, $4 & $5 Specials)

No Cover (You may still have to wait in line)

Costume Contest $500 Grand Prize through Social Media! See Below Details!

Registration 8-10pm (Please do not be late!)

First Time Lyft users, use code BeSocial for $5 in rides!

Have a large group or a ton of friends!? Raise for a Cause and earn $5 towards our selected charity!

Portion of proceeds benefits local charity
$500 Costume Contest Details:
(Please use social media outlets Facebook, Instagram or Twitter to Enter to WIN! #BeSocial and #Indianapolis MUST BE USED)

Check out other Events
We stay compliant with all state liquor laws
Must be 21+ w/ State Issued ID
No Refunds
Be ready to party with a dynamic group of people of all ages, mostly 25-35 year old young professionals, though all are welcome!