Event Information
Location
Multiple (Please see Description)
Description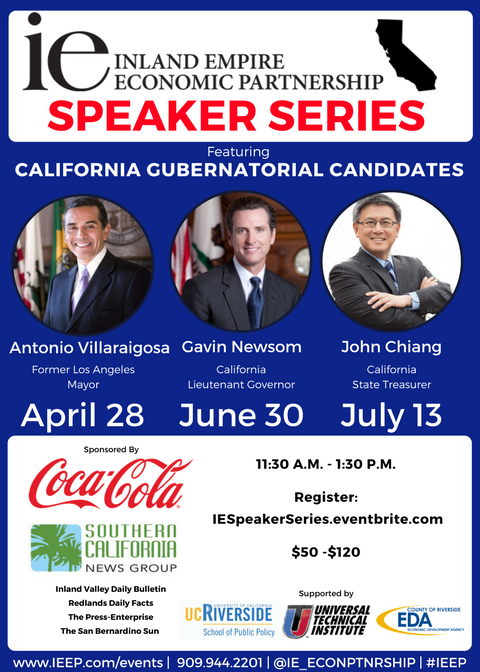 Join us for the first event in a unique series focused on the economic reality and policy priorities that impact the Inland Empire. This fresh and sophisticated approach to interacting with California Gubernatorial Candidates will combine the voices of business, education, government, and nonprofit of San Bernardino and Riverside Counties.
Time: 11:00 a.m. - 1:30 p.m. (ALL EVENT DATES)
Locations:
(6-30-17) Gavin Newsom- Riverside City Hall, Grier Pavillion- 7th Floor
6/30 EVENT INFO:
Getting There: The event will be held at the Grier Pavilion (3900 Main St, 7th Floor, Riverside, California 92501) located atop the City of Riverside's City Hall. Please let the security staff in the lobby know you are attending the event at Grier Pavilion when you arrive. There will be IEEP staff there to answer any questions you might have.
https://www.riversideca.gov/mayor/grier.asp
Parking Information: http://riversideca.gov/publicworks/parking/pdf/parking-downtown.pdf
Registration: You can print your Eventbrite confirmation or simply provide the name you registered under. Please note: If someone registered for you and used their name as the attendee you will need to provide that name.
Seating: There will be several reserved tables for event sponsors. General admission seating will be on a first-come, first-serve basis. Please arrive with plenty of time to find seating. Contact us if you have any special needs that you would like us to accommodate (909)-944-2201.
Food & Drink: Lunch will be served buffet style starting at 11:00 a.m. Please notify IEEP staff for dietary restrictions.
Photos & Video: Cell phone video and pictures are permitted.
Dress: Business Professional
Agenda:
11:00 a.m. - 11:30 a.m. Registration and Lunch
11:30 a.m. - 11:50 a.m. Welcome Remarks
11:50 a.m. - 1:00 p.m. Main Program featuring California Lieutenant Governor Gavin Newsom
Please direct any questions to tbooth@ieep.com
---
(7-13-17) John Chiang- Universal Technical Institute, Rancho Cucamonga Campus
---
Ticketing Instructions:
1. Select an event date by clicking on the blue tab labeled "Select a date"
2. Choose event date from drop down menu
3. Select the green tab labeled "Ticket" in the upper right of your sceen
4. Choose a quantity from the drop down menu to the right of the event of your choice
(PLEASE NOTE: You may purchase an IE Speaker Series Package that includes one ticket to each event)
5. Enter contact information and payment information
6. Contact IEEP if you have questions
Please feel free to contact IEEP is you have any questions:
10630 Town Center Drive, Suite 105
Rancho Cucamonga, CA 91730
(909)-944-2201
Email: tbooth@ieep.com
Date and Time
Location
Multiple (Please see Description)