Description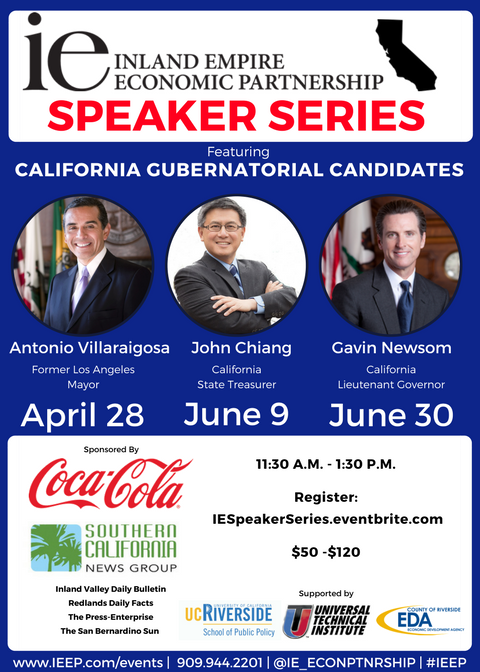 Join us for the first event in a unique series focused on the economic reality and policy priorities that impact the Inland Empire. This fresh and sophisticated approach to interacting with California Gubernatorial Candidates will combine the voices of business, education, government, and nonprofit of San Bernardino and Riverside Counties.
Time: 11:30 a.m. - 1:30 p.m. (ALL EVENT DATES)
Locations:
(4-28-17) Antonio Villaraigosa - Universal Technical Institute, Rancho Cucamonga Campus (SOLD OUT)

(6-9-17) John Chiang- DoubleTree by Hilton Hotel Ontario Airport
(6-30-17) Gavin Newsom- LOCATION PENDING
Ticketing Instructions:
1. Select an event date by clicking on the blue tab labeled "Select a date"
2. Choose event date from drop down menu
3. Select the green tab labeled "Ticket" in the upper right of your sceen
4. Choose a quantity from the drop down menu to the right of the event of your choice
(PLEASE NOTE: You may purchase an IE Speaker Series Package that includes one ticket to each event)
5. Enter contact information and payment information
6. Contact IEEP if you have questions
CALL 909-944-2201 FOR TABLE AND SPONSORSHIP AVAILABILITY
Please feel free to contact IEEP is you have any questions:
10630 Town Center Drive, Suite 105
Rancho Cucamonga, CA 91730
(909)-944-2201
Email: tbooth@ieep.com