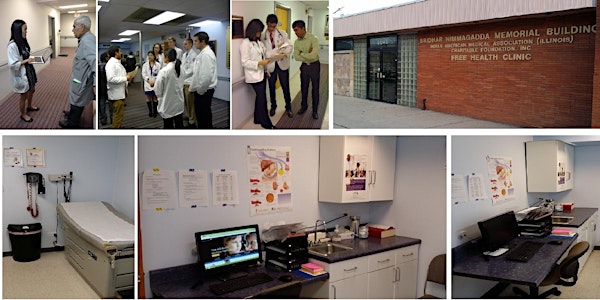 2017 IAMACF Charity Gala & Semi Annual IAMA-IL Meeting
When and where
Location
Pearl Banquet & Conference Center 1480 W. Lake Street Roselle, IL 60172
Description
Please join us at the 2017 IAMACF Charity Gala, being held at:
Pearl Banquets & Conference Center
1480 W. Lake Street
Roselle, IL 60172
The IAMACF clinic provides free, primary healthcare services on Saturdays and Sundays from 10:00 am to 2:00 pm and every 2nd Wednesday evening from 4pm to 7pm at 2645 W. Peterson Avenue in Chicago. The community clinic is run by volunteer physicians, who also provide a teaching environment for medical students who come to us from six area medical schools. The medical student's activities are coordinated by New Life Volunteer Services. Together, the IAMACF clinic provides free medical services to all on a walk-in basis with no appointments necessary. The free clinic serves an extremely low-income segment of the area's population, which is uninsured with no other affordable or culturally competent alternative medical facility in the area to serve its needs. For more than 20 years, the IAMACF free community health clinic has been providing a culturally competent environment, with multilingual physicians and volunteers who also extend the clinic's free (limited) pharmacy and lab services to anyone in need.
The semi annual charity gala helps IAMACF raise almost 90% of the funding needed to operate the free community health clinic, serving close to 3000 people each year, pay for medical laboratory testing and provide a limited number of pharmaceutical supplies to those in need. However, with the deep budgets cuts looming in the State of Illinois budget, many community service organizations will be forced to cut services, layoff staff, close programs, or worse, close their doors. As such, the clinic will likely see an even higher demand for primary healthcare services. That is why the IAMACF needs your help. Won't you help IAMACF raise the much-needed funds to keep the clinic's doors open and serving the area's most underserved communities.