2017 Holiday Mini Session. East Bay 11/04/17

Saturday, November 4, 2017 from 2:00 PM to 4:30 PM (PDT)
Event Details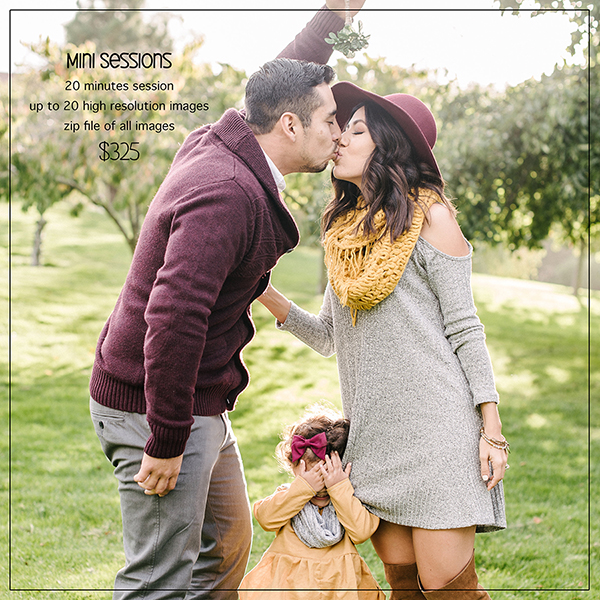 WHEN
Saturday Nov 4th, 2017
WHERE
East Bay
(Exact location info will be emailed after booking is complete.)
 
Feel free to email melanie@melanieduerkopp.com with any questions!

*Please note that mini sessions are subject to weather.  In the case of rain, all sessions will be rescheduled or 70% of the fee will be refunded.
---
When purchaching you agree to the following Session Agrrement
---
No images or other deliverables shall be given to Client until any outstanding balance is paid by Client. 
Timeliness: Any additional hours of photography or additional products such as albums/books and prints not set forth above may be added for an additional fee. 
Cancellation, Rescheduling & No-shows. Client and all parties to be photographed should arrive at the predetermined Session location no less than five (5) minutes prior to the start time of Client's Session. If any or all individuals being photographed during the Session arrive late, no additional time will be added. If Client is more than ten (10) minutes late, the Session will not be photographed and the full Fee shall be retained by Photographer 
Cancellation, Rescheduling & NoIshows: If Client wishes to cancel the Session for any reason, Photographer shall be entitled to retain the full Fee. 
There shall be no rescheduling/reshooting of any Session due to factors outside of the control of Photographer (other than inclement weather and force majeure events as specified in Section 14(a) herein), including, but not limited to, uncooperative children or other persons to be photographed, uncooperative pets, poor lighting conditions, obstructions in backgrounds, interference by third parties, location/venue restrictions. 
ADDITIONAL CLIENT RESPONSIBILITIES & UNDERSTANDINGS : Client understands and agrees that Photographer is bound by the rules and regulations of Session locations and venues. Client is responsible for providing all props, décor, attire and other details in connection with the Session.  
PROOFS: Client's proofs will be posted on a passwordYprotected website within approximately four (4) weeks after Client's Session date, and will remain online for nine (9) weeks from the date of notification of viewing availability by Photographer to Client. 
EDITING AND RETOUCHING: The color and exposure of the images may be adjusted by Photographer, but there will be no other editing or retouching applied to the images unless specified above in Client's Description of Services. Photographer is granted total artistic control over the final images. Any requested additional editing and retouching, such as the correction of blemishes and eliminating wrinkles, is within the complete discretion of Photographer, and if agreed to by Photographer, will be billed at the rate of forty dollars ($40.00) per hour. Client shall not make any adjustments to the images his/herself, including, but not limited to, changing colors/tones, cropping, adding textures and/or changing the image from color to black and white.  
CREATIVE LICENSE; IMAGE REQUESTSClient understands and agrees that Photographer is being hired to provide an artistic service and that art is inherently subjective. Client understands and agrees that usable/acceptable images are defined as inYfocus photographs, properly exposed so that you can see highlights and shadow detail, with believable flesh tones. Photographer reserves the creative license and right to edit and release only those photographs deemed as professional in quality and within Photographer's artistic standards. Client is encouraged to provide a list of requests with the understanding that no photographs are guaranteed. This includes, but is not limited to, specific poses, specific subjects, choice of color vs. black and white, and detail shots. Lists provided by Client will act as an organizational and suggestive tool only. No specific number of images is guaranteed.   
COPYRIGHT AND IMAGE RELEASE: Photographer shall retain ownership of the copyright to any photographs produced by Photographer pursuant to Federal Copyright Law, which states that copyright ownership of images rests with the creator. and albums/books may be used by Client for personal use only and Client may not sell or convey this license or otherwise transfer these images or rights to any third party without the express prior written permission of Photographer. This includes publication of the images in magazines, newspapers, books, blogs or websites, whether or not compensation is received by Client. If Client has purchased highYresolution images, Client will be granted a print release for creating prints for personal use only. Client may use the images on personal websites and social media so long as a copyright notice appears near the images, stating that the images were created by Melanie Duerkopp Photography, LLC    
IMAGE FILES & TECHNOLOGY: After release of the image files and/or ordered products to Client, Photographer will no longer be responsible for the archiving and storing of any proofs and files in connection with Client's Session, and Client is fully responsible for the safeYkeeping of all proofs, digital negatives