2017 HISTORICALLY BLACK UNIVERSITIES AND COLLEGES TOUR MARCH 26TH - MARCH 3...
Description
Urban League of Greater Cleveland in partnership with McDonald's and Black History Tours

present 2017 HBCU Historic & Cultural Engagement Tour March 26 – March 31, 2017
This year marks an historic milestone for the Urban League of Greater Cleveland as we celebrate 100 years of serving the community in various capacities. In partnership with McDonald's and Black History Tours, we will present the 29th Historically Black Colleges and Universities Tour, March 26-31, 2017. It is part of the educational exposure for our youth to educate them on the benefits of attending an HBCU.
Exposure, Engagement, and Experience is the core thread for the tours. Exposure consists of taking young people and providing them an opportunity to see what post-secondary options can bring. Engagement pertains to the actual campus and the activities within. Our youth are able to envision themselves on these campuses as future students. Walking the campus, in the classroom, and in the community our students are totally immersed in gain an unbelievable overall experience on our HBCU E3 Tour. "You may start this tour undecided. You will return focused and determined."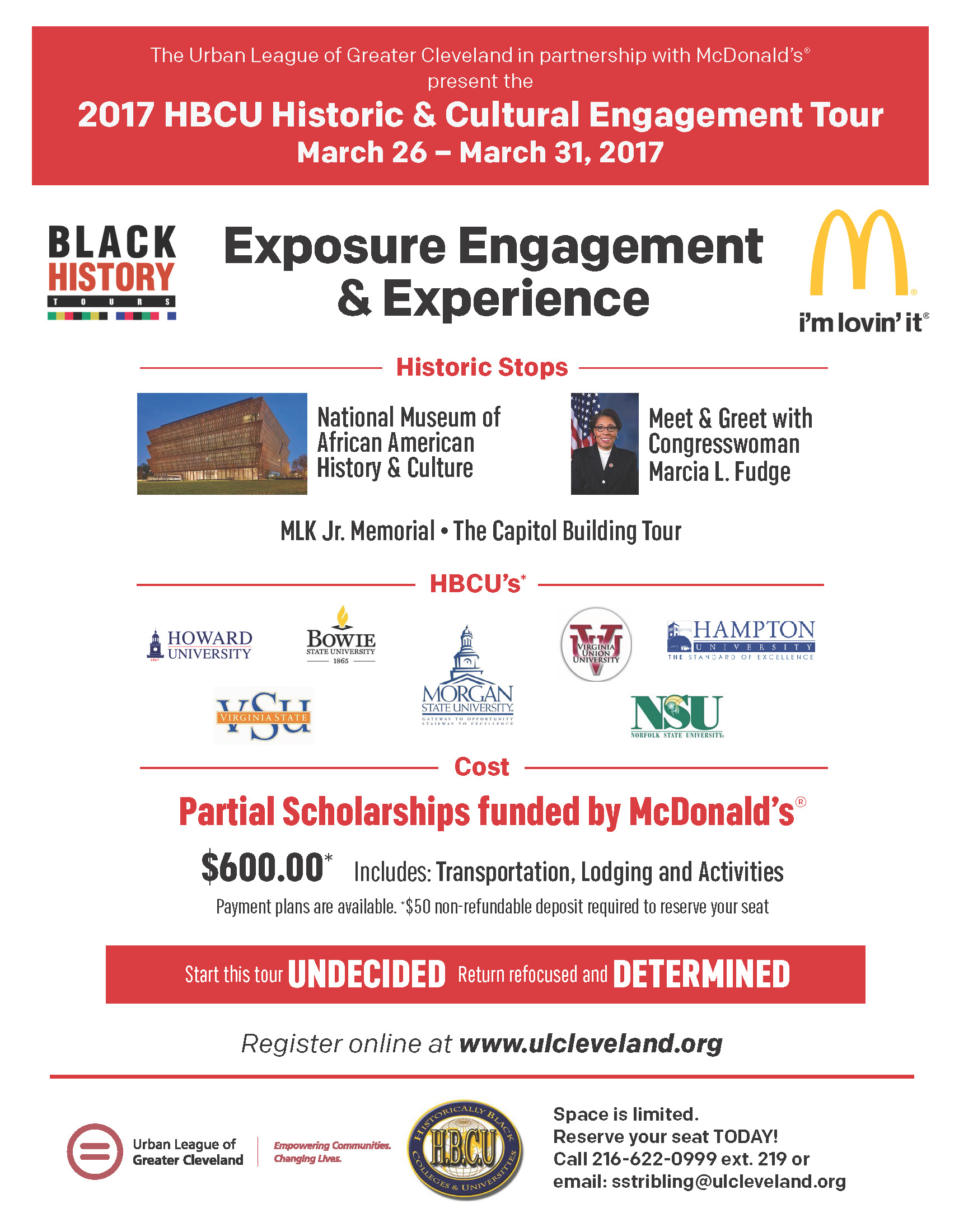 Installment Plan:
$50 deposit due by January 23, 2017
$275 Installment due by Febrary 15, 2017
$275 Final payment due March 3, 2017
All payments are NON-REFUNDABLE and NON-TRANSFERABLE. All payments
must be made by certified check, money order or credit card.
For more information call 216-622-0999 ext. 219 or email: eclark@ulcleveland.org