Description
PLEASE NOTE:
WE HAVE REACHED CAPACITY FOR THE INFO SESSION. IF YOU ARE NO LONGER ABLE TO ATTEND PLEASE CANCEL YOUR REGISTRATION. UNFORTUNATELY, IF YOU HAVE NOT REGISTERED WE WILL NOT BE ABLE TO ACCOMMODATE YOUR ATTENDANCE.

YOU CAN STILL REGISTER TO ATTEND THE REMOTE SESSION (HELD AT 10AM ON 3/7) UNTIL MONDAY, MARCH 6TH AT 5PM.PLEASE EMAIL KDAVIS@THESIMMONSFOUNDATION.ORG FOR MORE INFORMATION.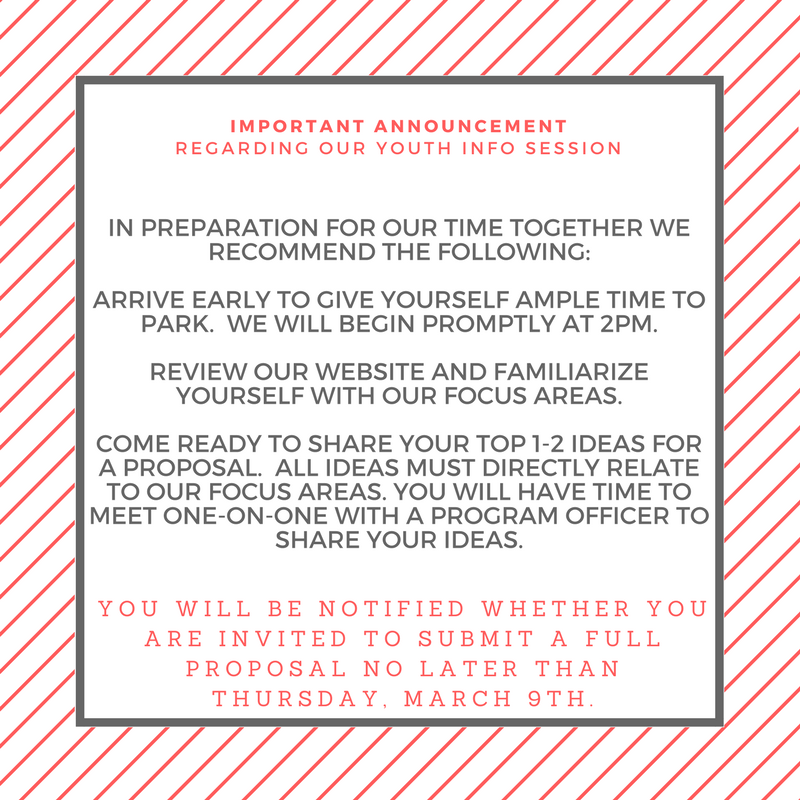 ---
The Simmons Foundation conducts info sessions to give prospective grantees an overview of our grant process and our focus area for each quarter. Due to space restrictions, you are welcome to bring a total of two (2) people, staff and/or board. If you would like to apply for a grant during 2nd Quarter (YOUTH), attendance at this info session is mandatory and open to all prospective grantees.
Special Note: The Foundation's Youth portfolio is our only portfolio area that is now invitation only. During the week following this information session, prospective grantees who are selected to apply will receive an invitation from the Foundation to submit an application. Those who are not selected will not receive an invitation to apply for funding and can follow-up with the Foundation in 2018. Attendance at this information session does not guarantee an invitation to apply.
Tuesday, March 7, 2017

2:00 - 4:00 p.m.
Agenda:
Overview of 'YOUTH' portfolio goals and priorities as well as the online application process.
Youth (BY INVITATION ONLY)
Goal: Toward supporting holistic and equitable approaches to improve the lives of vulnerable youth
System of Change: Advocacy and Research
Child Welfare
Prevention and Intervention
More detailed description of our YOUTH funding area here:
http://thesimmonsfoundation.org/storage/documents/Funding_Areas_2017.pdf.
RSVP is required. Note: Registration closes on Friday, March 3rd (3:00pm CST).
Attendance is mandatory. A remote option is available for those who are unable to attend in person. Please contact Kay Davis for more information via email: kdavis@thesimmonsfoundation.org.
Location:
Depelchin
4950 Memorial
Houston, TX 77007
If you use a GPS, it is best to enter '100 Sandman' for more accurate driving directions.

Parking Info: