Description
Do you struggle to set aside the time to plan out your year?
Do you keep putting off setting goals for yourself because you are "too busy"?
Or do you not even want to think about it because you don't know where to start?
If any of this stuff sounds familiar, then you need to join us for an awesome 1/2 day workshop on goal setting! Join other likeminded business professionals and entrepreneurs to plan out your 2017, set goals, talk about what obstacles may come up and how you will deal with the inevitable monkey wrenches that get thrown into your plan!
Here's what you can expect:
A framework called the 5 Part Goal Sheet - A way to identify your goals and potential challenges to hitting them
Distinquishing different goals between the five F's - Faith, Family, Friends, Fitness & Financial
Creating a Vision Board based on the goals that you have for 2017
Networking with other likeminded professionals
Here's what is included:
5 hours to focus solely on your 2017 goals! (That's PRICELESS)
A 5 Part Goal Sheet workbook
Materials for creating your Vision Board
Networking
Breakfast
Lunch
Space is limited to 25 attendees so please register ASAP!
About the presenter:
Philip "Coach"​ Pelto is passionate about teaching and coaching and loves to see his friends and clients grow and succeed. As a salesperson he quickly learned that setting goals was essential to his success and aside from being necessary it was actually really fun! He went from relatively introverted to top salesperson with his first three companies. Making a plan and knowing what you need to do when you wake up makes achieving your goals all that much easier!
Now, through MyFirestorm, he teaches entrepreners how to build long term strategic partnerships and how to build a solid network of contacts that you can rely on to grow your business and hit your goals!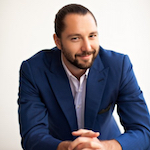 "Far better it is to dare mighty things, to win glorious triumphs, even though checkered by failure, than to take rank with those poor spirits who neither enjoy nor suffer much, because they live in the gray twilight that knows not victory or defeat." - Theodore Roosevelt -