Description
Madison College Recreation is excited to offer the second year of the WolfPack Tournament Series for girls youth basketball teams. Hosted at the H. Douglas Redsten Gymnasium on the Madison College Truax Campus (1701 Wright Street, Madison, WI 53704) and community gymnasiums. The WolfPack Tournament Series offers 1 day tournaments with a 3 game minimum.
Madison College Recreation is no stranger to youth sports and basketball tournaments, as the leaders of the Tri-County Basketball League for over 30 years.
The goal of the WolfPack Tournament Series is to provide quality competition at a very affordable rate.
Details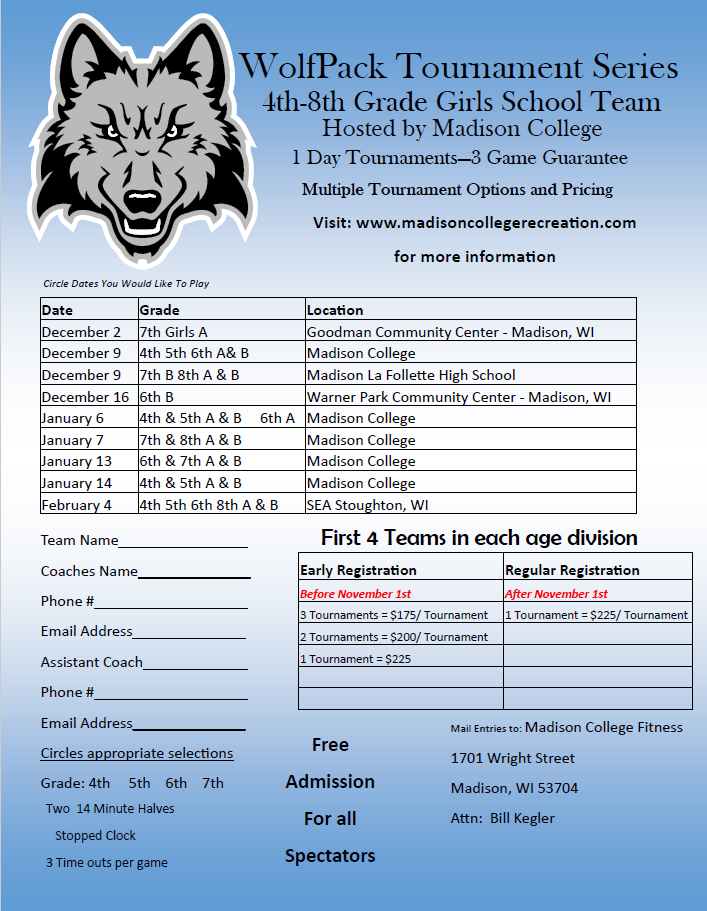 REFUNDS: Full refunds are made only if Madison College cancels the tournament. Refunds (minus a $25 administrative fee) will only be given up to two weeks prior to the start of tournament play.
AWARDS: No Awardds will be given.
Questions?? Contact Madison College Athletics & Bill Kegler at (608) 245-2126 or via email.
---------------------------------------------------------------------------------------------------------------------