Description
Girls in Tech Catalyst Conference 2017
The Girls in Tech Catalyst Conference is back—and it's returning to the hub of entrepreneurship, innovation and tech, San Francisco! Join us for three incredible days of raw, gritty, authentic "TedX-style" presentations from some of the most revered women in tech, business and leadership. This will be the "largest intimate" tech conference you'll ever attend, as you hear revolutionary speakers share tales of their journey to the top, career advice, how they made tough decisions—and, most important—what sage advice they want to pass on to the next-generation of the female tech workforce.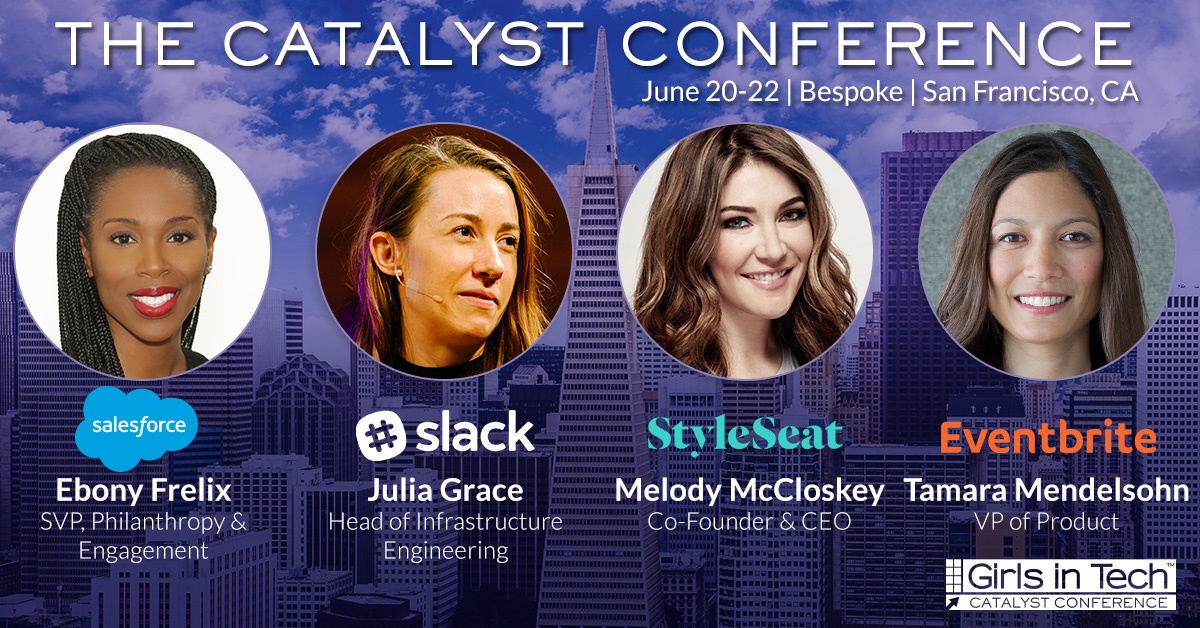 Girls in Tech, an organization focused on the empowerment, entrepreneurship, engagement, and education of women in technology, is proud to announce the fifth annual Catalyst Conference, a very special event designed to celebrate women at all levels of their career. Catalyst attracts a powerhouse audience from every corner of tech: entrepreneurs, software engineers, product marketers, venture capitalists, high-tech employees, students, digital marketers, innovators and more. And it all happens at Bespoke in San Francisco, June 20-22.
The highlight of Girls in Tech Catalyst is inspiring keynotes from female leaders. The conference also offers attendees authentic networking opportunities, a platform to exchange ideas and connect with other inspiring women. We'll be layering in meaningful workshops and evening fun, including a kick-off cocktail party. This is your chance to create lasting business relationships and learn concrete skills that could have a considerable impact on the technology industry at large—and your career.
Girls in Tech is hosting more than 40 speakers for Catalyst 2017. Here's a sneak peak of our line-up:
Jennifer Hyman, co-founder & CEO, Rent the Runway
Aaron Levie, CEO, Box
Kara Swisher, Executive Editor & Co-Founder, Re/Code
Heidi Roizen, Operating Partner, DFJ
Nidhi Gupta, VP of Engineering, Hired
Mercedes De Luca, COO, Basecamp
Jennifer Fonstad, co-founder, Aspect Ventures
Connie Guglielmo, CNET News, Editor-in-Chief
Discussion topics will include:
Journey to VC: what it takes to get there
What's next for diversity and inclusion in tech
The DNA of an all-star product design team
Dealing with failure: you write your own story
The modern woman's trade-offs in Silicon Valley
Pillars of innovation
Where innovation and politics collide
Building an authentic brand in a digital world
Negotiation—and other foundational career skills
Product development mishaps and success stories
Catalyst Conference is sponsored by Cisco, Automattic, RocketSpace and LoopUp. Athena Alliance is also a proud partner for the event. Television and radio show host Kym McNicholas will emcee the event.
For more information about speakers and schedule of events and to register to attend, click here.