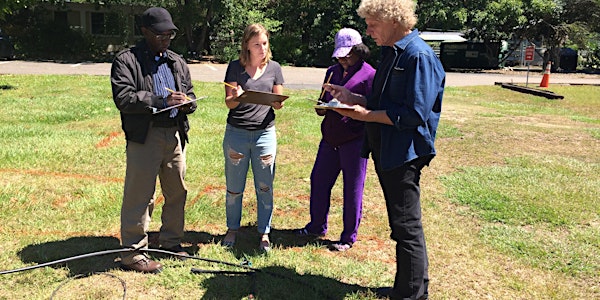 2017 Garden Educator Training Series in Leon County
When and where
Location
615 Paul Russell Rd Tallahassee, FL 32301
Description
Welcome teachers, community garden coordinators, volunteers, and garden enthusiasts!
UF/IFAS Extension, in partnership with the Family Nutrition Program and the Damayan Garden Project, is hosting the 2017 Garden Educator Training Series. Monthly training sessions will occur from 4:30-6:30pm at the Leon County Extension office, with a *special garden tour in October to celebrate National Farm to School Month.
Light refreshments will be served.

Participants will learn seasonal gardening skills, curriculum and education connections, and community organizing strategies to rally their garden team. In the process, we will continue to build a robust school and community garden network in Leon County while sharing best practices amongst the cohort. Each session will include fun, hands-on activities in the garden or classroom.

Fall 2017 Schedule:
September 20, 2017 - *NOTE: Previously scheduled for Sept 14 - POSTPONED to Sept 20 due to Hurricane*
❦ Assembling Your Team: How to Establish your Garden Committee and Rally Support from Your School Community, Attainable Goal Setting, Grants
❦ Planning a Garden that Meets your Needs – Site Selection and Design
❦ Activity: Direct Seeding vs. Transplanting – Planting with Kids and Classroom Seeding Ideas

October 12, 2017 - *Special School Garden Tour + Workshop, located at Tallahassee School of Math and Science (3434 N. Monroe St., Tallahassee, FL)
❦ Managing Community Partnerships, Budgeting, Fundraising
❦ Activity: Square Foot Gardening, Creating a Planting Plan
❦ Curriculum Ideas to Get Everyone Excited for the Growing Season (Seeds)

November 9, 2017
❦ Planning a Fall Celebration, Integrating the Garden into School Culture, Creating Buy-In
❦ Soil Health, Composting Techniques, Vermiculture
❦ Activity: How to Build and Care for a Worm Bin
❦ Curriculum Connections to Worms and Soil


November 30, 2017
❦ Garden to Cafeteria Connections, Nutrition Education, MyPlate Connections
❦ Implementing a Maintenance Plan, Harvest Techniques, Mulching, Fruit Trees
❦ Activity: Cooking from the Garden, Simple Recipes and Tips for Kids, Model Taste Test

The Series will continue in Spring 2018, dates TBA!

This training is designed for:
Teachers who want to start and sustain school gardens to use as outdoor classrooms


College students or volunteers who want to get involved with local gardening programs

Any other garden enthusiasts who want to lend expertise to ensure the success of school and community gardens


Please contact Tiffany Torres, Family Nutrition Program District Food Systems Specialist, at Tiffany.Torres@ufl.edu or 850-606-5233, if you have any questions regarding the workshop series. Full registration is encouraged. Please attend all four sessions to receive professional development credits.

NOTE: If you attended this series last year, we welcome you to return and encourage you to invite another garden leader from your school or community! Come share your experiences with us!

We look forward to learning with you!