Actions and Detail Panel
2017 Free Ultimate Press & Marketing Startup Bootcamp
Sat, March 4, 2017, 12:00 PM – 2:00 PM EST
Description
Are you trying to get more customers? Need press exposure to validate your brand?
We go over the top 100 tactics needed to get new customers and get featured in press from all over the world.

Deliverables:
How to structure your product and marketing message
How to leverage HARO for free press leads
How to leverage google competitor alerts for press features
How to pitch reporters and get featured in Tech Crunch, Forbes, Inc Magazine, Entrepreneur and more!
Agenda: The Press Hack Package:
1.
Step 1: Create the Blue Print Plan
2.
Step 2: Create the Blue Print Content Strategy
3.
Step 3: Create Content Assets
4.
Step 4: Startup Blog- Self Publish
5.
Step 5: Network Hit List (Curate Your Network First )
6.
Step 6 Blogger Hit List
8.
Step 8 Leverage Platforms (Submissions Outlets)
9.
Step 9 Hire to Automate
10.
Paid Advertising and Competitions
More information at: http://brandentrepreneurs.com/
---

---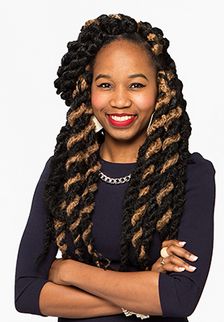 Host Bio: Christine Souffrant Ntim is a Haitian-American entrepreneur with over 7 years business management experience across 30+countries. She was selected for Forbes 30 Under 30, AdAge 40 Under 40, Haiti Changemakers 1804 List, and Caribbean Change Makers 30 Under 30 in 2016. She speaks on leadership, disruptive entrepreneurship, and exponential tech AI, VR, Robotics at the United Nations, TEDx, European Union Forum and over 20+ global conferences each year. She also interviews top influencers in the Middle East as the Managing Chapter Director of Startup Grind Dubai, powered by Google for Entrepreneurs.
Her entrepreneurial journey started with Vendedy a social network connecting global travelers to street markets. The innovative platform was featured in Forbes, Entrepreneur Magazine, Huffington Post, Inc Magazine, IBM Global Entrepreneur, Microsoft, the Clinton Global Initiative, Master Card Priceless Pitch, SheKnowsMedia Pitch, Chivas Venture Million Dollar Prize, Forbes Million Dollar Prize Top 40, SOCAP Gratitude Network, and Digital Entertainment World. Her efforts to digitize a $10 trillion dollar street market economy by centralizing the world's 200,000 street markets was also featured in alumni networks at Singularity@NASA, Draper University, Dartmouth College Alumni Magazine, and Hult International Business School Magazine.
Today, Christine is an award-winning keynote speaker, traveler and serial entrepreneur who builds startup ecosystems for entrepreneurs. From digital accelerators for Africa, Caribbean, Latin America and the Middle East via GlobalStartupEcosystem.com to intense branding boot camps via BrandEntrepreneurs.com, Christine has made the startup development blue print an inspiring endeavor for both aspiring and serial entrepreneurs.
For fun, she travels and binge watches top business shows with her husband and beautiful baby girl.
Blog: Csouffrantntim.com.
---
Venue Partner