2017 Forever Fancy Daddy & Daughter Dance- FAYETTEVILLE SOLD OUT

Sunday, March 26, 2017 from 5:00 PM to 7:00 PM
Event Details
The Fayetteville Daddy & Daughter Dance is now completely SOLD OUT!
IF tickets can be added, the individuals who join the waitlist this week will be contacted in the order that they sign up :)
We will be planning another dance in a new city hopefully within a 30 mile radius this Spring! (Location & Date TBD)

If you are on our waitlist you will be contacted first and will email you a PROMO CODE for a discount on your ticket since you were unable to attend this dance!  :)  
Thank you for continuing to make The Forever Fancy Daddy & Daugther Dances THE BEST IN THE STATE!
#7YEARSLONGANDSTRONG
#FOREVERFANCY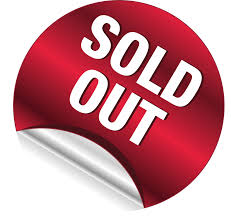 What:    Forever Fancy Daddy & Daughter Dance
When:   Sunday March 26th 2017
Time:    5:00pm- 7:00pm
Where: John D. Fuller Recreation Complex
Cost:    $35 Per Daddy-Daughter Couple (See ticket options for additional costs per daughter)
Who:     Fathers & Their Daughters!
***(Young Ladies may also be accompanied by Grandfathers, God-Fathers, Favorite Uncles, Big Brothers or other Special MALE Role Model or Father Figure Involved in Their Lives)  

 Admission Includes:
Live DJ
Flower for the Young Lady
Giveaways & Door Prizes****Food, Fun & Fellowship
Advance Ticket Purchase Required:
HURRY...THIS EVENT IS GUARANTEED TO SELL OUT!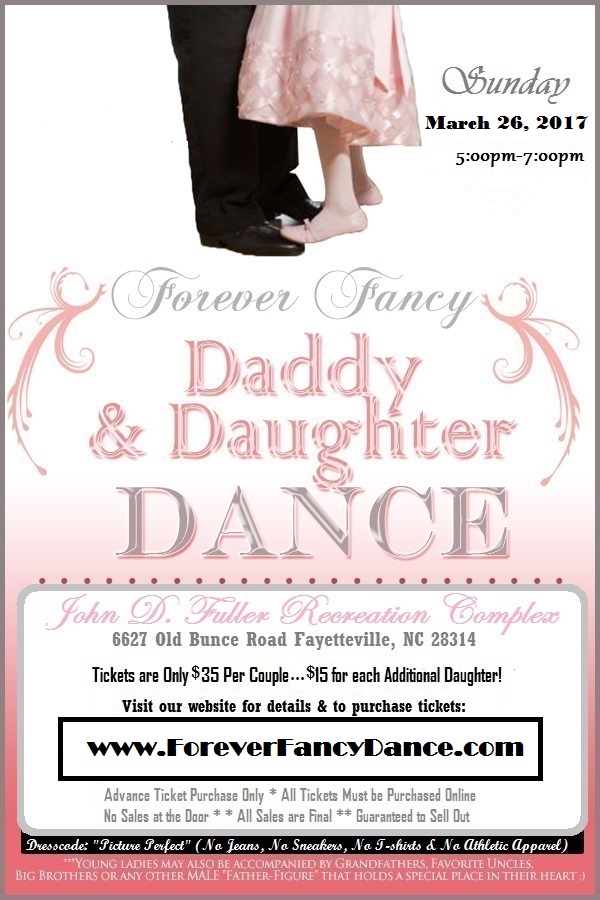 No Tickets Will Be Sold at the Door / All Sales Final
Buy Anytime Online & Your Tickets will be Emailed to You Immediately!
FREQUENTLY ASKED QUESTIONS:
Q: Will there be food?
A: Yes! Light Refreshments, Punch & Lemonade will be served during the dance! 
Q: What kind of music will be played?
A: Family friendly music will be provided by a professional disc jockey for this community event.  All music is screened and approved to not contain themes of violence, sex or cursing.  No religious songs will be played. 
Q: How old must the daughter be to attend?
A: At least old enough to use the little girls room without assistance in the stall:)
    Teen daughters are encouraged to attend with their dads as well but must not be older than 18 :)
Q: What do Dads wear to this thing?
A: Its not a "formal" affair, per se but men should "dress up" and the young ladies can be as fancy or as formal as they wish! Many of the dads who have called with the same question indicate that they plan to wear a range of attire as follows:
Formal: Military Dress to
Dressy: Suit or slacks and a shirt & tie to
Casual: Khaki's and a collared shirt/polo! 
 ***ABSOLUTELY NO JEANS/ NO T-SHIRTS/ NO BALL CAPS/ NO SNEAKERS ALLOWED)
It's all about you! So enjoy and be comfortable yet classy and you will have a fabulous time!
Q: What if I don't want to pay online?
A: Sorry...tickets to the Forever Fancy Daddy & Daughter Dance are available only online:(
Q: Will we have to pay the photographer for our photo?
A:  There will be a professional photographer taking candid shots throughout the night; Those pictures will be posted on our facebook page after the dance for your viewing, sharing and printing pleasure.
In past years, we have had photos taken and printed on site for an additional fee but this year we will have several "Souvenier Photo Selfie Stations" throughout the venue where pictures may be taken FOR FREE with your personal camera or cell phone for instant sharing!  
Q: Can Mom's attend?
A:  Absolutely not! (LOL) Your support and desired involvement is valued and appreciated but THIS event is strictly for the Daddy's and their girls:) (Sorry Moms!)
Q: Can a young lady attend without her father?   
A: Young Ladies may also be accompanied by Grandfathers, God-Fathers, Favorite Uncles, Big Brothers or any other special MALE role model or Father Figure in their Lives.
**IMPORTANT NOTICE: Stand in escorts MUST be 18 years of age or older and MUST be able to assume responsibility for the minor child in case of an emergency.
If your question or situation is not addressed in the Frequently Asked Questions section or you are interested in sponsorship opportunities-  please contact the Event Organizer Dr. V. Armstrong at (910) 294-9174.
When & Where

John D. Fuller Recreation Complex
6627 Old Bunce Road
**Down the street from 71st High School
Fayetteville, NC 28314


Sunday, March 26, 2017 from 5:00 PM to 7:00 PM
Add to my calendar
Organizer
It's not an event... it's an EXPERIENCE!
FOR UPDATES, PICTURES & PROMO CODES- LIKE US ON FACEBOOK!