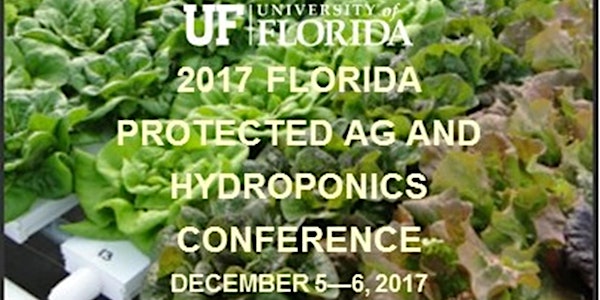 2017 Florida Protected Ag and Hydroponics Conference
When and where
Location
Univ. of Florida/IFAS Gulf Coast Research and Education Center Univ. of Florida/IFAS Gulf Coast Research and Education Center 14625 CR 672 Wimauma, FL 33598
Refund Policy
Refunds up to 30 days before event
Description
2017 Florida Protected Ag and Hydroponic Conference will be hosted by the University of Florida/IFAS Live Oak and Balm Ag Research Centers.

Day One of the conference will begin at the University of Florida/IFAS Gulf Coast Research and Education Center located south of the Tampa Bay area in Balm, Florida and will include field tours of the center. A reception at the center will close out the day giving participants a chance to network in a casual, relaxed setting.

Day Two will features educational sessions, Farm to School presentation and a growers panel featuring five area growers. The Agenda for the event is noted below and is subject to change, updates will be issued via email to those who register.

Early Bird Registration of only $50 until 11/14/2017. $75 after 11/14/2017.
Hotel Accomodations will be provided by
Hilton Garden Inns located in Riverview, Florida
Contact hotel directly at (813) 626-6610
Reference Group Room Code PAW to get the discounted rate.
This rate is only available to the first 50 reservations and until 11/7/2017.

Click here for Sponsorship Details.
Day 1
Tuesday, December 5
11:30 a.m. Registration at GCREC

12:15 - 1:00 Lunch

1:00 - 1:40
Tour strawberry fields and blackberry production
Shinsuke Agehara

1:45 - 2:20
IPM demonstration on peppers, tomatoes, cucumbers
Hugh Smith

2:30 - 2:50
Tour net house blackberries
Shinsuke Agehara

2:50 - 4:00
Wagon Tour of field
Featuring stops at the GCREC hops yard, pomegranates, compact growth tomatoes and artichokes

4:00 – 5:00
Discussion regarding formation of an association for Florida protected ag and hydroponic growers and allied industry
5:00 Reception at GCREC
Appetizers and Beverages

Day 2 Wednesday, December 6
9:00 Overview of Florida's dynamic protected ag and hydroponics industry - Bob Hochmuth, UF/IFAS Live Oak

9:30 Economics and budgeting for hydroponic production - Kevin Athearn, UF/IFAS Live Oak

9:50 Break/Visit Vendors

10:30 UF trial results and grower experiences with leafy greens grown in various structures and systems—Bob Hochmuth and Wanda Laughlin, UF/IFAS Live Oak
11:00 Management of pests in protected agriculture - Hugh Smith, UF/IFAS Balm

11:30 Improved water and nutrient management - Shinsuke Agehara, UF/IFAS Balm

12:00 Lunch, Visit Vendors

1:00 Farm to School Opportunities -
Beth Spratt, Child Nutrition Specialist, FDACS

1:30 Grower Panel Featuring:
Randall Dasher, Dasher Farms
Darrin Swank, Swank Specialty Produce
Freddie Bacon, Bacon's Select Produce
Emil Belibasis, Bell Farms
Jon Virata, Farm at Rockledge Gardens