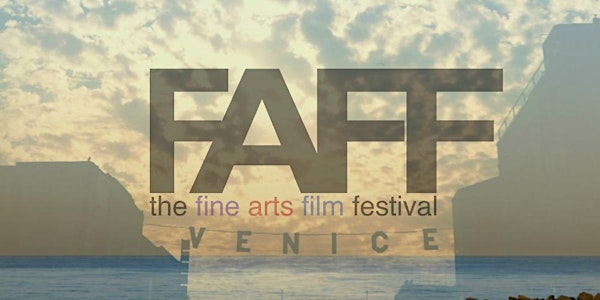 2017 FINE ARTS FILM FESTIVAL
Refund Policy
Contact the organizer to request a refund.
Description
The 4th Annual Fine Arts Film Festival is the premiere showcase for independent films about artists and the art world held annually in venues in Venice and Downtown Los Angeles, California.
Featuring exceptionally creative and important films about art, artists, and the art world - many premiering for the first time in the United States - from countries such as the Netherlands, Iran, France, Estonia, Japan, Pakistan, Hong Kong, Portugal, Russia, the United Kingdom, India, Finland, Sweden, Iceland, Armenia, Greece, Antarctica, Luxembourg...
Further information as well at www.thefineartsfilmfestival.com
Official 2017 FAFF Screening Schedule & Theatre Locations:
Friday May 12, 2017
Creative Technology Center/Brewery Art Complex
604 Moulton Ave. Los Angeles, California 90031
11:15 AM LOVERS MEET
(USA) Student Film, 7 mins.
A blended live-action/animated short film about a young man, Isaac, who finds himself inside an impressionist painting (inspired by the work of Leonid Afremov.) Stricken by the thought of losing his soon-to-be long distance girlfriend, Isaac learns from an unlikely friend that love is worth fighting for.
Dir: Brian Matthew Beebe
11:25 HEARTBURN
(CANADA) Experimental, 6 mins.
A non-narrative video art piece generated through live editing of multiple pre-shot layers of footage for a large screen video performance.
Dir: Craig Hall
11:30 MAY I DANCE?
(PORTUGAL) Music/Performance Video, 4 mins.
A video-dance piece based on the recording of ordinary movements that were not previously rehearsed nor based on an existing music. It is influenced by noise, punk, hip-hop, glam disco and a desire to experiment an aesthetics of failure.
Dir: Vasco Diogo
11:40 YANNIS KASTRITSIS: A MAN AND HIS SHADOW
(GREECE) Short Documentary, 52 mins.
Film portrait of the artist Yannis Kastritsis through a captivating pilgrimage into a primordial realm of images, objects and human figures. A journey to the land where Dionysos of Fournas, Fysikas, Anasto and Comrade left their shadows…
Dir: Dimitris Koutsiabasakos
12:45 NON-LOCAL DOMAIN
(FINLAND) Short Documentary, 53 mins.
A documentary focusing on the inner soul landscape of the Finnish artist Alvar Gullichsen.
Dir: Anna-Maija Heinonen
1:45 STATISCOPE
(USA) Experimental, 3 mins.
The work is about time and memory. It is an illusion of time passing recreated through the process of recall. The recollection, as a physical act, is repeated over and over again and combined into a living experience, a kind of a transmission, a dream, or a memory. Time appears to move forward while it is a collection of reprints and copies, hundreds of versions of the same thing shimmering and boiling in place.
Dir: Mariam Eqbal
1:50 SACRIFICE
(USA) Animated Film, 11 mins.
An experimental animated short based on the sacrifice of Isaac. The film explores the theme of transformation through sacrifice. It was created using marker and white-out on a single sheet of paper. Music by Philip Glass.
Dir: Yaron Dotan
2:05 MOVING SOUTHWARK
(UNITED KINGDOM) Experimental Film, 6 mins.
Yerevan is one of the world's oldest continuously inhabited cities. The history of it's people simply measured in millennia. Moving Yerevan is an emotive response to the meeting of 47 dancers and the metropolis.
Dir: Jevan Chowdhury
2:15 IT ALL BEGAN AT MOSELEY
(GERMANY) Short Documentary, 12 mins.
This is a colorful and cheerful 12 minute short portrait film about the artist Philip Walsh. It is an intriguing film which tells the story of an incredibly talented artist who's life is defined by his humorous, colorful and quintessential artwork.
Dir: David Walsh
2:30 TOM'S CLAN
(USA) Short Documentary, 40 mins.
A profile of California sculptor Thomas Long, an artist with a thirty year career creating striking multi-cultural figures that have never been exhibited.
Dir: Jeff McLoughlin
3:15 SEARCHING FOR LADY DAY
(USA) Short Documentary, 29 mins.
A film exploring the history of sculptor Mark di Suvero's prolific body of work, his relationship with the Nathan Manilow Sculpture Park, and his inspiration for the sculpture "Yes, For Lady Day".
Dir: Geoffrey Bates
4:00 A YEAR WITH BETTY GOLD
(USA) Feature Documentary, 60 mins.
Betty Gold is about to turn 80 with no plans on retiring. From her early days as Miss.Texas to installing large scale sculptures around the world, some things have not changed; her tenacity, humor and philosophy of yes.
Dir: J. McMerty
5:00 SAVAGE SLEEP
(USA) Experimental Film - 14 mins
Blending narrative storytelling and dreamlike imagery, the film explores guilt and desire in a series of surreal nocturnal encounters.
Dir: Osceola Refetoff
5:30 LOVE BITE
(UNITED KINGDOM) Short Documentary
Sundance award-winning editor James Scott's documentary directorial debut Love Bite chronicles artist Laurie Lipton's life and prolific body of black & white work spanning over fifty years. No one on the planet has drawn more than Laurie Lipton. With millions of tiny strokes of her humble pencil, Laurie's haunted images seek answers to some of the most uncomfortable themes in our culture - fear, politics, sexuality, murder, mayhem, greed, and indifference. But what compels her to live a life of isolation drawing is neither black nor white.
Dir: James Scott
Q&A with Laurie Lipton and Special Guests Free and Open to the Public 6-6:30PM
6:30 JOE BLAUSTEIN AND THE FLOOD OF FLORENCE
(USA) Short Documentary, 13 mins.
At age 93, artist Joe Blaustein recalls the 1966 Flood of Florence and the strange confluence of events that led him, his pregnant wife, and his second-hand Rolleiflex to the city the night the floodwaters rose to historic and devastating levels.
Dir: Alan Griswold
6:45 TRANS ANGELES: CROSS OVER EXPERIMENTATION
(USA) Short Documentary, (Out of Competition), 25 mins.
Reknowned curator and critic Peter Frank brings together 12 well-known LA artists - who's work is partly informed by their city of choice - and travels them and their work to a museum in a medieval town in Germany and throughout Europe.
Dir. Juri Koll
7:15 MELTDOWN: WEAPONS OF MASS CONSTRUCTION
(USA) Experimental, (Out of Competition), 9 mins.
The death toll from gun violence in the U.S. per capita is catastrophic. How do guns affect our society and what is being done - how do we turn swords into plowshares?
Dir: May Sun & Juri Koll
7:30 AMAZONES
(ROMANIA) Short Narrative/Experimental, 17 mins.
Annabelle must claim her Amazon heritage by finding and taming the fabled White Horse, even in modern Europe.
Dir: Ionan Matei
Saturday May 13, 2017
Beyond Baroque Literary/Art Center & Theatre:
681 N. Venice Boulevard Venice, California 90291
BEYOND BAROQUE, MAIN THEATRE
11:00 AM THE PEEL PROJECT
(CANADA) Feature Documentary, 90 mins.
Six Artists paddle into the Arctic - A story of Art, Adventure and Canadian Wilderness. In jeopardy of development, The Peel Project highlights the landscape, culture and wildlife of the Peel River Watershed, one of the last intact river systems left in North America.
Dir: Calder Cheverie
12:05 HOLLOW DOG
(UNITED KINGDOM) Short Documentary, 52 mins.
Maurce Blik was born in Amsterdam in 1939. This film explores Maurice's art work through a series of interviews and sheds light on his experiences as a child and his decision to become a sculptor. Today Blik's monumental sculptures can be seen around the world. A former President of the Royal British Society of Sculptors his work is powerful and of great importance as it records and reflects a lifetime of experiences. Hollow Dog features interviews with leading sculptors, footage of Blik at work in his studio, as well as interviews with the sculptor.
Dir: Clive Martin
1:00 NATURE AND IT'S MANIFESTATIONS
(JAPAN), 50 mins.
"NATURE AND ITS MANIFESTATIONS: From Four Poems"is a documentary film about a documentary filmmaker and two photographers. The three are an Austrian filmmaker Nikolaus Geyrhalter, a Korean photographer Chung Chu-Ha, and Keiji Tsuyuguchi, who is a photographer based in Hokkaido, Japan. All of them capture Fukushima in their works.
Dir: Takamasa Iwasaki
2:05 COME TO THE EDGE
(USA), 9 mins.
In 1968 our technological achievements and first lunar expeditions led to an unprecedented new image of our Earth from space. 2016 marked the 10th anniversary of an ephemeral and unprecedented art science collaboration in Antarctica, the highest, driest, coldest and windiest place on the planet. The short film "Come to the Edge" brings art and science together in an experimental synthesis of music, audio and archival footage celebrating our unique human quest to find our place amongst the stars.
Dir: Sophie Pegrum
2:15 WHAT TO DO WHEN SHE SMILES AT ME
(HONG KONG) Experimental, 8 mins.
"A uniquely told story about love and music. Riveting and beautiful…"
Dir: Adrian Wong
2:25 SUPER BARBARA: The Beginning
(SWEDEN) Animated Film, 11 mins.
After an inflatable doll (Barbara) has been abused and abandoned, she decides to no longer be a victim. To no longer be what she is created for. She is Super Barbara!
Dir: Boonsri Tangtrongsin
2:40 BGL FANCY
(CANADA) Feature Documentary, 83 mins.
After a twenty-year-long career, the contemporary art group BGL (Jasmin Bilodeau, Sébastien Giguère and Nicolas Laverdière) was offered the mission to oversee three important projects. The task is a colossal challenge: create two monumental public art pieces – one in Montréal and the other in Toronto – and represent Canada during the 56th Biennale in Venice. What better moment than to shine the spotlight on this immensely creative Canadian trio, thereby allowing us to take a retrospective look on their prolific and disconcerting legacy? In this fairy tale like documentary, humour, extravagance, oneirism and camaraderie become deeply entangled.
Dir: Benjamin Hogue
4:15 PET
(GREECE) Short Narrative, 12 mins.
Dimitris (a 10 years old boy) is the only child of a rich family. The only person that took care of him, his grandma, is dead. Now his only companion is his pet guinea pig. When Dimitris parents decide a cruel future for him, Dimitris in order to survive he "cripples" the most pure side of himself.
Dir: Christos Liakouris
4:35 FANTASY ON SARABANDA
(ICELAND) Animated Film
A visual fantasy in claymation on the movement Sarabanda from J.S. Bach's D-minor partita for solo violin. The piece is a video of an animated sculpture which interprets the expressions in the music like in a ballet, pantomime or a silent film.
Dir: Gudbjorg Hlin Gudmundsdottir
4:45 FAST EDDY'S OLD NEWS
(ESTONIA) Feature Documentary, 88 mins.
Ed Vaar (1929 Estonia, Kuressaare-2015 Canada, Toronto), freelance cinematographer, who earned his nickname 'Fast Eddy' by reaching the scene of events before police and CBC crime reporters. Majority of his filmed footage has aired on TV through CBC. The rest of the footage, over hundreds of thousands of film stock, that he didn't manage to sell to news broadcasters, are piled up in Eddy's downtown Toronto penthouse rooms and basement. Do old news have value to be sold? What does Ed himself remember and what do these film stocks reflect about his own interests in this world? When do people reach the limit of preparing for their death and when do they turn into a ward, a flower, a piece of furniture?
Dir: Marko Raat
6:15 MYSTERIOUS MASTERPIECE
(NETHERLANDS) Feature Documentary, 68 mins.
A mysterious still life, a reckless genius, torture and 'tolerance' in 17th century Holland - the incredible life of the Dutch master Johannes Torrentius and his unique Still life with a Bridle. No traces of paint were found. Torrentius, freethinker and producer of erotic works too, was put to jail, tortured and sentenced for blasphemy and heresy. After being saved from jail by a Dutch prince and the king of England, he and all his works vanish into thin air. Only one mysterious painting survives. A film on art, tolerance, freedom of speech and a reckless genius.
Dir: Maarten de Kroon
RED CARPET ARRIVALS 7-7:30PM
7:45 LIGHT SIGHT
(IRAN) Student Film, 8 mins.
M.E., the imprisoned character in a room is attracted to a hanging light and tries to catch it. But the room itself becomes an obstacle on his way.
Dir: Said M. Tabatabaei
7:30 INNUENDO
(FINLAND) Feature Narrative
Tuuli, a young Finnish woman with religious and abusive upbringing and an identical twin, flees to the other side of the world. She explores sexuality by modeling at life drawing classes and fantasizing of sexual and violent encounters with the artists. Her urge to destroy happiness leads to heartbreaking fatalities.
Dir: Saara Lamberg
9:15 - 11PM VIP AWARDS GALA


ART SHARE LA:
801 E. 4th Place, Los Angeles, California 90013
ART SHARE LA, MAIN THEATRE
12:50 UNWANTED HERITAGE
(CROATIA) Feature Documentary, 100 mins.
WWII monuments of the ex-Yugoslavia, work of the best East European artists, once worshiped, now they and their symbolism have been abandoned, neglected and destroyed. Monuments are silent witnesses to the times when they were built and the people who built them.
Dir: Irena Skoric
2:05
TRUTH & BEAUTY - THE ART OF TOM DOWLING
(USA) Short Documentary, 30 mins.
A film by Bradford J. Salamon and Stan Yan about the art and artistic process of Tom Dowling. Dowling's years at UCI, where he received a Master's Degree, are well documented. Interviews with artists Tony DeLap, Eric Johnson, Jan Taylor and Mike McGee bring to life the artistic environment of Southern California when the influence of UCI changed the face of contemporary art.
Dir: Bradford J. Salamon
2:40 JON BUCK: CODED FOR COLOR
(UNITED KINGDOM) Short Documentary, 11 mins.
Jon Buck's experimentation with colour in bronze over the past three decades has pushed the boundaries of what can be achieved in the medium more than any other contemporary artist. This film explores Buck's journey where new processes and patinas have been devised to bring into being an extraordinary artist's vision.
Dir: Zuleika Kingdon
2:55 THE MOMENT
(USA) Student Film, 3 mins.
The Moment is a story about an artist who learns about the importance of the things unseen as she gets to draw a stranger's portrait.
Director: Karis Seungyoun Oh
CUBE
(USA) Student Film, 2 mins.
A young elementary school boy draws a cube in art class. Through his drawing, he struggles between expressing himself and following societal norms.
Dir: Laura Nitz
3:00 THE ORIGINAL RICHARD McMAHAN
(USA) Short Documentary, 21 mins.
The multi-talented outsider artist Richard McMahan is on a quest to painstakingly re-create thousands of famous and not-so-famous paintings and artifacts-- in miniature. From well-loved Picasso and Frida Kahlo paintings to more obscure intricate Maori canoes, McMahan has mastered dozens of genres over 30 years of creating, and he's made most of it on a cluttered kitchen counter using recycled materials. McMahan is also the curator of a mini-museum with a collection that surveys the scope of humanity's visual record. Olympia Stone directs this surprising portrait of a most unusual artist.
Dir: Olympia Stone
3:25 SKY PACERS
(USA) Experimental Film, 9 mins.
When the serenity of the great void and the fury of the cosmos intersect, when quantum mechanics and relativity come face to face, tiptoe and waddle, skitter and scuttle, whirl and whisk, behold: The Prophecy of the Sky Pacers is now! There is no escaping our cosmic destiny.
Dir: Harvey Goldman
3:35 BILLSVILLE
(CANADA) Short Documentary, 20 mins.
In a tiny Montreal apartment LED lights flash, illuminating bizarre portraits and fantastical machines. Amidst the chaos sits 85 year old outsider artist Bill Anhang, working hard to "bring a new light to mankind." But what happens when Bill takes his quirky show to NYC for his first art exhibition?
Dir: Maisie Jacobson
4:00 FEICA VS FEICA
(PAKISTAN) Short Documentary, 28 mins.
A documentary about Pakistan's veteran political cartoonist, Feica. For the last 30 years, Feica has been taking on all shades of bigotry – political, religious and social – through his cartoons. For these 'sins', the Karachi-based artist has often found himself in trouble with state authorities and political parties. This film shows the best and the worst of Pakistan though the eyes of a liberal, progressive artist. Most importantly, this documentary speaks of what resistance looks like and its future in a country eviscerated by its contradictions, its bigots and zealots.
Dir: Faisal Sayani
4:30 FARTHER UP THE ROAD
(USA) Music/Performance Film, 4 mins.
JYP is a pre-professional tap dance company based in Washington, DC with passionate young dancers from over 10 states. Each semester, their choreography is adapted into a dancefilm. This film combines lindy-hop style and old school values such as 'reap what you sow' with fresh rhythms and the diverse personalities of these talented youth.
Dir: Jen Ray
4:35 THEMES & VARIATIONS
(USA) Animated Film, 4 mins.
A computer graphic short film based upon contemporary artworks from artists Yayoi Kusama and Ai Weiwei, the short film explored the infinite possibilities by using 3D digital art to create new "versions" of existing artworks.
Dir: Ziye Liu
4:40 PLEASE COME AGAIN
(USA/JAPAN) Student Film, 10 mins.
The film narrates the collective and personal memory of three generations of Asian women though the lens of Japanese love hotels.
Dir: Alisa Yang
4:50 SAND & FIRE
(USA) Experimental Film, 5 mins.
This is a visual poem about painter and sculptor Katerina Ganchak. Each scene is a metaphor for a step in the creation process. The film journeys through inspiration, sculpting, molding, to blowing glass. Failure of any one step requires starting again from scratch.
Dir: Marcus Jones
4:55 THE END OF EVERYTHING AS YOU KNEW IT
(LUXEMBOURG) Experimental Film, 15 mins.
Young, beautiful Jade flees from her posh London background to explore her darkest fantasies.
Dir: Christian Neuman
5:10 CHAN
(RUSSIAN FEDERATION) Music/Performance, 7 mins.
When an adept, inspired by the atmosphere of an abandoned Buddhist monastery, goes deep into meditation, what happens to his consciousness?
Dir: Manas Sirakanyan
5:20 ARCHITECTONES BY XAVIER VEILHAN
(FRANCE) Feature Documentary, 69 mins.
Searching for the ultimate place to show his work, Xavier Veilhan imagined a series of atypical exhibitions in major architectural places of the past hundred years.
Dir: Francois Combin
6:30 COLOURS
(ESTONIA), Music/Performance, 4 mins.
Music video of the group N-Euro's song "Colours."
Art&Video: Madli Luuk/Piibe Piirma
6:35 AGNES MARTIN: BEFORE THE GRID
(USA) Feature Documentary
Friends, classmates and lovers of one of the 20th century's most influential artists reveal for the first time the story of Agnes Martin's early years defying the hardships of poverty, mental illness and forbidden loves. Through sheer determination and the timely generosity of others, she develops to create the transcendent art that would make her famous.
Dir: Kathleen Brennan
7:35 THE NEXT REMBRANDT
(NETHERLANDS) Short Documentary
By studying the work of painter Rembrandt van Rijn closely and with deep learning algorithms, Face Detection technology and a 3D printer The Next Rembrandt was brought to life. The documentary follows the exciting creative process of this unique painting of both the seventeenth and twenty-first century. Accompanied by a team of data scientists, developers, engineers and Rembrandt expert you will be entertained in the complex boundaries between technology and emotion. How far can we go in art with today's technology?
Dir: Anjo Kantelberg
8:00 MEDIA MAN: Two Seasons for 4 Hands
(FRANCE) Short Documentary
Mediaman, 6 meters high, sits prominently in the Montauban (South of France) Hospital roundabout since 26 years. Unfortunately, this monumental piece of work deteriorates due to bad weather. We must intervene to give it a new life.
Dirs: Philippe Aussel
9:00 BEAUTY & RUIN
(CANADA) Feature Documentary
Detroit, a once prosperous city, is going bankrupt and the Republican-appointed emergency manager, Kevyn Orr, is plundering the city's assets in search of cash to pay off Detroit's creditors. One of the most valuable assets in the city – The Detroit Institute of Art (DIA) - houses one of the richest art collections in the USA, including masterpieces from Van Gogh, Titian and Bruegel.
Dir: Jeannette Loakman
FAQs
Are there ID or minimum age requirements to enter the event?
No.
What are my transportation/parking options for getting to and from the event?
We recommend public transportation via Metro/MTA - readily available to each venue. If you're driving your own vehicle there is ample parking near each venue and secured parking lots nearby as well. When visiting the Brewery Art Complex, please note parking signs.