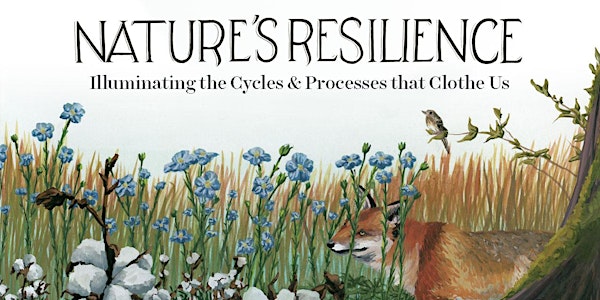 2017 Fibershed Wool & Fine Fiber Symposium
When and where
Location
Dance Palace 503 B Street Point Reyes Station, CA 94956
Refund Policy
Refunds up to 7 days before event
Description
Nature's Resilience — Illuminating the Cycles & Processes that Clothe Us:
Fibershed's 2017 Wool Symposium panels and presentations will focus on how current textile systems are impacting our health, water, carbon and genetic life and how the replication of decentralized, regional, transparent, and regeneratively produced Fibershed soil-to-skin value chains are a direct alternative to existing industrial models and the havoc these systems have imparted on our personal and global ecology.
Join us as we discuss the scale of problems and solutions, and together create both an intellectual and hands-on road map for how we can build our Fibershed, as a community. Presentations include:
Ocean Health -- the enormous yet microscopic microplastic pollution problem
Bast fibers and blends: Solutions to Pollution
Framework for a Just Transition: Daylighting Genetic Editing & Modification within the fiber system
Classical Plant Breeding
Biological Tracking of Synthetic Compounds in Consumer Products
Enhancing & Enriching our Soil-to-Soil System -- compost explorations & applications
The High Cost of Effluent -- the documentary RiverBlue
Internalizing the True Cost
The Symposium will host a marketplace of farmers, ranchers and designers from within our 150-mile region who will be offering place-based goods and raw materials for textile creation. There will also be demonstrations on sheep shearing, wool grading, hoof trimming, angora rabbit shearing, natural dyeing, weaving, and spinning. Marketplace and demos are free to the public.
Be sure to join in on social media as we share sneak peeks and updates leading up to the Symposium. We would love to see and hear your thoughts using #2017WoolSymposium.
For complete schedule and list of Marketplace vendors, visit our website.
Fibershed members with a current membership receive an access code to discounted tickets. To become a member, visit our website and join or renew today. If you are a current member and have not received a discount access code, please email office@fibershed.com to request the code.
Would you like to donate to the Fibershed Fire Recovery Ecosystem Restoration Fund?
In response to last month's devastating wildfires, we have created a fund to support farmers and ranchers in our network whose lands suffered damage in the fires. All contributions will be given directly to the purchase of materials for immediate needs to stabilize affected lands and to support the land's recovery. Purchases of supplies such as mulch and straw and other land-based materials used in the care of land, plants and livestock will help to restore and protect the livelihoods of our local fibershed land stewards. Whether you are purchasing a ticket to attend, have already purchased a ticket, or simply are looking to offer a support, please consider using the "donation" button within the "Tickets" option to support the fund.