Event Information
Location
Dallas and Fort Worth - exact locations to be sent
Description
***Please click the green "REGISTER" button above to select and reserve the location, date and time you would like for your session. Make sure you read all of the important information below regarding your session. ***
Thanks!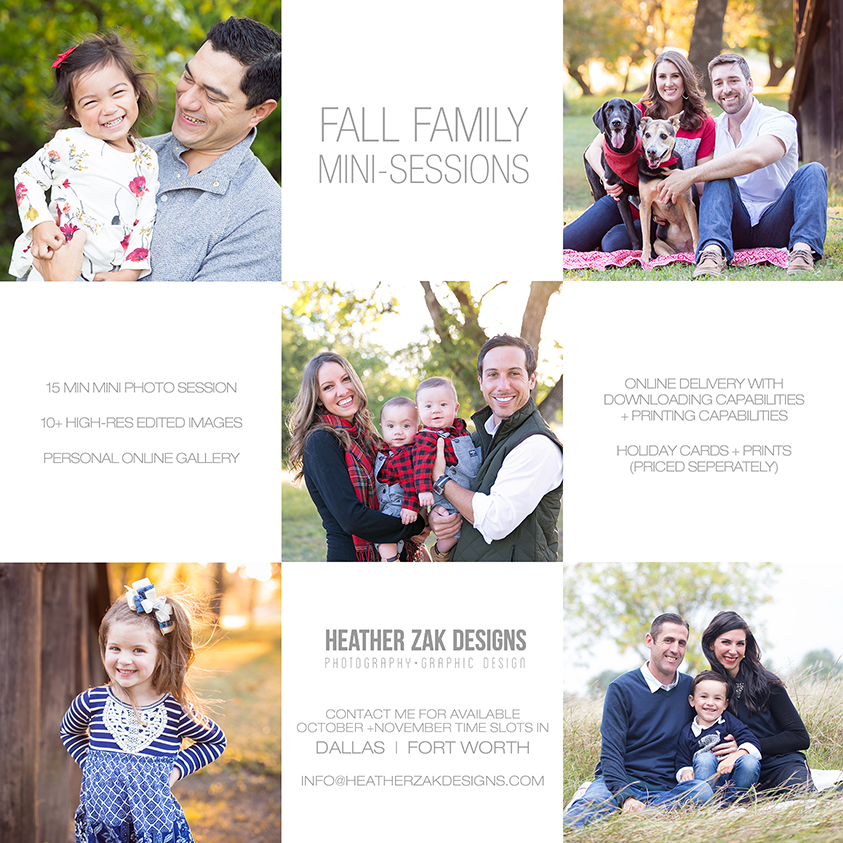 Get your updated family photos done this year and have images for Holiday cards in these perfect and concise mini sessions. If there are time slots available back to back, you can book up to two session spots if you would like a little longer time. Just select the two tickets before checkout.
I am so glad that you have decided to book a family session with me! Please make sure when you select that you are choosing the *right location*. Please click the green "REGISTER" button above to select and reserve the location, date and time you would like for your session. Time slots will fill up fast and are on a first come basis. Make sure you also look over the *important details below*!
I may add more dates/time slots (particulary in November if there are no weather reschedules in October), but these are the current opening:
DALLAS - SUN 10/15 PM, SAT 10/21 AM, SUN 10/22 AM, SUN 11/5 PM
FORT WORTH - SUN 11/5 AM

Contact me if you have any further questions! See you Soon!
Heather Zak Christian
817.874.3262 | info@heatherzakdesigns.com
*PAYMENT


These mini-session specials are $108.25 ($100+8.25%tax) plus any Eventbrite online payment processing. A $40 portion of your fee is non-refundable to reserve your time slot. If you miss your time slot, I will do my best to reschedule based on available times but if nothing is available, the deposit is forfeited.


*LOCATION & TIME


Please do not be late! These sessions are back to back so I have other groups booked every twenty minutes. If you are late, I can only shoot for the amount of time you are there in your time slot and you still must pay the full $100 mini-session special price. I wait to set the exact location until a little bit closer to the date just in case there aren't any changes to the area or events booked at the same time but here is the general information about the areas:
-Dallas will be near/around White Rock Lake
-Fort Worth will be at a park area not far from the center of Fort Worth city limits




*WHAT TO WEAR


Many of you have asked what to wear for your sessions. My best advice is to keep a little more on the comfy, casual but cute side. When I think of Fall Photos, I think of colors, boots, scarves, sweaters, jeans, leggings, etc. Of course you don't want everyone wearing the same thing. Think coordinated colors and textures but not matchy-matchy. It helps to think of a color palette that includes around three or four coordinating colors and trying to keep everyone in those tones. You can include a subtle pattern but you want to keep the patterns limited so that the members of your family's wardrobe aren't competing with each other or the outdoor backdrop. I might have you do some seated shots for your session, if you have a blanket you would like to sit on, please bring it.


*BAD WEATHER PLAN


Hopefully we won't have to worry about this but as much as I wish I could, I can't control the weather. I will be keeping an eye on the weather situation. If it looks like rain, I will have to cancel your session and I will do all I can to reschedule based on my current schedule. Please make sure I have your cell number in case I need to call you because of weather.
Date and Time
Location
Dallas and Fort Worth - exact locations to be sent