Description
Announcing the EIB Oregon Economic Forecast

Whether you lead a Startup or a Fortune 500 corporation, as a Business Leader, building value into YOUR business is job one. You are being invited to this gathering of business leaders because you were identified as desiring excellence in business and because YOU want to continue to build value into YOUR business.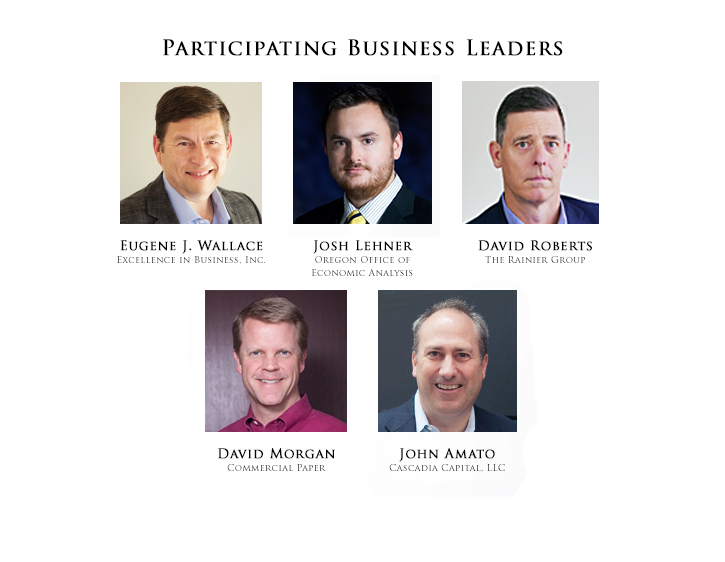 Business Guests include:
Eugene J. Wallace of Family Business Advisers

Josh Lehner of the Oregon Office of Economic Analysis
David Roberts of The Rainier Group
David Morgan of Commercial Paper
John Amato of Cascadia Capital, LLC

Josh Lehner is an Economist with the State of Oregon's Office of Economic Analysis. He develops the quarterly Oregon Economic forecast, including outlooks for employment, income and housing.
Mr. Lehner also acts as the state's de facto vice economist by forecasting revenues for the Oregon Lottery, Oregon Judicial Department, and state marijuana and tobacco taxes. Outside of work, Josh enjoys spending time with his wife and two preschool-age children, traveling the state and consuming Oregon's craft beverages.
Mr. Lehner's economic research has been cited by Calculated Risk, The Economist, Financial Times, National Public Radio, The New York Times, The Washington Post and other local media. Prior to joining the state, Mr. Lehner worked as a research analyst for a local economic development organization and published a paper on the border tax effect between Oregon, Washington and Idaho. Mr. Lehner earned a B.A. in Economics from the University of Colorado and an M.S. in Economics from Portland State University.


Eugene J. Wallace has served as a "Strategic Advantage" for business owners since 1998. As founder and president of Family Business Advisers, and owner of Excell Oregon (Leader-To-Leader groups for Presidents/CEOs), and as a successful business owner and entrepreneur himself, Eugene's experience in manufacturing, marketing, Financial, Strategic and Succession planning have forged his ability to understand effective business building: he provides the 'strategic advantage' that supports business owners and business leaders as they grow their businesses. Through his work with thousands of business leaders, he has developed highly effective processes and tools that impact Leader Development, Strategic Planning and Succession Strategies. His work has earned him recognition as one of the Northwest's most Trusted Advisers. His wise and passionate advising encourages clients/members as they build value into their businesses.
Learn more at www.FamilyBusinessAdvisers.com and www.ExcellOregon.com and www.IBAINC.com