Sales Have Ended
Registrations are closed
This registration is no longer available. Please try another, join the waitlist, or contact education@phxart.org for additional options.
Sales Have Ended
Registrations are closed
This registration is no longer available. Please try another, join the waitlist, or contact education@phxart.org for additional options.
Description
EDUCATOR ARTS DAY

:
ARTS INTEGRATED LEARNING & CULTURAL RESOURCE FAIR
---
8/25 update
Happy Educator Arts Day-
Due to several last minute cancellations, we have a few last minute spaces available.
If interested, please email Michelle.sparks@phxart.org before 10 am.
Event check-in begins at 9:30 AM.
Not able to attend? We hope to see you at another educator event soon! Join us for Arts Integration and Appetizers, a monthly series for teachers. The 1st Wednesday of each month, starting September 6th. 5:30-7:30 pm. Email Michelle.sparks@phxart.org for more information.
---
Note 8/17
As we start final preparations for the event, please email michelle.sparks@phxart.org to make ANY change to your existing reservation.
Thank You


---
CONNECT.
The arts connect students to people, places, and big ideas. Learn to connect the arts to your classroom curriculum through presentations and participatory workshops.
During registration, you'll select THREE workshops to attend (PLUS The Cultural Resource Fair). You're welcome to register for any available session, although some are targeted for specific audiences. When selecting your workshops, we hope you'll branch out and try something new - even something outside of your comfort zone!
EXPLORE.
Learn about the resources available for your classroom during the ARTS & CULTURAL RESOURCE FAIR:

Field trips.

Performances.

Outreach programs at your school.

Professional development.

Class materials.

Lesson plans & more!


DISCUSS.
Network with fellow educators: pose questions and uncover answers.


Pre-registration is required. Don't miss out!
Space is limited. Register early for best selection of workshop sessions.

---


---


NEW!
PRIZE FOR THE SCHOOL WITH THE MOST EDUCATORS ATTENDING
Register as a group and help your school win! You can either join an existing group or register as the Team Captain.
NOTE: Prize will be awarded to the school with the most educators registered and attending the entire duration of the event.
---
Event includes admission to Phoenix Art Museum, catered lunch, workshop materials, 1 raffle entry, teaching resources, & continuing education certificate.
FREE when you register BEFORE AUGUST 20
---
2017 WORKSHOP CHOICES:

CULTURAL RESOURCE FAIR
Offered Session: 1, 2, 3, 4
Visit the Cultural Resource Fair to meet with representatives from Arizona organizations eager to share resources they make available to teachers and schools. Free resources and lots of great information. Targeted Audience: EVERYONE!
ART. ADVOCACY. AWARDS. YOUTH ART MONTH
hosted by Arizona Art Educators Association
Offered Session: 3,4
Lean how you and your students can join in the annual Youth Art Month (YAM) celebration. Start planning now to be a part of the March, 2018 celebration of the value of art education for all children. This hands-on workshop will give you ideas for incorporating this year's theme: "Building Community through Art. Target Audience: K-12 Art Specialists and general educators
SCIENCE AND THE HUMAN VOICE
hosted by Arizona Opera
Offered Session: 1, 2, 3, 4
The human voice is the most emotional organ of the body! Through a series of interactive activities, learn how to integrate opera into classroom learning across all subject areas. Explore the world of traditional opera in untraditional ways and become acquainted with how Arizona Opera can help support arts integration in your school. Target Audience: K-12 educators
PICTURE THIS! ART & STORY
hosted by Arizona Theatre Company
Offered Session: 1, 2, 3, 4
Picture THIS! combines visual art and literacy with theatrical storytelling. Participants create original pieces of performance inspired by works of art curated by Museum and ATC staff. Target Audience: K-12 educators.
STEM AND LITERACY: CORE CURRICULUM DRAMA INTEGRATION
hosted by Childsplay Theatre
Offered Session: 1, 3
Experience engaging, kinesthetic arts integration with Childsplay teaching artists. By teaching core academic curriculum through participatory, inquiry based drama instruction, students experience curriculum in a dynamic and immersive process. Problem-solving, teamwork, critical thinking and curiosity are all skills used to explore and expand connections to science, math or history. In this workshop participants will learn many of these activities and strategies that they can take back to their classrooms for immediate use. Target Audience: K-12 educators.
STRENGTHENING SOCIAL & EMOTIONAL LEARNING THROUGH DRAMA
hosted by Childsplay Theatre
Offered Session: 2, 4
Explore the reinforcement of social and emotional learning through collaborative creative play and storytelling. In this hands-on workshop, developmental assets are coupled with drama strategies to provide young people structured opportunities to analyze their own reactions and perspectives in situations and conflicts in their classrooms and communities. Target Audience: All educators.


CONDUCTED STORIES IMPROV: USING IMPROVISATION TO FOSTER COMMUNICATION AND SELF-EXPRESSION WITH YOUTH ON THE AUTISM SPECTRUM
hosted by Conducted Stories

Offered Session: 1,3
In this workshop we will review specific exercises that can be used with Autistic youth to promote social interaction and resiliency. Using the tools of improvisation, educators will learn skills to more effectively communicate with Autistic students, both verbally and non-verbally. Target Audience: All educators who work with Autistic students.
UNDER CONSTRUCTION: TEACHING THROUGH THE MAGIC OF DANCE
hosted by Grand Canyon University, College of Fine Arts and Production
Offered Session: 1,2
Experience the magic of dance while learning about the importance of teamwork and collaboration, with GCU's Elementary Dance Tour—a live performance and workshop that embraces the uniqueness - and even weirdness - within us all. This positive and uplifting performance conveys the importance of finding your own voice and standing courageously through text, music, improvisation and more. During this workshop, we'll share our creative and collaboration-based process to design the work and also speak to the theme of Under Construction as a link to the idea that children are constantly growing in their understanding of the world, and forming their identities. The Elementary Dance Tour visits selected Phoenix-area elementary schools at no cost. Target Audience: Elementary and Middle school educators.
SHADOW PUPPETRY FOR EARLY LEARNING
hosted by The Great Arizona Puppet Theater
Offered Session: 2,3
Discover how easy it is to incorporate shadow puppetry into your early elementary classroom! Shadow puppetry can be used to coincide with almost any topic and teaches many additional skills along the way. This hands-on workshop will teach you how to make shadow puppets and a shadow screen with your students as well as how to create several special effects to bring them to life. Teachers will walk away with resources to easily bring the creativity of shadow puppets into their classroom. Target Audience: early childhood-3rd grade educators.
TOY THEATER FOR MIDDLE & HIGH SCHOOL STUDENTS
hosted by The Great Arizona Puppet Theater
Offered Session: 1,4
Toy Theater puppetry is a great way for middle and high school students to create a short piece of live theater using existing text or historical documents. Using found objects such as magazines, newspapers, boxes, and toys, this form of puppetry can be a great aid to teach lessons in social justice, literacy, history, and many other subjects. Target Audience: Middle and High School educators.
MAKE A NAVAJO "JACLA" STYLE NECKLACE
hosted by Heard Museum
Offered Session: 2, 3
Participate in this hands-on pump drill demonstration and make a Navajo "Jacla"-style beaded necklace, while learning about the Heard Museum's Bonus Tour options. These participatory cultural lessons can be included with your class tour of the Museum - a fun and educational way to create a lasting memory of the Heard Museum. Targeted Audience: K-5th grade educators.
AN ARTFUL EXPERIENCE FOR EARLY LEARNERS
hosted by i.d.e.a. Museum

Offered Session: 1, 4

Learn to engage young children in artwork discussions, and tips for using the looking experience as a springboard for inspiring students to create their own artwork while making connections between the theme and curriculum content. Activity ideas will be provided using various artworks from past exhibitions. Target Audience: early childhood educators.
JOIN THE BUCKET BAND
hosted by The Leading Tone
Offered Session: 2
The Leading Tone is an after school program that is dedicated to bringing music to young people while exploring music as a context for youth development. In this session we will use our original ensemble - a bucket band - to explore teamwork, the creative process and the importance of mindset in reaching our goals. Targeted Audience: elementary educators.
BEYOND THE TOUR: MAKING THE MOST OF YOUR MUSEUM VISIT
hosted by Phoenix Art Museum
Offered Sessions 1,2,3,4
More than "just a field trip" - a visit to Phoenix Art Museum can be a transformative experience. Ignite student creativity and extend learning beyond the tour. Target Audience: ALL
FOR TEENS, BY TEENS: ENGAGING HIGH SCHOOL AUDIENCES
hosted by PhxArt Teen Council
Offered Session: 3,4
Join Members of Phoenix Art Museum's Teen Council in the galleries to learn strategies for engaging teen audiences while visiting the art Museum. Intended Audience: 8th grade –College educators
KINDERGARTEN BOOTCAMP - PREPARING PARENTS FOR SCHOOL SUCCESS
hosted by Phoenix Public Library
Offered Session: 1, 2
Preparing children for kindergarten is one of the most important ways parents can influence their child's future success, but oftentimes parents don't know what skills children need or how to teach them. Phoenix Public Library has implemented a FREE program that focuses on parent outcomes to help children enter kindergarten with the tools they need to succeed! We will share how we developed the curriculum, the most important concepts, and share locations across the valley where you can encourage parents to attend. Target Audience: Early Childhood educators.
PUBLIC ART & PLACEMAKING: USING ART TO SPARK CIVIC CONVERSATIONS
hosted by Scottsdale Arts
Offered Session: 4
Explore techniques for bringing public art into your classroom by exploring the civic role it has in making meaningful spaces for dialogue and community building. Using questioning strategies, we will explore examples from Scottsdale's Public Art collection and use them to spark a conversation about local and global issues that shape our community. Target Audience: 5th grade- College educators.
---
FAQs
Where is the event?
Phoenix Art Museum serves as the host venue for Educator Arts Day. The Museum is located on the North East corner of McDowell and Central Ave., in Downtown Phoenix. Plenty of FREE parking is available in the Museum lot, located just north of the Museum. --Or take the light rail. The McDowell stop is right across from the Museum's Greenbaum Lobby!

Will I have to drive to other venues?
NOPE! ALL workshop sessions will be held at either Phoenix Art Museum or Opera AZ (an easy 5 minute walk from the Museum)

What sessions do I sign up for?

Please select the 3 DIFFERENT workshops you'd like to attend PLUS 1 Resource Fair session. Choose only ONE session of any workshop. Selecting multiple sessions from the same organization would be boring - and limits others from having the opportunity to take part. We will revise any registration with multiple sessions of the same workshop or without having picked a session to visit the Resource Fair. Our goal is that you expand your arts repertoire and try something new!

Why would I register for an (art, music, dance, opera, theater) workshop? I teach ______:
Educator Arts Day is a multi-disciplinary professional development opportunity to learn about disciplines outside of your specific area of expertise. You may be surprised to learn how applicable ALL of the workshop sessions are to your classroom - regardless of your subject. Last year, we heard from many teachers who were initially hesitate about spending time learning outside of "their" specialty, only to hear later how much they were able to apply from ALL of the workshops.

Can I register a friend or co-teacher?
You can register for yourself plus one other attendee during the registration process. Please be sure you know they can attend and that they have not already registered. You'll need to know information for each attendee including school, grades and subject taught plus email address.
If you'd like to be sure you attend the same sessions with someone, there is a spot to add their name during registration. We'll do our best to line up your workshop schedule.
How do we register as a group?
If you are registering a group of educators from the same school or organization, start a Team Registration. As the Team Captain, you can send the registration link to colleagues and invite them to sign up. With Team Registration, you can see who has registered from your school. There will be a special prize this year for the school with the most educators attending!
How do I find out if my school has already created a Team?
Here's how you do it:
I already registered as an individual and didn't know I could register as part of a group. Can I change my registration?
Of course! Here's how you do it:

How do I invite colleagues to join the group?
If you're the Team Captain, you can invite people to join your group! Go to the Tickets page in your Eventbrite account and click on the name of your group to get started. If you're a team member, use the social sharing icons near the top of the page to spread awareness and get others to join your group.


What is the day's schedule?
9:30 AM Check In/ Orientation
10:15 AM Session 1
11:30 AM Lunch & Galleries
12:45 PM Session 2
2:00 PM Session 3
3:15 PM Session 4
4:30 PM Door Prizes / Certificates of Attendance
5:00 PM Event Concludes


What's for Lunch?

Palette, the Museum Cafe will cater lunch. We have 4 boxed lunch options for you to choose from during registration. Each includes iced tea or lemonade, plus dessert.
#1 Club Club Sandwich. Ham, turkey, chedder and honey bacon on sourdough. Served with side salad (GF optional)

#2 Caprese Sandwich. Vine ripened tomato, fresh mozzarella, arugula, and hazelnut pesto on focaccia. Served with side salad. Vegetarian (GF optional)

#3 Strawberry Fields Salad. Grilled Chicken over Baby Spinach with strawberries, goat cheese, candied pecans & sherry vinaigrette. Served with bread (Vegetarian/Dairy-free/GF optional)

#4 Veggie Salad. Crisp greens topped with grilled vegetables, roasted tomato, feta cheese, olives and chipotle lime dressing. Served with bread. Vegetarian (Dairy-free/GF optional)

How can I win a raffle prize?
Each pre-registered attendee receives one raffle ticket upon entry. If you register before August 1st , you will receive TWO raffle tickets. Additional raffle tickets can be purchased on site for $5 each (cash or check only). During lunch, check out the amazing prizes supplied by participating arts & cultural organizations, and select which prize drawing you wish to enter. Place your raffle ticket - with your name on it- in the box for the prize(s) you hope to win. We'll hold a drawing beginning at 4:30 pm the day of the event. YOU MUST BE PRESENT TO WIN.


How do T-Shirt sales work?
Show the world that the ARTS MATTER. We're excited to again offer an event t-shirt. Our art department is still working on the design, but they'll be as amazing as they were last year - when we quickly sold out.
Pre-order during registration to ensure we have one for you. Pay and pick up during the event (Cash or Check, please). $15 (XS-XL) / $17 (2XL-3XL) - if pre-ordered.
Day of Event: $20 (XS-XL) / $22 (2XL-3XL) - while they last!
Note: images below are of the 2016 event t-shirt. This year's t-shirts will be of the same awesome quality, but will differ in color / design.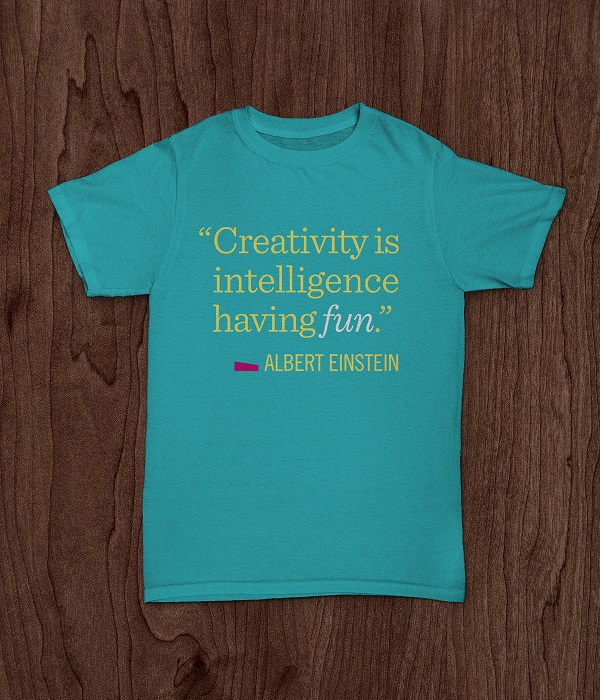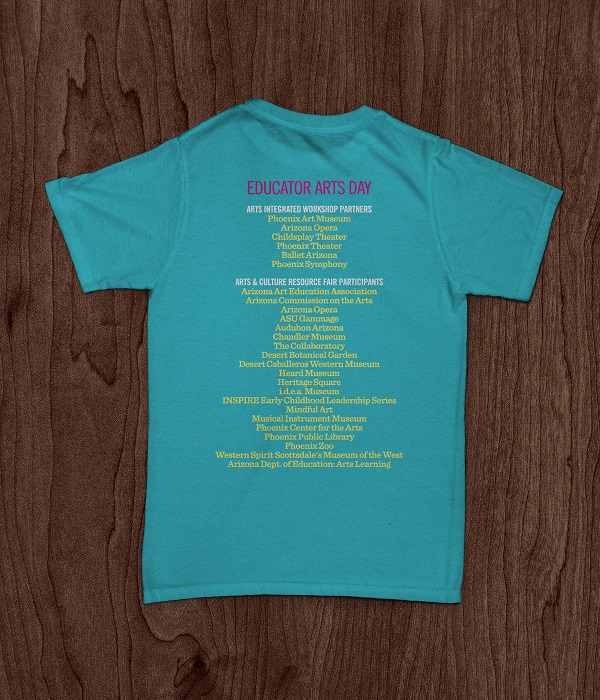 What can/can't I bring to the event?
Please finish your morning coffee before you walk in. Water bottles, food and beverages are not allowed inside the Museum. Drinking fountains are always available, and lunch will be provided (vegetarian, dairy-free, and Gluten free options can be arranged when you register).

Large bags, large purses and all backpacks will need to be secured in the FREE lockers available in Greenbaum Lobby. Attendees will receive a tote bag to carry all your amazing resources in! If you have special circumstances that require alternative arrangements, please let us know!

Please bring a pencil and notebook, so you can record all of the great ideas you'll hear.

You're welcome to take photos but please turn your flash off (only a few works of art cannot be photographed - these are clearly marked). Ask presenters before recording sessions. As a courtesy, please set your phone to vibrate or silent.

The Museum tends to be chilly - you may want to bring a light sweater or jacket. Wear comfortable clothes and shoes as there will be much to see and do, during the event.


What if I'm not a "teacher"?
Are you a pre-service or retired educator? An informal educator at a cultural institution or out-of-school-time program? Scout or camp leader? School administrator? If so - you're welcome to join us.
Parents and classroom volunteers may wish to participate instead in ART MASTERPIECE BOOTCAMP - a program designed especially for those interested learning how to talk engage young students with art (registration coming soon - visit phxart.org/education/educators/artmasterpiece for details).
If none of these apply, please contact education@phxart.org to talk to us about what you hope to get from this experience. We welcome those with a passion for arts learning, but want to reserve spaces for those who can most benefit from the experience.


What if my plans change and I can't attend?
Please let us know as soon as possible so we can open your place up for another teacher. This FREE event will likely reach full capacity. Please cancel your registration if you no longer plan to attend, so another educator can take your place.


I need special
accommodations.
Reasonable accommodations. will be provided with advance notice. Please email education@phxart.org as soon as possible.
I still have questions. Who can I contact?
Please contact michelle.sparks@phxart.org or call Michelle at (602) 307.2041 with any questions about the event.