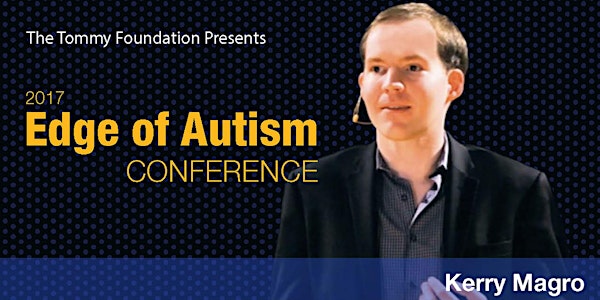 2017 Edge of Autism Conference
Date and time
Sunday, March 5, 2017 · 10am - 3:30pm EST
Location
Franklin and Marshall College Stager Hall, #13 on map below) http://www.etowndegrees.com/locations/FM_Campus_Map.pdf Lancaster, PA 17603
Refund Policy
Contact the organizer to request a refund.
Description
Join us for our 2nd Annual Edge of Autism Conference in Lancaster County. Our featured speakers and topics include:

Kerry Magro
Award Winning and Breakthrough Advocate Kerry Magro knew early on that he wanted to make a difference in the lives of others. Kerry was diagnosed with Pervasive Developmental Disorder-Not Otherwise Specified (PDD-NOS) a form of autism, at age 4. Growing up Kerry's future was very uncertain.
Today however, after countless hours of therapy and the support of a loving family, Kerry has conquered many of his challenges. Now at 28, Kerry is a national motivational speaker, best-selling author, movie consultant and non-profit founder.

His keynote presentation will be on his experience as an indivdual on the Autism Spectrum from being non-verbal until Age 4 to now as an advocate for the condition.

Workshop #1: Sensory Friendly Care with a focus on Safety and Play

Faith Clarke, Founder and Director from Melody of Autism.

Everyone who crosses the path of a person with ASD can become a dynamic force that helps that person and their entire family, thrive and be their absolute best. Their dynamic training program empowers your whole family to embrace the miracles and opportunities disguised in everyday moments. They base all our teachings on current research and the belief that a relational connection is the doorway to harmony, growth and development. They focus on developing the well-being of the person with ASD, as well as that of the entire family.


You'll learn skills that aren't laid out in a typical parenting book, and gain a refreshing perspective on parenting and care for your child, delivered in a dynamic, interactive and experiential way. In this forum, we discuss topics like:

• Nourishing Self-Care
• Transforming Everyday Moments
• Sensory Insight
• Understanding Challenging Behaviors



Workshop #2: Autism with a focus on Puberty and Sexuality -- Not For the Faint of Heart
This is a joint workshop with Matthew Tyson and Christy Foote from Behavior By Design.

The staff at Behavior By Design provide direct care and training for your children to change and increase appropriate behaviors. They use several different traing methods and provide a variety of service to improve your child's well-being and improve their quality of life.

This specific topic is not for the faint of heart and we ask that if you choose to attend this talk that you come prepared to ask questions honestly and frankly and expect to receive feedback in the same manner. The reality is that for many families this is an extremely challenging topic and in order for it to provide the biggest benefit to everyone involved it will be done in more of a Question and Answer format with speakers that are highly trained in the subject matter and from both a male and female perspective to better assist those in the audience with their questions.

Childcare: Childcare Option is now full!
About the organizer
Started in 2005 by two parents of a child on the severe end of the autism spectrum, The Tommy Foundation has grown from a small dream in Lancaster, Pennsylania to now an award winning foundation with connections all across the United States.
Winners of a March 2010 Pepsi Refresh Project grant of $50,000, the Tommy Foundation are producers of the film "The United States of Autism," as well as leaders in the promotion of METT face recognition (as seen on Fox TV's show "Lie to Me") for individuals on the autism spectrum. Our collegiate programs are designed to assist current families as well as bring talent into the autism movement long term, and we endeavor to reach minority families in as many ways as possible
We also aim to embrace individuals on the spectrum who classify themselves as neuro-diverse, as well as individuals who can not speak for themselves and their families, as well as everyone in between. It is a tightrope to balance the interests of so many groups, yet we find that everyone can agree that we are all looking to help our children and selves reach our greatest potential. This is what we mean by our message "embracing families affected by autism".