Description
Final update.
Hopefully we will be seeing you next Friday! 8am - 4pm at Chesapeake - We are locked in - it will be the largest ever Symposium. Thank you all for your support for this event!
Couple things:
- See below for schedule.
- We do not need the tickets that this site will offer you to print out.
- We accept registrations up to the last minute (or just show up).
- Nothing to do except be there unless you want to pre-register below for a limited attendance breakout Lab ( Surgical Airway, Pig Lung, Childbirth, or 1:55P Hemmorhage [earlier 9:15 am session focuses on REBOA is open to general attendance] ).
- The registration desk is inside the main door of the Todd Performing Arts Center. This is the tallest building on the Chesapeake campus and can be reached by bearing right into College Circle as you come in to the campus. It is the first building on the left (super tall building).
- Call / text / email for any questions or concerns: 410-829-3573 or cfluharty@umm.edu
Breakout Lab Sessions - For those who would like to preregister for a limited attendance Breakout Lab session you may. But please regulate your expectations: these sessions all have limited attendance and we are going to do our best to accomodate everyone's wishes but there may be things you can not attend - apologies in advance - but know there will be very good alternatives if you can't make it. Thanks for your understanding.
Note: You will be asked to confirm your intent to attend the sessions upon registration the day of the symposium. You are free to change your mind and if you want to decide the day of, you may do so as long as there is room. Remember, there are a lot of simultaneous options so doing one thing will preclude doing other things occuring at the same time (review the schedule below before pre-registering).
To pre-register:
1. Review the day's schedule. There are a lot of options so review before you pre-register.
2. Pre-register here: https://goo.gl/forms/HM7WKgtfS6i1r5VT2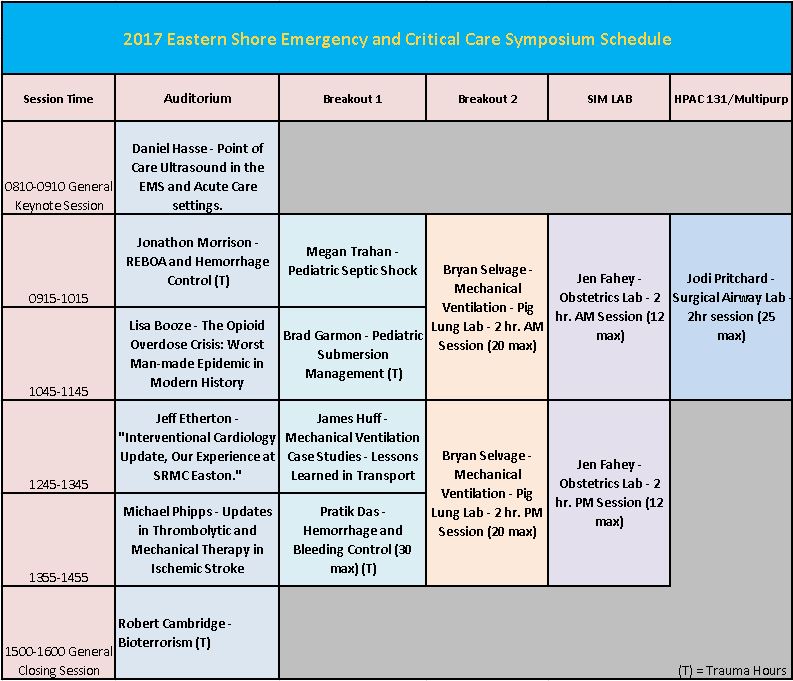 On behalf of the Symposium committee, thank you and we look forward to another great Symposium!
Colin Fluharty
Symposium Chair
9/20/17 Update
Still finalizing details but we are happy to announce we will have several breakout lab experiences. We will be doing:
1. OB Lab - Utilizing a Standardized Patient (live actress) and Chesapeake's second to none Sim Lab, challenge yourself to bring a new life into the world. Jen Fahey, CNM, will be guiding us through the process of childbirth and the complicatons you may encounter. (AM and PM sessions)
2. Pig Lung Lab - Really want to understand the physiology of mechanical ventilation? See the close up effects of mechanical ventilation parameters and modes on a pig lung. (limited attendance available)
3. Surgical Airway Lab - Need to brush up on your "plan z "? Educator extrordinaire Jodi Pritchard will take you there. ( max 25, AM only)
If you think you will be interested in attending one of these ( no committment ) there will be a question in the registration form where you may express interest.
Also happy to announce we have confirmed ++ Mission BBQ ++ will be our caterer for lunch (yum!).
8/14/17 Update:
Welcome. Registration is Open.
At this time we continue to finalize the details and work toward making this year's Symposium the best ever. Registration is open. This year we will not collect session attendance selection up front, we will allow attendees the flexibility to select what sessions they wish to attend on the day of the Symposium.

If not familiar, the Eastern Shore Emergency and Critical Care Symposium is in its 12th year. This is an educational outreach endeaver intended to provide CEU focused on updates and trends in EMS, trauma, emergency, and critical care topics to the healthcare providers of the Eastern Shore and surrounding region. We welcome all attendees interested but our focus is on nursing and EMS professionals. Furthermore we strive to make this a quick moving, interesting, and, yes, fun day. We provide a continental breakfast, hot lunch, lots of exhibitors, some give aways, a helicopter fly in, and more for a very reasonable cost. Lock in the date now and we will see you there.
---
Speakers/Sessions
(We will be adding descriptions as finalized)
Keynote Session
Daniel Hasse, MD
Assistant Professor, Emergency Medicine Director of Education, Critical Care Ultrasound Program R. Adams Cowley Shock Trauma Center University of Maryland Medical Center
Simultaneous Sessions
To be announced.
EMS Focus Breakouts.
Workshops (limited attendance)
Airway Challenge - Learn about how to use alternate airways and methods and challenge your airway skills with this interactive workshop. 2 hours, either morning or afternoon session. 15 max.
OB Emergencies Workshop - Time to face the emergency we all dread, a complicated delivery. Utilizing high tech manikins (yes they deliver a baby) and/or actor, we will help prepare you for some worst case scenarios. 2 hours, either morning or afternoon. 12 max per session.
---
Activities
- More exibitors than ever.
- Give-aways
- Helicopter Fly-in
- Continental breakfast, catered lunch
---
Contact:
Colin Fluharty
Symposium Chair
cfluharty@umm.edu
410-829-3573