Description
Earth Wisdom Apprenticeship Level II:

Shamanic Medicine and Shamanic Healing, with Marza Millar

We live in a world of seen and unseen energy and frequency, a world of shadow and light. Earth Wisdom 2 is dedicated to working with Geomancy, interpreting Geopathics in our living spaces, and using it to learn how to clear and cleanse to improve our living areas, dowsing and gridding using Geomancy. We will also learn how to work with the elemental energies, photonic light and crystalline grids.

In this class, we will learn and use both ancient and modern healing techniques, and will explore applications for the use of soul retrieval, spiritual tracking, death portals, possesion and spirit extraction, and soul work. We will study the use of Stone Medicine, the Zero Point Field and Frequency, the use of vibrational plant medicine, structured water, First Nations philosophy of healing, rites of passage, shamanic ceremony and healing ceremonies.

This class is open to previous students of Marza's, or other intermediate to advanced students in Shamanic Studies.
---
Dates:
All classes will be held on Saturday and Sunday from 10:00 a.m. to 5:00 p.m. unless otherwise noted as a Field trip.
January 14 & 15
February 2nd through 6th (Tucson Gem and Mineral Show)
March 4 & 5
April 1 & 2
May 6 & 7 (Shasta Headwaters)
June 3rd through 5th (Bristlecone Pine Forest)
July 8 & 9
August 5 & 6
September 14th through 19th (Hopi Nation)
---
Registration Details
Some medicine making supplies (but not all) are included in the price of tuition. Please note that tuition does not cover travel to field sites around Northern California, associated camping fees, or meals.
Tuition: $1899
Early bird tuition: $1699 when paid in full by 11/30/16.
Payment Plan: $1925* (Down Payment of $650 and 3 post-dated checks submitted by the first day of class.)
Payment plan terms are as follows:
Deposit: $650 due upon registration
January 30, 2016, $425
February 28, 2017, $425
March 30, 2017, $425
*Includes a $26 Administrative Fee
First Weekend Only:
A limited number of spaces are available for the first weekend only. For those who participate in this option, the weekend fee is $275. If you would like to continue with the full apprenticeship (and if there is space), an additional fee of $1,625 will be due. Payment plan (as above) is available.
Refund Policy: Due to the intensive nature of this program, and the planning and coordination involved over 9 months, we require a full commitment to completion of this apprenticeship. All participants should be prepared to make this commitment, both with their personal time and their finances. NO REFUNDS will be given after January 1, 2017. Plan your schedule for the year wisely - no make-up classes will be offered. All students must sign an Acknowledgement of Financial Policies for this class.
HAALo accepts cash, check or credit card.
---
How Do I Pay?
Pay online through Eventbrite (fees apply) and use your credit card.
If you would like to avoid paying the fees:
Pay by phone by calling (530) 260-9604 and use your credit card.
Pay in Person at HAALo, 412 Commercial Street in Nevada City, 95959, using cash, check or credit card.

Pay by Mail
Call (530) 260-9604 to request registration forms
Fill out forms and enclose payment check, or money order
Mail to: HAALo, 412 Commercial Street, Nevada City, California 95945
---
Free Apprenticeship Orientation Sessions with Marza
Learn more about the depth of this advanced apprenticeship during a free orientation session. Marza will share stories about her own journey with herbs, her Celtic and Native American ancestral history and her teachers from all over the globe.

Nevada City: December 15, 2016 & January 4, 2017, 6-8pm at HAALo's Upstairs Loft, 408 Broad Street, Suite 13, Nevada City, California, 95959 (Upstairs in the New York Hotel Building)
---
About the Instructor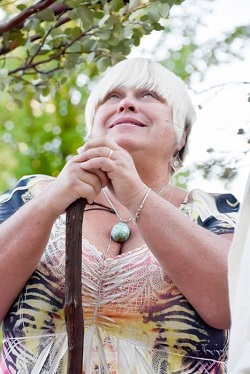 This class is taught by Grandmother Marza Millar, Elder by birth rite of the Wind Creek, Yavapai. Clinical Herbalist, CMT, MA
Marza's upbringing in earth-based medicine comes from her Birth Rite with the Wind Creek Yavapai on her fathers side. After receiving a formal education and working in allopathic medicine, Marza returned to her roots and has spent decades of her life training in various earth-based medicine traditions.
Marza is responsible to the Wind Creek Yavapai to hold the Emergence door of the 4th world, located in Sedona Arizona. Her mother's people are from Islet of Skye, Scotland and Kilkenny, Ireland, and Marza is a Druid Elder of Clach Na h'Annait Standing Stone. She has been adopted and trained in both rites from birth. Marza also received training in the traditional teachings of Lemuria given by the Elders of Naapoopoo Village, Big Island, Hawaii